Atlanta Falcons vs. Carolina Panthers Pick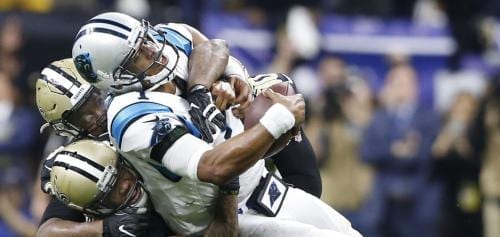 Atlanta Falcons (5-9 SU, 4-10 ATS) vs. Carolina Panthers (568 SU, 6-8 ATS)
NFL Football Week 16
Date and Time: Sunday, December 23rd, 1:00pm EST
Where: Bank of America Stadium - Charlotte, NC
TV: FOX
By Bob Clark, NFL Football Handicapper, Predictem.com
Point Spread: CAR +3.5 / ATL -3.5
Over/Under Total: 47
POWER RATINGS – WEEK 16: CAROLINA PANTHERS -4
TAKEAWAYS FROM WEEK 15:
Both of these teams have had a roller coaster of a 2018 season. This past offseason both felt they were legit NFC South contenders and the Atlanta Falcons were being dubbed as a favorite to make the Super Bowl in their own stadium…well…nope! Both teams have had a run of losing streaks that have eliminated them both from playoff contention. Atlanta sits at 5-9 while Carolina is 6-8. In week 15, both teams looked improved. Atlanta won 40-14 although it was against the Arizona Cardinals who are just straight trash. The Carolina Panthers lost a close one to the New Orleans Saints. Carolina had numerous chances to take the lead but they just could not get the job done in the fourth quarter. Something else I noticed, as did pretty much the entire country noticed…Cam Newton is HURT and hurt bad! His shoulder is in obvious pain and the Carolina Panthers will likely sit Newton for the remainder of 2018. As for weekly takeaways, the main takeaway I see is that neither of these teams have quit. They are both strapping on the pads and giving their all in these final weeks.
See MNF Pick: Broncos vs Raiders 
HOW THE PUBLIC IS BETTING ATLANTA AND CAROLINA:
As of early Tuesday morning, the action was starting to come in the Falcons more than the Panthers. 55% of the documented public action was on Atlanta to go into Charlotte and get the cover and potentially the win. Carolina is favored by a field goal at home, but it should be noted that the Falcons have covered the spread in five of the last six games against the Panthers dating back to 2015. In those six games, Atlanta has also won five of the six straight up.
THE HISTORICALS:
These two teams are very familiar with each other. Being that they both compete in the NFC South and they see each other two times a year they have become heated rivals. This series began back in 1995 and since that time, the Falcons have jumped out to a 29-18 series lead including winning the last two and five of the last six as I stated earlier. Although the Falcons have about 25 years on the Panthers as an organization, they are very similar is success over the years. Both teams have won six Division Titles, both teams have won the NFC twice, and both teams are 0-2 in the Super Bowl. Neither will get over that hump this year but this game is more about pride and finishing 2018 on a high note than anything else.
INURY CONCERNS:
With Carolina, the main injury concern is obvious…Cam Newton. I feel it is time for the Panthers to call it a season and Cam will rest up and get ready for 2019. The coaching staff has not ruled this out, but there has been no official release or decision made as of this time. The only other injury for Carolina is that of kicker Graham Gano who is listed as "questionable" for Sunday's game. As for the Falcons, they will be heavily depleted at the running back position. Devonte Freeman has yet to start practicing and to be honest, probably will not see the field again this season. Along with Freeman's injury, this past Sunday, back up running back, Ito Smith was also added to the IR and will be undergoing season ending surgery to repair a torn meniscus. Other than that, the Falcons were beginning to get healthy but appears that it was just a little too late…maybe next year?
WHEN ATLANTA HAS THE BALL:
The Falcons will still have Tevin Coleman running the ball and his backup will be Brian Hill who has not seen time since the preseason. Of course though, Atlanta will try and get a run game established but the bread and butter for the Falcons is the play of Matt Ryan and the passing game. I see no difference come Sunday. As long as the offensive line can protect Ryan like they did this past Sunday, I can see some success being had. Although the Falcons have not had the season they wanted and although their offensive line has been an absolute mess, the Falcons are still ranked as one of the top passing offenses in all of the NFL. They will use this to their advantage on Sunday.
WHEN CAROLINA HAS THE BALL:
The game plan for Sunday for the Panthers will depend on the health of Cam Newton. With Newton a no go, this could be a very bad day for Carolina. Lets be real…with TE Greg Olsen on the IR and if they are missing Cam Newton, the only other legit threat is Chirstian McCaffrey. This offseason, the Panthers must find a way to get some playmakers other than McCaffrey. Can you name me one wide receiver for Carolina? Okay, if so, can you name me two? This roster of WRs is one of the weakest in the entire league and without Cam this offense will have serious issues. I assume the game plan for Sunday is going to be to try and grind out the game with running the ball. Carolina will not win a shootout with Atlanta no matter who the QB is, so just look for some ground and pound and field position battles from the Carolina sideline.
BETTING TRENDS:
This late in the season, I really do not like going on "trends." Right now, I think Carolina is just a mess. Yes, the Falcons have had their share of recent failures too but I think they are just in a better mental place right now. I think Atlanta goes in and beats the brakes off of Carolina this Sunday. Not only will Atlanta cover, but they win by double figures 27-13.
WEATHER REPORT:
Game time conditions call for cloudy skies with temperatures ranging from a low of 35 to a high of 55. There is very little chance of rain so we are just looking at a cool cloudy day of football.
Bob's Pick to Cover the Point Spread: TAKE THE ATLANTA FALCONS -3.5 ON THE ROAD.