Betting On The Gatorade Color For Super Bowl 53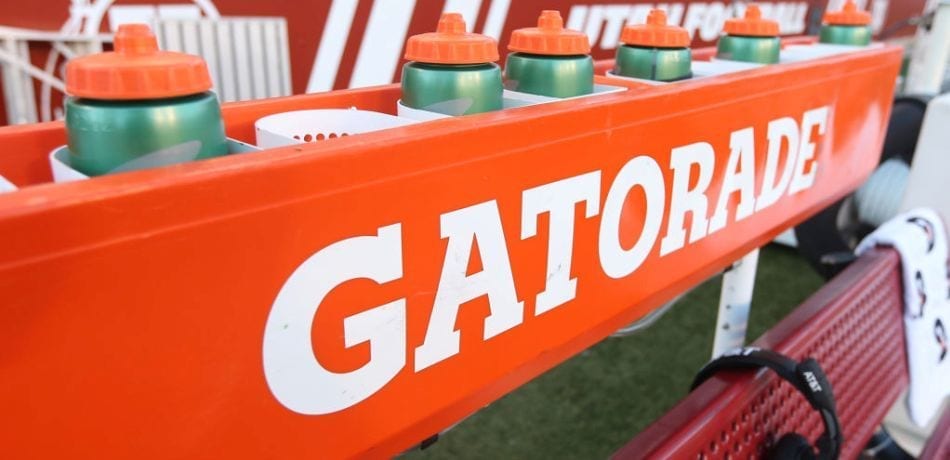 By Loot Levinson, NFL Handicapper, Predictem.com
It certainly pushes the envelope to be handicapping Gatorade. The biggest football game of the season is about to be played and we're talking about beverages. But such is the Super Bowl betting landscape—a wild frontier of wagerng. When looking at some of the bets being offered, trying to figure out what kind of Gatorade will be poured on the Super Bowl LIII winning coach isn't even that crazy.
Some of us older football fans might remember a time when this didn't even exist. The first recorded Gatorade-pour is a topic of contention, with some Giants' players saying they invented it in 1984, while some old Bears' players said they invented it that same year. The first Super Bowl Gatorade bath came in Super Bowl XXI following the '86 season, when Bill Parcells was doused with the popular drink. It has become a tradition and a fairly-bankable occurrence.
Yes, there are odds on this. Let's take a look at the odds for which color liquid will be poured on the Super Bowl-winning coach:
What color will the liquid be that is poured on the game winning Coach? (Odds by Bovada)
Lime/Green/Yellow +250
Orange +450
Red +700
Clear/Water +160
Blue +400
Purple +1200
Can This Be Handicapped?
It's too simplistic to even think that all players drink the same beverage on the sidelines. At the very least, there would appear to be a water option and at least a few Gatorade variations. That's why even with repeat Bowl winners, namely the Pats, there hasn't been a repeat color in their celebrations. This would be easier if teams had an official flavor. Or if dousing coaches with liquid is something either of these teams had done this season. But it's not. At the end of the day, this type of thing could come down to mere happenstance—whichever players standing next to whichever containers of liquid happen to lead the dousing of the winning coach. So sure, we can pick up little ditties of information here and there, ponder the history of it, and come up with an educated guess. But there's a certain randomness to it to be sure.
Beverage Breakdown
Some of us might remember when Gatorade came in just a few flavors. There was lemon-lime (green), orange, and fruit punch (red). Those were the main heavy-hitters. A walk down the aisle at the grocery store now shows an endless array of flavors. Red, orange, and green are still represented heavily here, getting respectable odds. The choice of lime/green/yellow is the second-choice on the board at +250. And red is +700. The leading choice is "clear," which covers a variety of different flavors, namely the popular strawberry and watermelon. Clear would also cover just plain old water, as well. That's going off at just +160—the chalk on this board.
While Gatorade remains a popular sideline beverage; a lot has changed in society over the past generation as it pertains to the acceptability of sugar-laden beverages. And Gatorade falls into that category. You look at a health nut like Brady and know he wouldn't drink the stuff, preferring instead some exotic water from a lake in Switzerland. That doesn't mean other Patriots players don't still indulge in Gatorade, meaning they certainly still have some lingering on the sideways somewhere.
Also coming out just before press-time was a guy who tweeted Todd Gurley, asking about their preferred Gatorade flavor and he responded saying "Ice Punch," one of the more new-fangled Gatorade flavors that comes in a clear format similar to water. So if you like the Rams in this game, one could certainly justify "clear" as a top choice. And since Belichick has also been doused with a clear liquid following a Bowl win, one can see why that's the top-selection on the board. For the Patriots, there is no one set drink, making their tendencies a little more of a mystery. Belichick hasn't been doused much, only twice on record.
Historical Precedent
It's worth noting that four times since Super Bowl XXXV, a winning coach wasn't even doused with liquid and three of those times was when Bill Belichick was the winning coach! That includes the last time he won the big game in Super Bowl LI. In two other Super Bowl victories, Belichick was doused in blue and clear liquid. Clear liquid was also used in each dousing from 2007-10, giving it some extra juice. Last year's Super Bowl winning coach was doused in a yellow liquid that might be a new Gatorade flavor. It was the second pouring of a yellow liquid on a winning coach since 2000, with purple also being a two-time choice in the new century. Orange has also been a popular shower, but seemingly only when an NFC team wins, with Mike McCarthy and Sean Payton among the recipients of an orange-soak.
It's worth noting that clear liquid hasn't been a very popular choice in recent Super Bowls, with none since 2010. Meanwhile, orange has been used in 4 of the past 7 Super Bowl celebrations. We see orange at a nice +450 price, with clear/water at a much chalkier +160. It's just that over the years, so many Gatorade flavors come in that clear format—not like water exactly, but pretty similar-looking at first glance.
Take "Clear/Water" and "Orange" for Super Bowl LIII
My main stance in clear/water at +160, but I'm going to put a taste on "orange" as well just to cover myself at +450. Players drinking more boosted-water as of late, while eschewing the high-sugar drinks, have made "clear" a more-viable choice than in recent seasons. In addition, the newer Gatorade flavors tend to fall into the "clear" category. Rams' running back Todd Gurley is on record saying that the team's preferred flavor of Gatorade is Ice Punch—another "clear" choice. Again, this can only be pinned down so well, but I like "clear," with a little side-action on orange.
Loot's Pick for the color of liquid to be poured on the Super Bowl LIII winning coach: I'm betting on "clear" and "orange," at +160 and +450 betting odds, respectively.
SUPER BOWL SPECIAL FROM EXPERT HANDICAPPER ALAN HARRIS!
Alan Harris has been on a remarkable tear in all sports over the last 30 days. (results as of 1/29)
Football   +$3,730.00
CBB          +$2,600.00
NBA          +$5,300.00
He has a side and total play on the Super Bowl as well as 15-20 prop bets.
Last year his Super Bowl Picks went 11-5 +3,390.00 for $100 bettors