Broncos vs. Chiefs Prediction ATS 12/15/19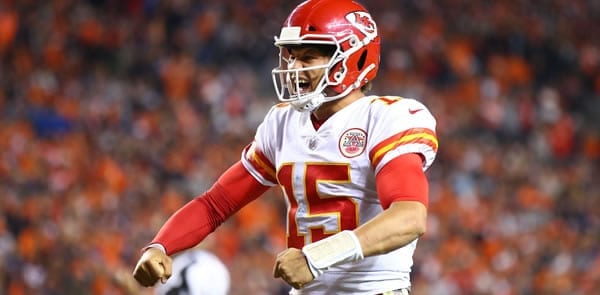 Denver Broncos (5-8 SU, 8-5 ATS) vs. Kansas City Chiefs (9-4 SU, 8-5 ATS)
NFL Week 15
Date/Time: Sunday, December 15, 2019 at 1PM EST
Where: Arrowhead Stadium, Kansas City, Missouri
TV: CBS
Point Spread: DEN +11.5/KC -11.5 (WagerWeb - 20 Point Football Teasers! 50% Bonus!)
Over/Under Total: 45.5
In AFC West action from Arrowhead, the Denver Broncos come to face the Kansas City Chiefs on Sunday. The Chiefs locked up a playoff spot on Sunday with a nice 23-16 win over New England. And for the first time this season, the Chiefs are starting to get people excited again. Three straight wins have them in the driver's seat in the division. They now host a Denver team that showed it is capable of the improbable, marching into Houston on Sunday as 8-point dogs and winning, 38-24, in a game that wasn't even that close. With two straight wins, they look to give the Chiefs a little run for their money this week at Arrowhead.
Bad Matchup for the Broncos?
The only other time the Broncos won two in a row this season, they also ran into the Chiefs, with a Week 7 loss to KC at Mile High, 30-6. This game is their second straight on the road and fourth in their last five games. Making one wonder if they'll sag a little. And that first result saw the Broncos matching up horribly at home, with the Chiefs taking them out of the game before the end of the first half. After an early first-quarter score, they were run over, despite Patrick Mahomes being injured and leaving the game. A defensive score helped the Chiefs, as the offense tried to find its footing, but their defense shined with a ridiculous nine sacks. Nevertheless, a lot has changed since.
With a 300-yard game on Sunday, the Broncos hope to have found something with rookie QB Drew Lock, who has won his first two starts. He could be facing a challenge with a Chiefs' secondary that has gotten better over the course of the season. With Phillip Lindsay and Royce Freeman, the Broncos are hoping for better this time around against a Chiefs' run-defense that has been exploitable this season. It was exciting how well Lock connected with TE Noah Fant (questionable) on Sunday, with Fant going for 113 yards. It might be a different ball of wax this weekend, but it's a big gap that the Broncos need to bridge.
More Picks: Bucs vs. Lions Week 15 Prediction >>>
Bankability Against the Spread
Both teams are a very respectable 8-5 against the spread this season. That's a bit surprising for both teams, with the Chiefs having underachieved for chunks of the season, while the Broncos were just 3-8 up until a few weeks ago. Both clubs are in good form in a wagering sense, with the Chiefs covering three straight weeks, with only two non-covers since week 6. Denver, meanwhile, has seven covers in their last nine games, with only two non-covers going all the way back to week four. More often than not, these teams overperform.
Putting the Broncos in the Right Placement
Denver is not a bad team. They have some promise on offense with Lock, a run-game that could deliver, and some growing youth in the aerial corps. And they can still play some defense. On Sunday, Kareem Jackson and Will Parks both had picks, with Jeremiah Attaochu getting two sacks. And getting Von Miller back will start paying off now. With Jackson, Chris Harris, Jr., and others, they still have one the best pass defenses in the league.
Since getting beaten up by Kansas City, their results are mixed but revealing. They lost by two to Indy, beat Cleveland by 5, lost to the Vikings by 4, lost at Buffalo 20-3, beat the Chargers by 3, before their stomping of Houston on Sunday. You see a team hanging in there and able to thrive in spots where it might not have been forecasted. Only at Buffalo and against the Chiefs in the first game have they lost by an amount that surpasses what the spread is for this game.
Possible Daylight for Denver
We saw Patrick Mahomes hurt his hand on Sunday against New England and though it didn't seem to resonate in a bottom-line sense, maybe a pressuring Denver front can get to him and rattle him. This was the team he was facing when he got hurt earlier in the season, as Kansas City's line could be under some pressure. Maybe Lock can have better luck against a KC defense that hasn't always been terribly-stout this season. Still, it's a group that appears to be on the upswing. Against the Patriots, Raiders, and Chargers in their last three games, the Chiefs gave up a total of 42 points. Can a Denver road-offense do a ton better?
No longer terribly desperate, Kansas City has a little breathing room now. They want to keep winning, but a top seed is probably out of the cards. In any event, facing a team you beat by 24 the first time and now being at home after beating the Patriots last week could set up for a tiny letdown, not enough to cost them the game perhaps, but enough for the Broncos to stay within range.
Take the Points on the Road Dog
It's hard not to be a little torn about which way to go with this one. On the one hand, Kansas City is trying to peak at the right time. They didn't even have Mahomes the whole game last time and still stomped Denver and covered with room to spare. Their defense is playing better now, and when they beat the Broncos in week 7, Denver was coming off a two-game streak, just as they are now. But I'm not sure this is the same high-powered Chiefs team that can put up points effortlessly like they did last season. There has been more defense in the formula the past handful of weeks. Against a divisional team playing well in Denver that has a little X-factor on offense with the rise of Drew Lock, the number seems a little big. I'm taking the Broncos.
Loot's Pick to Cover the Point Spread: I'm betting on the Denver Broncos plus 11.5 points. Did you know that you can bet on games at -105 odds instead of the spendier -110 that 99% of you are laying? You work hard for your money! Don't waste it on vigorish! Make the switch to -105 reduced juice betting TODAY at 5Dimes Sportsbook!