Browns vs. Ravens Prediction 9/29/19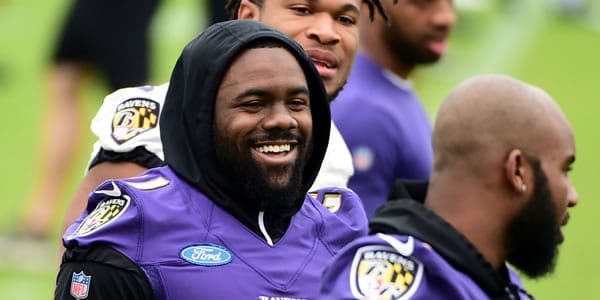 Cleveland Browns (1-2 SU, 1-2 ATS) vs. Baltimore Ravens (2-1 SU, 1-2 ATS)
NFL Football Week 4
Date/Time: Sunday - September 29th - 1:00pm EST
Where: M&T Bank Stadium - Baltimore, MD
TV: CBS
Point Spread: CLE +7/BAL -7 (Pinnacle)
Over/Under Total: 45
CLEVELAND BROWNS AND BALTIMORE RAVENS PREVIEW:
This Sunday at 1:00 pm, the Cleveland Browns and Baltimore Ravens will face off in an AFC North battle. The Baltimore Raven currently lead the division with a 2-1 record while Cleveland is in second place at 1-2. Both Cincinnati and Pittsburgh are winless in 2019 and sit in the cellar. This is a huge early game for both teams. Cleveland can pull even with Baltimore with a win, and if the Ravens win, they go up two games over the Browns and will finish the first quarter of the season at 3-1.
Not only does Cleveland need to win this game for the division race, but there is being more and more chatter made each week about them being overrated…especially quarterback, Baker Mayfield. A loss this Sunday and especially a loss in which Cleveland is not even competitive will make things VERY UNCOMFORTABLE for the Browns…players, coaches, and fans The bookmakers are already seeing the Browns as overrated, and it is evident this week with the Browns being a touchdown underdog on the road against Baltimore..
HOW THE PUBLIC IS BETTING CLEVELAND AND BALTIMORE:
You would think as a touchdown underdog in a division game that the Cleveland Browns would be getting more love from the public….nope. As of Wednesday afternoon, 61% of the action was on Baltimore to cover the spread while just 39% liked Cleveland. Usually, I take this as a sign to fade the public, but I REALLY don't think Cleveland is a good team and I truly like Baltimore minus the points too. To be honest, I think the Ravens steamroll the Browns on Sunday sending Cleveland into a tailspin…can you tell I'm not sold on the Browns?
More Picks: Bengals vs. Steelers Pick Against the Spread
WHY THE BALTIMORE RAVENS WILL NOT ONLY COVER BUT WHY THEY WILL DOMINATE AND DESTROY CLEVELAND:
I am not one to say I told you so, okay, yeah I am, but I have been saying ALL OFFSEASON that the Cleveland Browns are a joke. They have decent pieces, but their biggest stars are a bunch of clowns…except Nick Chubb…I love that dude, GO DAWGS!! But with that said, Baker Mayfield is overrated, Odell Beckham Jr is always one play or so away from losing his mind and cussing out Mayfield (oh boy I cannot WAIT for that to happen), and the coaching staff is just average. You can write this down and take it to the bank…in three years, Baker Mayfield will not be a starting QB…for anyone. Bold yes, but trust me.
Okay, I know, enough about my hatred for the Browns. But I am serious when I say that I can just see Baltimore running them out of the stadium on Sunday afternoon. Baltimore leads the league in total yards per game as well a rushing yards per game. Not only does Baltimore have a top offense, but their defense ranks in the upper half of the league as well. Yes, I know some of the offensive numbers are skewed because of the massacre that was the season opener against the Dolphins, but even outside of that game, the Ravens scored 23 in a win over the Cardinals and 28 in a loss to the Chiefs…a Chiefs team that is a true AFC Title and Super Bowl contender. Through three games, Lamar Jackson has silenced many of his doubters, hell, I was one of them. I was not one of the ones saying he should play a different position, but I was saying that I was not sold on his passing ability…I was wrong…or at least it looks like I was wrong. So far in 2019, Lamar Jackson has passed for 863 yards, seven touchdowns, and ZERO INTERCEPTIONS, all while completing over 60% of his passes. He is on pace for a great season, and I think this weekend against the Browns, he will have yet another good game.
Cleveland comes into this game with a top ten defense in total yards, but their offense has not helped them out. The Browns rank 24th in the NFL in offensive yards per game, and they rank 27th in points scored per game with just over 16. Oh, Baltimore is also the NFL's top-scoring offense, yes, I know…The Miami game but even without that game, the Ravens would be a top-five to ten scoring team. I truly believe that this Sunday's game will come down to the play of the quarterbacks. I just gave you Jackson's numbers for 2019 and trust me when I say that Baker Mayfield is not even in the same league as Lamar Jackson, at least not so far this season. Mayfield has passed for three touchdowns and five interceptions if that tells you anything. He is also completing around just 57% of his passes. If this continues, 2019 will be a long year for him and the Browns. Again, just to sum it up, I really like Baltimore on Sunday. I see the Ravens handling business on both sides of the ball in a 27-13 win over Cleveland.
Bob's Pick to Cover the Point Spread: TAKE THE BALTIMORE RAVENS MINUS THE POINTS AT HOME OVER CLEVELAND!
STOP LOSING TODAY! START WINNING WITH DOC'S TEAM OF PROFESSIONALS! GET A FREE NO STRINGS ATTACHED $60 FOR THIS WEEKEND'S GAMES!