Bucs vs. Steelers Odds, Analysis, Free Point Spread Pick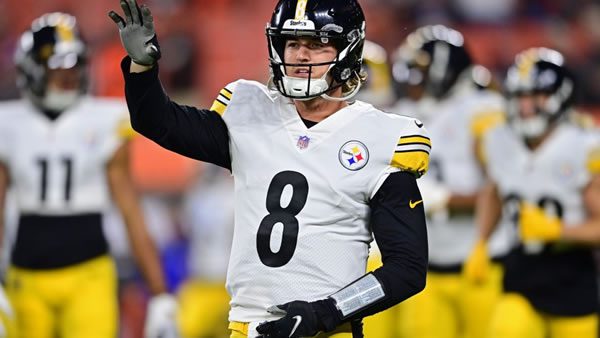 Tampa Bay Buccaneers (3-2 SU, 2-3 ATS) vs. Pittsburgh Steelers (1-4 SU, 1-3-1 ATS)
Week 6 NFL
Date/Time: Sunday, October 16, 2022 at 1PM EDT
Where: Acrisure Stadium, Pittsburgh, Pennsylvania
TV: Fox
Point Spread: TB -9/PIT +9 (Bovada – 50% bonus! Rebates on ALL your bets; win or lose! The BEST live betting platform on planet! TONS of prop bets for every game! Alternative spreads/lines! FAST crypto payouts! This is where we play because they are the BEST!) 
Over/Under Total: 43.5
The Tampa Bay Buccaneers take on the Pittsburgh Steelers on Sunday in a key Week 6 matchup. Following a 21-15 win over the Falcons on Sunday, the Buccaneers look to start taking flight after a somewhat-uneven start to the season. And they may have caught the right opponent for that in the sideways 1-4 Steelers. On Sunday, the Steelers fell 38-3 to the Bills, falling to 1-4 and starting to run out of answers. Can the Steelers come up with something? Or will Brady and the Bucs cruise to an easy win and cover over their beleaguered foes this week? Let's break it down!
Tough Spot for the Steelers?
At 1-4 and dysfunction seeping into multiple facets of the Steelers' team, one could say every week is going to be a tough one for this Steelers team. But this week, they are facing a defense that is pretty good, which could be trouble for an offense that looks to be in some trouble. Kenny Pickett is a rookie who will need time to come around. In the meanwhile, it could get ugly. They're not able to rely on anything in particular. Najee Harris can't really break off a good run. Diontae Johnson has been seeing diminished results. They have a good young receiver in George Pickens, a nice TE in Pat Freiermuth, and some appetizing offensive options. Between their struggles and the defense they will be playing this week, the prognosis can't be all that rosy.
Still, it's not a totally lost cause, at least not this week. Tampa is not immune to putting forth a clunker or, at the very least, a subpar week. And against a team that doesn't command a lot of respect, Tampa might not be totally shot out of a cannon this week in Pittsburgh against a team that just got beaten by 35 points last week. But if the Steelers fall behind and Pickett is throwing every down, some good things can happen, but it's not a really desirable course of action. It's not easy picturing this Steelers team turning games into track meets and having success. After all, he threw 52 times last week, and the Steelers could manage only a lone field goal.
Optimism for the Steelers?
In a case like this, a Steelers backer can hope that in a time when people need to take extreme stands, that may be the case is being overstated as to how bad Pittsburgh really is. On the one hand, we see them flirting with a rock bottom we've seldom seen. Last week, they were the biggest underdogs they had been since the merger and still didn't come close to covering. But with Mike Tomlin, a cast of good offensive players, and what should be a good playmaking component on defense, I wouldn't rule out a small escalation in form moving forward.
It's just that after an uneven start to the season, we might see more week six urgency than what is customary from Tampa. For the Steelers to make this work, they're going to need to find some answers, but in this context, they're going to need some cooperation from the Bucs. And that's not something that is out of the question, as we've seen some regular-season apathy from the Buccaneers since they elevated their status with the arrival of Brady. And seeing them struggle last week against the Falcons and even need some help from the refs to steer things in their column shows we're not dealing with a peak Bucs' squad just yet this season.
More Picks: Get the mnoey with Loot's Panthers at Rams Week 6 point spread winner
Get-Well Spot for Tampa?
After watching Buffalo go to town against this Steelers' defense, maybe Tampa looks at this as a chance to jump-start their run to another title. This is a defense that can be exploited in a big way, both through the air and on the ground. Perhaps Brady uses this week to pad the stats of some supporting players, most of whom haven't really gotten off this season yet. In other words, we may have seen some uneven moments leading up to now, but one shouldn't expect that constantly. After scoring over 21 points just once and that coming in a loss, it seems like we're due for some real Tampa offensive fireworks. And why not now, against a defense that hasn't been stopping much of anything the last several weeks?
And granted, we don't much about Steelers QB Kenny Pickett. With Mitchell Trubisky, we more or less know what we're getting with all the data available on his prior work. So we can't be sure until we're sure. Are his early struggles more about the difficult situations he's being thrown in, or is it a testament to his overall skill? The thing is, we don't know for sure, and if he does somehow turn it around, he has the tools to make it work with backs, wide receivers, and a tight end who have shown they can shine in this system. But can you count on this? With Brady and his crew, you have a bankable unit that has proven time and again they can make it happen, even in a tough road spot.
Lay the Points on the Road Team
It's not an easy game to break down with the variance we've seen through five games from both teams. If a sleepy Tampa bunch shows up and the Steelers start playing better, who knows how this will play out in the end? I just have the feeling that this Steelers' team in its current incarnation is going to need a specific set of circumstances in which to thrive. And a Tampa team that needs to start making things happen might not be what the doctor ordered heading into week six. I see Tampa putting it on the Steelers this week and cruising to the finish line with the win and cover. I'll take the Bucs in this one.
Loot's Prediction to Cover the Point Spread: I'm betting on the Tampa Bay Buccaneers minus 9 points. Did you know that you can make the Bucs a +10 underdog by adding them into a massive 20 point teaser at Wagerweb Sportsbook?