Carolina Panthers vs. Arizona Cardinals Predictions 11/14/21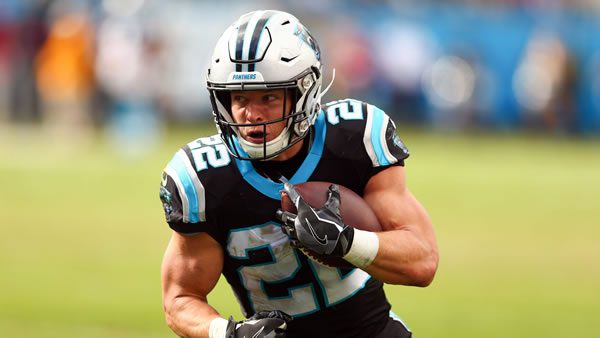 Carolina Panthers (4-5 SU, 4-5 ATS) vs. Arizona Cardinals (8-1 SU, 7-2 ATS)
Week 10 NFL
Date/Time: Sunday, November 14, 2021 at 4:05PM EST
Where: State Farm Stadium, Glendale, Arizona
TV: Fox
Point Spread: CAR +10/ARI -10 (Betanysports - Imagine how much money you'd save if you were betting on games at -105 odds instead of -110. It adds up to HUNDREDS (if not thousands) of dollars over the course of the season! Spend 5 minutes to make the switch! It's the SMART way to bet!)
Over/Under Total: 45
The Carolina Panthers take on the Arizona Cardinals in Glendale on Sunday in a key NFC showdown in the desert. Carolina is really up against it after falling to the Patriots, 24-6 on Sunday. With their margin for error narrowing, they get a tough road assignment in the form of the 8-1 Cardinals. On Sunday, without Kyler Murray at quarterback and with Chase Edmonds going down with an ankle sprain, they still managed to beat the 49ers on the road, 31-17. Can they get it done at home, or will the desperate Panthers spring to life?
Question Marks Looming Over this Game
As of press time, Murray's status is unknown. A spread being posted with a number that suggests he will be in there is a good sign. If forced to guess, most would expect to see him in there. While Colt McCoy is a capable backup in a short window, Murray makes all the difference. The Panthers also saw some injury news break their way with Christian McCaffrey returning last week. With almost 20 touches, it still didn't matter as the Panthers didn't hit the end zone once. With three picks on the heels of a string of bad showings, one wonders when Matt Rhule will give Darnold the hook. This could be a spot where we see PJ Walker.
The Disarray of the Panthers
After a 3-0 start, a win over the Falcons in their only success in the past few months. Everything has soured, and losing McCaffrey didn't help a team that can ill-afford to lose its lone superstar. But in his absence, QB Sam Darnold went into the tank. Receivers DJ Moore and especially Robby Anderson have been silent. They haven't surpassed 19 points in three weeks. Losing to the Giants by 22 and the Patriots by 18 points certainly paints a bad picture.
The Panthers' defensive stats might not paint a dire picture. Much of that is front-loaded to the beginning of the season when they allowed 30 points through 3 games. Since then, they have actually been fairly respectable, considering how little support they're receiving with all the turnovers on the other side of the ball. Other than the Cowboys and Vikings, no one has really taken it to the Panthers. But with their run-stop waning and the constant undermining, even that side of the ball is fraying at the edges a bit.
Keys for Arizona
Health is a big issue coming into this game. Needing to cover a number, you need an intact offense to really take it to a defense like Carolina's. Otherwise, you could be looking at a grind where covering is an uphill battle. There are some iffy pieces. Not only is Murray still nursing an ankle sprain, with Edmonds now missing time, but DeAndre Hopkins missed last week with a hamstring issue, with AJ Green also missing time. Their strength on offense comes down to Murray and the sheer variety of their weaponry, something the injury bug might cut into a little bit. If so, it could give the Panthers a chance they need to perhaps hang in there in this tough road spot.
The Cardinals' defense certainly has the ability to disrupt Darnold or whoever is in there. The pass-rush can be deep, they get a lot of takeaways, and they can definitely make some game-changing plays. They're still not the hardest team to run against, and the idea of a McCaffrey nearing full health should provide rightful concern. Still, if the Cardinals' defense picks up the slack like they did last week with Murray out, they look to be a handful at home against what has been a letdown of a Carolina offense. Some of these recent weeks have been painful for Carolina supporters waiting for that offense to turn over, with a six-spot against New England and a lousy field goal against the Giants. The only time they shined on the road is against a team everyone shines against in the Texans. Otherwise, it's been an almost-unbearable sight.
More Picks: Jags at Colts Against the Spread Prediction
Trying to Justify Carolina
It almost seems too easy to project another inept Carolina offensive showing while assuming Murray will snap right back into it if he's even in there the whole game. Either Darnold can snap out of it, or maybe Walker can come up with something. You'd think McCaffrey is soon to have one of his big games at one point or at least open things up for someone like Moore to put up some big numbers. Making it hard is that last week was a must-win, as well, they had McCaffrey back, and it amounted to six whole points. So against a better team on the road, why now would they snap out of it? But maybe with Arizona having some margin for error at 8-1 converging with Carolina simply being due and desperate, we can get a game that isn't a total romp in favor of the Cardinals.
Take the Points on the Road Dog
Anyone who has seen recent Panthers games might find this a hard move to make. I think there is enough ammo to leverage on Carolina's behalf, including some Arizona injury concerns, along with the promise of enhanced offensive production with the return of McCaffrey, the threat of upheaval at QB, and perhaps some subsequent production aerially. If the Panthers can maybe get an early jump on a Cardinals team that doesn't come out shot from a cannon, I see them getting out of town with the cover. I'll take a whirl on the Panthers on Sunday.
Loot's Prediction to Cover the Point Spread: I'm betting on the Carolina Panthers plus 10 points. Bet your Week 10 NFL picks FREE by taking advantage of a 100% real cash bonus on your first deposit of $100 to $500 at GTBets Sportsbook!