Carolina Panthers vs. New York Giants Week 2 Bet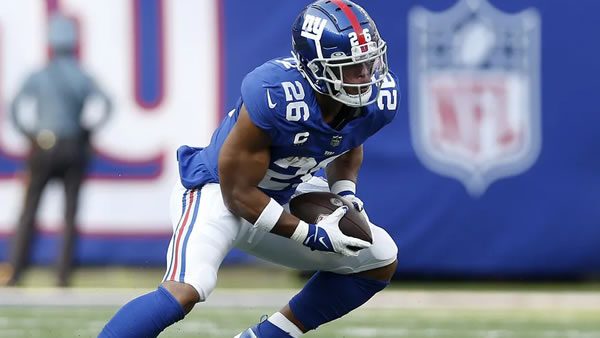 Carolina Panthers (0-1 SU, 0-1 ATS) vs. New York Giants (1-0 SU, 1-0 ATS)
Week 2 NFL
Date/Time: Sunday, September 18, 2022 at 1PM EDT
Where: MetLife Stadium, East Rutherford, New Jersey
TV: Fox
Point Spread: CAR +2.5/NYG -2.5 (Bovada – Offers an incredible live betting platform where you can bet on all NFL games on the same page! Not a clunky platform like most bookies! This place processes wagers FAST so you don't have to keep tryiing over and over again!)
Over/Under Total: 43
The Carolina Panthers come to MetLife Stadium on Sunday for an NFC showdown with the New York Giants. It was a rough week for the Panthers, as they were out of the game against Cleveland early before storming back and taking the lead with just over a minute left. But a late FG drive by the Browns spoiled it and sent the Panthers into week two at 0-1. They come to face a Giants team that faced their own issues on Sunday but managed to pull through in the end with a big 21-20 win over the Titans on the road. They return home in what seems like a winnable spot on Sunday. Who can get us the win and cover on Sunday?
What to Expect from Carolina
Dealing with a new look at QB with Baker Mayfield, the Panthers don't have high expectations this season, and some of that bore out on Sunday. In what seemed like a winnable home spot against Cleveland, they spent most the game one or two TDs behind before they stormed back with a TD from Christian McCaffrey, a Mayfield TD run, and a big connection between Mayfield and Robbie Anderson, but their defense couldn't hold it, with the Jacoby Brissett-led Browns' offense engineering a late drive for the FG and the win.
As is his wont, Mayfield will be up and down. Among the positive signs was the mere presence of McCaffrey, and even if he was muted other than the TD score, he should produce. Robbie Anderson getting involved was big, as he was virtually invisible at times last season. And Mayfield should connect increasingly with DJ Moore in upcoming games. But there will be games where Mayfield is making mistakes and undermining the whole offense, and we saw a touch of that on Sunday. It's just that the whole team is sort of a drag. You have some talent with McCaffrey and Moore, but there are flaws all over the field—a dicey supporting aerial crew, an offensive line that doesn't always support the effort, and a defense that is short on star-power and playmaking. There just isn't a lot to get excited about on this Carolina sideline, while you have to keep in mind that the talent they do have can surface in a big way at a given time.
Luckily for the Panthers in this matchup, they are facing a squad with many of the same issues at play. Beating the Titans on the road, however, shows they may be more primed to come out of that role. Still, the Giants are troubled with inconsistent QB play, along with poor offensive line play and a slew of pass-catchers who show up some days and don't on others. And with Saquon Barkley serving notice that he's ready to reclaim his vintage form, they also have one major star in the backfield like the Panthers who can carry the team on his shoulders.
Giants on the Rise?
With new head coach Brian Daboll in there running the show and instilling his offensive philosophy, we saw some things pay off. Sure, they're handcuffed, without many of the trinkets, Daboll had at his disposal in Buffalo. But we saw QB Daniel Jones running the offense well and, other than a pick, was 17-for-21 with two big TD throws, including one late that cinched the upset road win. We saw some of the big plays we haven't been seeing from the Giants in recent seasons, with Barkley and Sterling Shepard each making long highlight plays on the afternoon. And with 164 yards and a TD on the ground, along with six receptions, the offseason hype regarding the possible resurgence of Barkley might be more than just wishful thinking. And let's not forget how Daboll and the Giants went for two to win the game. That kind of winning attitude could go a long way.
We need to see more from the Giants' defense. They took what looked to be an off-key Tennessee offense and held them to a reasonable amount, kept Derrick Henry in check, and held the Titans to one second-half score. They're still a unit that figures to get exploited from time to time, and Carolina has some of the horses to do it on a day where they're on-point. The Giants' "D" isn't a group that is big on game-changing plays, they might have trouble getting after the passer this season, and they are far from invulnerable aerially.
More Picks: Get our Bucs vs. Saints betting analysis and suggested bet for thir Week 2 game >>>
Jumping to Conclusions
Both teams have issues and will see uneven trajectories this season, making it all the more important to not go crazy with week one takeaways. One could notice how the Panthers were overtaken by a rough-looking Browns team while the Giants overcame last year's top seed from the AFC, and the mind runs with the story. But both games were last-second affairs that were up in the air. They could have gone either way and going the way they did shouldn't be the ultimate guiding light looking ahead. Not to get all Dennis Green about it, but these teams aren't all that dissimilar to what we thought they were, regardless of their respective week one results.
Bet on the Home Team
The thought on Daboll's arrival to the Giants was that it couldn't get any worse, meaning they thought Daboll's offense was a better fit but wondered if they had the horses to carry it out. And that might still end up being a problem. But with a healthy and fast-starting Barkley, things could take off with the new offensive outlook. Carolina, meanwhile, seems to be a dangerous opponent—able to wield weaponry like McCaffrey. And Mayfield doesn't always stink. But I think consistency is going to be hard to achieve, and I think the Giants give them a real test on Sunday.
Loot's Prediction to Cover the Point Spread: I"m betting on the New York Giants minus 2.5 points.