Chargers vs. Bills Odds & Prediction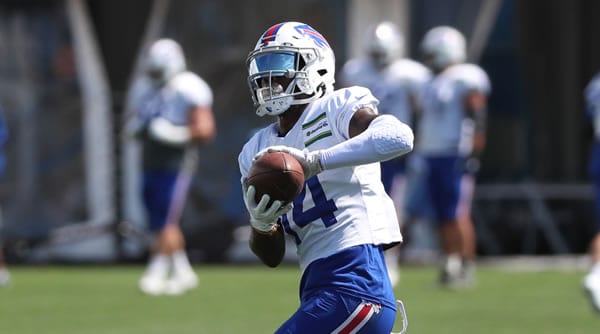 Los Angeles Chargers (3-7 SU, 5-5 ATS) vs. Buffalo Bills (7-3 SU, 5-5 ATS)
Week 12 NFL
Date/Time: Sunday, November 29, 2020 at 1PM EST
Where: Bills Stadium, Orchard Park, New York
TV: CBS
Point Spread: LAC +5.5/BUF -5.5 (WagerWeb - Ridiculous 20 Point Teasers!)
Over/Under Total: 54
The Los Angeles Chargers come into New York state for a week 12 AFC showdown with the Buffalo Bills. It has been a successful first ten games for the Bills, starting off at 7-3 and coming off the bye week. In their last appearance, they came up painfully short in a loss to the Arizona Cardinals, 32-30, victims of the dreaded Hail-Mary. Rested, they now await the Chargers at home. The Bolts are coming off a series of draining games and now have to play outside of their time-zone in a long road trip coming off a win at home over the Jets. They look for what would be their most impressive win of the season this week against a Buffalo team that has a lot to play for. Who can get the cover in this one?
Where the Bills Stand Coming off the Bye
The 7-3 record isn't an aberration, but rather the partial culmination of a lot of struggle and hard work. Their record carries an air of quality to it, with wins over teams like the Dolphins, Rams, Raiders, Patriots, and Seahawks. They lost at home to the Chiefs, got their clocks cleaned by the Titans on the road, and then, of course, that awful loss two weeks ago—a tough way to go into the bye week. Nevertheless, they are unquestionably rising contenders who stand to be a daunting home task for the incoming Bolts.
More Picks: Panthers vs. Vikings ATS Play >>>
One has to wonder how equipped the compromised Chargers' defense will be in containing a robust and rested Bills' home-offense. Josh Allen has a lot of tools, and week after week, we see him connecting massively with Stefon Diggs, Cole Beasley, John Brown (questionable), and a thick cast of role-receivers and tight ends who can pop up and do damage. The run-game between Devin Singletary, Zack Moss, and Allen has been somewhat of a disappointment, and that's why we sometimes see the offense a bit flat when the aerial game doesn't thrive. Still, this is an offense that could do damage to a Chargers' pass defense that isn't what it was supposed to be. There were issues in weeks 5-8 where the Bills scored just a combined 75 points in four games, but with 74 in their last two, they look to be back on track.
Potential Drawbacks for Buffalo
There are a few things that are worrisome about the Bills' defense. For all the Chargers' faults and their poor overall record, they can still show some spark on offense with rookie Justin Herbert airing it out. The Bills have been a defense that can make big splash plays and turn a game around with their playmaking. They just haven't been very stout. They really suffer at times against the run. Luckily for them, the Chargers' run-game has taken a step back more often than not in recent weeks. But they can sometimes extract a lot out of what little they have back there. With the ample aerial firepower of the Chargers, it might not be a picnic this week for a Buffalo defense that has to start answering some tough questions.
DEPOSIT $250 AND GET $250 FREE AT BETNOW SPORTSBOOK!
More alarming perhaps than the stretches where the Buffalo "D" isn't very stout is some issues in their late-game play. To allow that pass from Murray to Hopkins is really egregious. That was the ultimate display of a late-game collapse, but it wasn't the first time this season where the team had to battle through this defense, stinking it up in the second half of games. But it's a troubling trait, especially for a team trying to cover a number at home this week.
A Decent Underdog Spot for the Bolts?
In a lot of ways, this is the kind of spot where the Chargers can do damage. Last week as big favorites, they fell flat. It's not their role. And when a team invariably has the action late in a game go in their opponents' favor, laying a number ends up feeling painful. But the fact remains that they are dangerous. Justin Herbert might be the Rookie of the Year and consistently puts up healthy aerial totals. They are one-dimensional with a run game decimated by departures and injuries, but with Keenan Allen, Mike Williams, Hunter Henry, and a cast of guys popping up on different weeks to do damage, this group can sometimes run with the big dogs. On Sunday, Allen caught a ridiculous 16 balls.
It was good for the Chargers to see Joey Bosa back on the field last week, as their menace upfront has taken a big step back amidst all the injuries. Most of the heavy hitters on this side of the ball have been shelved, but with Ingram, Bosa, and others starting to file back into the rotation, things could be looking up. But in all reality, this side of the ball has been a major liability, particularly in how they often seem to be going out of their way to make things easy for the opponent who is trying to overcome a deficit. And it looked to be going that way on Sunday, as the Bolts took a 24-6 halftime lead, only to see the Jets get within a score late, as the Chargers once again failed to cover the spread for the fourth straight game.
Take the Points
This would certainly qualify as a buyer-beware situation, being that the Bolts can wield a soul-crushing level of pain in football betting, unlike any franchise. If there's a play that appears to seal the spread for you when betting on the Chargers, pause before celebrating. There was probably a personal foul call that will end up spoiling it for you. It can get that bad. But getting points and being legitimately dangerous on offense along with a defense that has been playing better for long stretches in games, I'd rate them a decent underdog choice this week. I'll take the Bolts and the points.
Loot's Prediction to Cover the Point Spread: I'm betting on the Los Angeles Chargers plus 5.5 points. Bet your Chargers/Bills pick and ALL your sports bets each week at -105 odds instead of the spendy -110 that you're book is sapping you with! Making the switch to reduced odds sports betting will save you THOUSANDS of dollars in risked $ over the years! It trumps ANY bonus you can get! Find this huge money saving offer at BetAnySports!
$100% Cash up to $500

Football Betting Guide
New to football betting? NFL point spreads can be confusing at first, but our how to bet on football article help you bet like a seasoned pro! You'll also learn how to wager on teasers, parlays, over/unders, prop bets, futures and how point buying works.