Chicago Bears vs. NY Giants Pick Against the Spread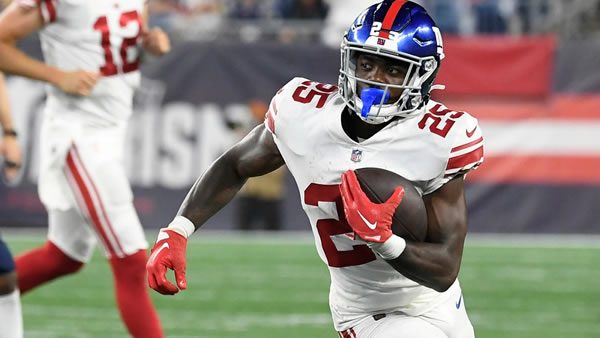 Chicago Bears (2-1 SU, 1-1-1 ATS) vs. New York Giants (2-1 SU, 2-1 ATS)
Week 5 NFL
Date/Time: Sunday, October 2, 2022 at 1PM EDT
Where: MetLife Stadium, East Rutherford, New Jersey
TV: Fox
Point Spread: CHI +3/NYG -3 (Bovada)
Over/Under Total: 39
The Chicago Bears take on the New York Giants in a key NFC battle from East Rutherford on Sunday. While neither team has knocked anyone's socks off yet, the reality of this situation is that one of these teams will emerge from this at 3-1, which for either squad would be a surprise. The Giants fell to the Cowboys on MNF, 23-16, in their first loss of the season. They turn round on the short week to face the Bears but get this one at home. On Sunday, the Bears moved to 2-1 with a 23-20 win over the Texans. Who can get the upper hand at MetLife Stadium on Sunday.
Tidying Up Some Business
Neither team got out of last week unscathed. Chicago, already dealing with what appears to be an undermanned offense, now faces the prospect of David Montgomery missing more time. That might not work out so badly, with Khalil Herbert having shown his fangs over the parts of the last two seasons in a fill-in role. But just as Byron Pringle looked to be getting going, he's now lost, leaving even fewer viable options or a very aerially-challenged Chicago offense.
The Giants' offense is also facing an aerial crisis—one they can ill afford. With the injury bug having already descended on this group, they just found out that WR Sterling Shepard will be lost for the season. Later in the week, we need to check the statuses of Wan'Dale Robinson and Kadarius Toney, as the Giants are already facing a crisis in week 4. It almost gives way to what seems like too easy of an analysis, where one has to assume these two aerially-crippled teams that aren't that good under ideal conditions will use the run-game even more heavily. And the prospects of pitting Saquon Barkley against a Chicago run defense that couldn't even really contain Dameon Pierce last week aren't so bad for Giants' backers this week. Then again, it's not hard picturing the opposite, with Herbert (presumably) taking it to a leaky Giants' defense.
Fargo's NFL Nonconference Game of the Year

Going back to last season, Fargo is an INCREDIBLE 11-5-1 ATS with his Football Game of the Year plays! He is coming off another winning week and has won in 10 of the 12 weeks in the NFL and he is ready for more to add to his 35-22-1 NFL run and his 44-27-1 record in the NFL YTD! Matt has his NFL Nonconference Game of the Year to continue Week 13 that WINS WITH EASE to maintain the dominance! Do yourself a favor and grab a subscription and do not miss a play as every sport is in action right now!
Which 2-1 Record Rings Truer?
This could be a case of splitting hairs. Both teams have two wins that don't really force one to take a different view on these two teams—a pair of squads where it's assumed they will not see the postseason. The Bears nosed by Houston last week, with their other win being over San Fran in a monsoon at Soldier Field. Those wins sandwich a 17-point hammering by a Packers team that hasn't looked that good. The Giants also have low-grade wins—a week one win over a Tennessee team that didn't look ready for week one, along with a FG win over the Panthers at home. But in their one loss, they weren't embarrassed, though it didn't look good on MNF against the Cooper Rush-led Cowboys.
More Picks: NY Jets vs. Pittsburgh Steelers Point Spread Value Pick
Challenges for the Bears this Week
It's hard not to think this Chicago team is in some trouble offensively. And to be fair, the same applies to the Giants, but the Chicago offense can hit some very low notes. If the Giants can somehow get a handle on the Bears' run game, which very well might be led by a backup, Chicago has few other options. Justin Fields has been able to get next to nothing going aerially. Darnell Mooney has been relatively silent. And not that teams can't run against this Giants' defense, but Herbert might not find things as easy this week as he did against the Texans' front last week. This Chicago offense will be reliant on Herbert and whatever Fields can chip in with his legs.
Still, this isn't a spot where you can really picture Daniel Jones having a field day with his arm, either. The loss of Shepard really hurts. WR Kenny Golladay has virtually disappeared in this offense. And even if Robinson and Toney are both back in there by Sunday somehow, they might need time to get worked back into the offense. Still, between the pass-catching ability of Barkley, the performance of rookie TE Daniel Bellinger, and the talent they still have aerially, I think the Giants' offense has more upside this week.
Things in Common
Again, there is a splitting-hairs dynamic to this analysis of two highly flawed one-loss teams. Each team is under a first-year head coach, with offenses featuring running quarterbacks. Both of their receiving corps are torn up, and they should both feature the run. But neither defense is good at stopping the run. Still, neither team has a good enough offensive line to guarantee anything on the ground. When you get past what they have in common, however, perhaps the Giants start to shine through a bit. Between their slightly-better offensive variety, offensive coaching innovation with Brian Daboll at the controls, being at home, and Barkley being a more versatile and bankable force than Herbert, there might be more optimism on their side.
Take the Home Team
With the injuries and the state of these teams along both lines of scrimmage, there is only so much of a concrete prediction one could really make. Teams that haven't been seeing certain things work might see it go better when playing either of these defensive units. And while this is steeped in a somewhat simplistic analysis, it's hard to escape the notion that this is a spot where Barkley can really be a compelling figure in this game and help his team get to the wire a nose ahead. I'm taking the Giants.
Loot's Prediction to Cover the Point Spread: I'm betting on the New York Giants minus 3 points.