Chiefs vs. 49ers Analysis & Spread Bet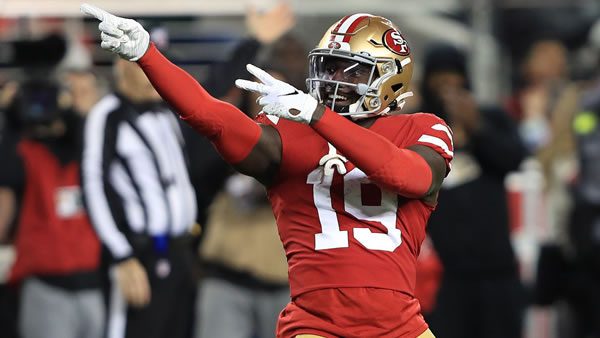 Kansas City Chiefs (4-2 SU, 2-4 ATS) vs. San Francisco 49ers (3-3 SU, 3-3 ATS)
Week 7 NFL
Date/Time: Saturday, October 23, 2022 at 4:25PM EDT
Where: Levi's Stadium, Santa Clara, California
TV: Fox
Point Spread: KC -3/SF +3 (Bovada)
Over/Under Total: 48.5
The Kansas City Chiefs come to Levi's Stadium on Sunday for a big Week 7 showdown with the San Francisco 49ers. The Chiefs have seen a good start to the season but were cooled down a little on Sunday in a loss to conference rival Buffalo, 24-20. They look to rebound but are on the road this week in a bit of a foreign locale for them in Santa Clara against a 49ers team that looked to hit a bit of a wall on Sunday in an ugly 28-14 loss to the Falcons to drop them to 3-3. Who can lick their wounds from last week and secure us the cover in week 7?
San Francisco: Hard to Get Behind
It should be said that in the last handful of years, we've seen a 49ers team perhaps be the league leader in withstanding the crunch of injuries. They are always fighting this element of the game, and usually, they forge through. As a result, they've built a strong team character and a ton of depth, with everyone on the team likely to be called upon at some point. But after looking good in spots this season, last week seemed to point toward a harsh reality, namely, how it's hard to soldier on when entire portions of your team are just wiped out by injury setbacks.
While keeping in mind that a few guys could start filing back into action, the Niners rely upon certain things to succeed, and without them, it's just going to be tough. A defensive line that is a foundation is obliterated by injuries, and that goes ditto for the secondary. Their offensive line is in tatters, with little relief in sight. And this is after already having lost both their starting QB and RB. You could argue that Jimmy Garoppolo isn't much of a drop-off from Trey Lance or that Jeff Wilson, Jr. isn't much worse than Eli Mitchell. Fair enough. But with both lines of scrimmage now deeply compromised and a dicey secondary with Patrick Mahomes coming into town with an irritated Chiefs team looking to atone for last week, the prognosis isn't looking too rosy.
10* CONF CHAMP TOTAL - 7-3 (70%) NFL PLAYOFFS
AAA Sports has hit BOTH their Wildcard Round and Divisional Round TOTAL OF THE YEAR, meaning you simply CAN NOT afford to miss out on their CONFERENCE CHAMPIONSHIP TOTALS WINNER! Now an ABSOLUTELY ELECTRIC 7-3 (70%) in the NFL Playoffs, this is TRULY the BIG PLAY that you've been waiting to just UNLOAD on!
The Power of Character and Depth
Over the last several seasons, we've become conditioned to process things a little differently with the 49ers. Locking in negative perceptions on this team have come at a cost before, and we'd like to avoid that in the future. After all, it's not unreasonable to think that a two-touchdown loss to the Falcons last week represents a period where the personnel losses are starting to register with the 49ers in a catastrophic way. That would be the result with most teams in a similar spot, but we've seen the Niners buck those notions before, often emerging from weeks where nothing looks to be going well in far better shape than people anticipated.
In other words, be hesitant before beginning to shovel dirt on the perpetually overachieving 49ers. They find answers when it looks like there are none. You see the injuries. You see things like Deebo Samuel receding as a producer in this offense. Both the run and aerial game have taken hits from injuries. And on the opposite sideline is a Chiefs team, intact and looking to atone for last week and not fall to 4-3 this week. It just sets up mentally into a situation where the inclination will be to take the Chiefs.
Issues for the Chiefs
Even in losing fashion last week, the Chiefs saw some things go decently well. Their defense wasn't really run over by the powerful Bills' offense. And with the receiver package having been a big mish-mosh, seeing JuJu Smith-Schuster step out from the pack was encouraging. Travis Kelce continues to be a total handful at tight end, but the Chiefs were known for offense, and he's the last vestige from that gravy period. Can they sustain with more of an ensemble approach? Will they be able to take as much advantage of a compromised Niners' defense with a less-dependable offensive cast? They don't really have a great run game and more just hope either Clyde Edwards-Helaire or Jerick McKinnon gets in on the TD extravaganza. And whatever receiver steps up on a given day is anyone's guess, but they no longer wield the top-end number-one receiver anymore.
Then again, maybe a lot of this is wrapped up in perception. The Chiefs are still the top-scoring team in the NFL. Some of these uneven issues we see on offense could surface as they push for another title, but maybe it's all just smoke and mirrors right now. They still have Mahomes, who commandeers a vital aerial attack on a team that remains compelling conference contenders. In other words, the drawbacks we cite with the Chiefs might be more in the vein of why or why they won't win it all this season—not whether they can show up on the Niners' field and make it work. And let's face it, a lot of the Niners' issues on defense feed right into what the Chiefs do well.
Lay the Number on the Road Favorite
Over the last few years, taking the apparent shortcomings of the 49ers overly to heart has come at a cost. I don't rule out the possibility that they take what appears to be near-crippling personnel developments, shrug them off, and get right back to business this week. I'm just not sure it's the best spot with a Chiefs team eager not to drop consecutive games, looking to get back on the ball after losing to the Bills last week. This is a tough road spot for Kansas City, and the Niners are also looking to atone for last week, but I see the Chiefs pushing through, winning, and covering the spread this week. I'll take the Chiefs in this one.
Loot's Prediction to Cover the Point Spread: I'm betting on the Kansas City Chiefs minus 3 points. You can bet the Chiefs at +13 by inserting them into a massive 19 point NFL teaser found at Wagerweb Sportsbook!