Cleveland Browns vs. New England Patriots Prediction ATS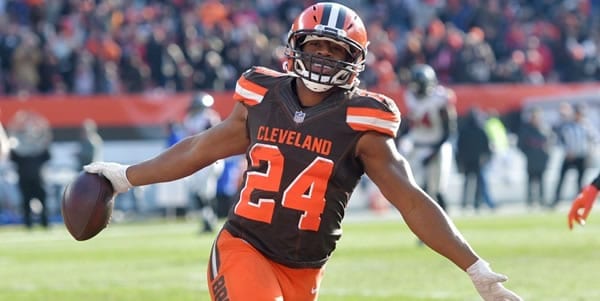 Cleveland Browns (2-4 SU, 2-4 ATS) vs. New England Patriots (6-0 SU, 4-2 ATS)
Date/Time: Sunday, October 27th, 4:25 PM
Where: Gillette Stadium, Foxboro, MA
TV: CBS
Point Spread: CLE+13 / NE -13 (Sportbet)
Over/Under Total: 46
In a battle of teams on nearly opposite sides of the AFC playoff rankings, 7-0 New England Patriots take on the 2-4 Cleveland Browns at Gillette Stadium for a late Sunday afternoon showdown in Foxboro. Both teams were heavily bet to win the Super Bowl before the season started, with the Browns and Bears the most popular of all the NFL teams. Many fans apparently forgot that the Browns had a rookie head coach along with a quarterback who struggles against quality competition and that the Bears have Mitch Trubisky as their starting quarterback.
PROBLEMS ALL OVER
What was supposed to be a promising year for the Browns has instead turned into a massive disappointment. They have just two wins on the season and have issues all over. Head coach Freddie Kitchens is clearly in over his head and has proven this on multiple fronts, whether it is highly questionable play-calling or having an undisciplined group of players that currently leads the NFL in penalties per game with a rate of 9.5. It's certainly not all Kitchens' fault, as the team has been plagued by shoddy offensive line play and multiple dropped passes. Both of those factors might also seem like a reasonable excuse for poor quarterback play, but they, in fact, don't do much to help diminish just how bad quarterback Baker Mayfield has been at times throughout the season.
BAKER TURNING SOUR
Last years' number one draft choice, Mayfield was expected to make the leap in his sophomore campaign after leading the Browns to seven wins in 2018 and putting up 3,725 yards passing and a 27-14 TD/INT ratio and completing just under 64% of his passes. This year has been a different story, having thrown an interception in every game so far and currently leading the league in picks with eleven while also completing only 56.6% of his passes and throwing for just five touchdowns. He is 33rd in the league out of 36 players in quarterback rating and has been especially porous in the red zone, completing only 9 out of 29 passes. The former Sooner has especially struggled against quality opponents, having gone just 2-8 in his last ten games against teams with a winning record. What makes his plummet in play so confusing is the number of weapons around him at the skill position spots.
LACK OF STATS
The addition of Odell Beckham Jr. to an offense that already had Jarvis Landry and running back Nick Chubb was supposed to supply Mayfield with an improved arsenal and make things even easier for him to build on his previous success. Instead, Beckham has scored just one touchdown on the season, and Landry has yet to find the endzone and has posted over four receptions in a game only once in six contests. Thankfully for Cleveland running back, Nick Chubb has stepped up in his second season, rushing for 607 yards and six touchdowns while posting a 5.3 yards per carry average. He has been especially effective of late, posting 347 yards and five touchdowns over his past three games, but may find the going a bit tougher if Mayfield continues to struggle and opposing teams put more of a focus on stopping the run.
HISTORIC DOMINANCE
The Patriots come into this game riding an undefeated 7-0 record, and the main part of that reason has been the play of a defense that continues to dominate in ways never seen before in the league. The team has allowed just 48 points through the first seven weeks, with the next highest total being 75 points allowed from the 2000 Baltimore Ravens. They have allowed only one passing touchdown compared to recording eighteen interceptions, a figure that has them currently sitting at +14 in turnover ratio with the next highest team being +7. And in 92 opposing offensive drives this season, the defense has allowed touchdowns on just three of those and overall has scored more touchdowns (5) than they have allowed (3).
UPGRADE
On Tuesday, the Patriots reinforced their offense by trading for wide receiver Mohammed Sanu, which with little production from the tight end position and injuries throughout Tom Brady's list of targets it made complete sense for New England to make the deal. They gave up a second-round pick, which will be at the end of the round anyways and shouldn't matter in the long run as they are routinely terrible at making picks in the second.
GORDON OUT, ROOKIE UP
With Josh Gordon missing in action again versus the Jets due to injury, the Patriots looked to undrafted rookie Jakobi Meyers to fill the void, and for the second straight game, he delivered. Meyers has caught the last nine passes thrown his way during that period, and while he has been kept out of the end zone thus far, it only seems like a matter of time before he scores a touchdown as he continues to build a connection and rapport with Tom Brady. The Patriots quarterback is averaging 285 yards per game with an 11/4 TD-INT ratio, but those interceptions have all come individually in their last four straight games. Hopefully, with the additions of Sanu and the upcoming expected return of first-round draft choice N'Keal Harry, Brady will likely be able to improve on his stats as more options become available.
SCORING OFFSETS YARDS
Despite scoring three touchdowns against the Jets, there continues to be a concern with Patriots lead back Sony Michel. The second-year running back has rushed for an average of just 55 yards per game and a measly 3.3 yards per carry. Another issue has been the teams' attempts to get him more involved in the passing game, which hasn't gone as well as planned as he has again run into issues with drops as a sure touchdown screen pass set up was voided by his buttery hands mistake last week versus the Jets. He should have a chance to improve on his numbers this week, as the Browns have just the 30th ranked rush defense in the league, and with the Patriots expected to win big, he should find ample opportunity.
THE FINAL DECISION
The Browns enter this week off of a bye. Still, that usually important variable is likely negated by the fact that they have arguably the worst head coach in the league who seems so far in over his head that even an extra week to prepare won't be of much help. Freddie Kitchens may be the most ineffective coach Bill Belichick has ever gone against, and the coaching differential is likely the most significant factor going into this weeks' game. The Patriots are 20-0 in their last 20 games against first or second-year quarterbacks. This Sunday, they welcome Baker Mayfield to Foxboro, who is the most turnover-prone QB in the league and now has to go against a ball-hawking defense that also ranks first in the league in yards and points allowed per game. Myles Garrett and the return of Denzel Ward and Greedy Williams from injury should help the Browns defense a great deal. Still, there is only so much they can do and so long that they can hold back the Patriots offense, and I don't see a situation in which New England doesn't get another win and cover and end the first half of their season with a perfect 8-0 record.
Mike's Pick to Cover the Point Spread: New England -13
STOP LOSING TODAY! START WINNING WITH DOC'S TEAM OF PROFESSIONALS! GET A FREE NO STRINGS ATTACHED $60 FOR THIS WEEKEND'S GAMES!