Cleveland Browns vs. Pittsburgh Steelers Pick 12/1/19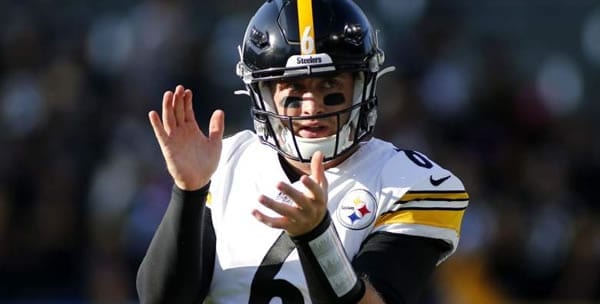 Cleveland Browns (5-6 SU, 4-6-1 ATS) vs. Pittsburgh Steelers (6-5 SU, 7-4 ATS)
NFL Week 13
Date/Time: Sunday, December 1, 2019 at 1PM EST
Where: Heinz Field, Pittsburgh, Pennsylvania
TV: CBS
Point Spread: CLE -1.5/PIT +1.5 (Intertops - 50% bonus from web's oldest/most trusted!)
Over/Under Total: 40
The Cleveland Browns take on the Pittsburgh Steelers on Sunday at Heinz Field in AFC North action. These teams played a few weeks ago, with the game being memorable for all the wrong reasons. The Browns were able to get on the right track that week, despite losing their best defensive player for the season. They otherwise shined in a 21-7 win, following it with a 41-24 win over Miami last week for their third straight win. Pittsburgh, meanwhile, poked their heads above .500 again last week with a 16-10 win over Cincy. After two consecutive road-games, they now come back home and look to even the score with their divisional rivals on Sunday.
How Part I Affects This Game
The helmet-clubbing incident perhaps sucked some meaning out of what actually occurred on the field. And what we saw was a fairly-dominant showing by the Browns. The recipe for success was simple for the Browns—no mistakes from Baker Mayfield, the run-game delivering with Nick Chubb, and an opportunistic defense that capitalized on the errors of a Steelers' offense that is handcuffed by a general lack of firepower. And after seeing Mason Rudolph throw four picks while getting off to a bad start against the Bengals, they put Devlin Hodges back in there. Considering who they're playing this week, it would be a weird time to go back to Rudolph, as they are now shoehorned into playing the undrafted rookie free agent again. This Steelers' offense remains a major roadblock to a cover in this spot.
More Picks: Eagles vs. Dolphins prediction against the spread >>>
Stakes
Both teams face a problematic road to the postseason at this point, but at least one wild card spot is still open to teams lingering around the .500 mark, whereas in the NFC, these squads would be dead in the water. With the Browns getting three wins to get to this point, they have really labored to overcome a harrowing start to the season. And with a 1-4 start, the Steelers have won 5 out of 6, overcoming endless personnel issues to get to this point. In other words, we see two teams that have done well to overcome adversity to even be in this spot. The loser of this game can pretty much kiss the playoffs goodbye, which would be a bitter pill to swallow after all they've done to get here. I expect that to resonate in the urgency of both teams this week.
Browns Fulfilling Their Potential Finally?
Well, it depends on how you look at it. In beating the Bills and Steelers, they beat two teams who were playing well, and against Miami, they took care of business and covered the spread. On offense, we see what they had in mind starting to form. Mayfield is playing better, making better use of his varied weaponry. Getting Kareem Hunt in there has given them a little spark. Chubb is putting forth some massive performances lately and has over 1100 yards rushing in 11 games now. We see Odell Beckham and Jarvis Landry being more consistent contributors befitting of the 1-2 combo-punch they were supposed to be. The line is playing better, and they're looking pretty crisp on this side of the ball. Still, after scoring just 21 against the Steelers on their field, what can they expect on the road against what might be an even more pumped-up Steelers' defense?
Prospects for the Steelers' Offense
Granted, the turnovers can be cleaned up, and they are at home, but it's a part of their team that lags so far behind the defense and could let them down in this spot. With one lone TD against the Browns last time, it's hard to find the silver lining with Devlin Hodges behind center. On top of that, you have their two biggest contributors in JuJu Smith-Schuster and James Conner, having missed the last game and questionable for this. You basically have a Steelers' offense led by Hodges, going deep in the barrel for backs with Benny Snell and Kerrith Whyte, led aerially by Deon Cain and James Washington. Say what you will about the Cleveland defense and how they've under-delivered and are now missing key people, but this is a spot where they can shine.
Differing Inertia
It's hard to say the Steelers are on the slide after a win and with how hard they fought to salvage something out of a season that was shaping into a full-disaster. But after a two-touchdown loss to the Browns, a titanic struggle with the winless Bengals, and a big visit from the injury bug have they hit a wall? You sometimes see this in this league where a team goes on a spurt, with willpower and pride taking over before the harsh realities of the game come crashing down, leaving them in an even more-dilapidated state than they were before. I don't think the Steelers are there perhaps, but contrast them to a Browns' team that has some wind in their sails with three straight wins, and the momentum edge definitely goes to the Browns.
Take the Road Favorite
I think the state of the Steelers' offense makes a stance on them hard to justify. Not that they couldn't win a grinding game if their defense plays well and the Browns make mistakes. Five wins in their last six games shows that they're doing something right. That would be far from shocking. I don't want to be sitting there for hours waiting for this Steelers' offense to turn over, while a Cleveland offense with ample firepower and fully healthy is making things happen. I see the Browns getting the win this week. I'll take Cleveland.
Loot's Pick to Cover the Point Spread: I'm betting on the Cleveland Browns minus 1.5 points. Did you know that you can bet parlays, have some games lose, and still get paid? These are called progressive parlays and can be found at 5Dimes!