Denver Broncos Season Win Bets – Odds & Picks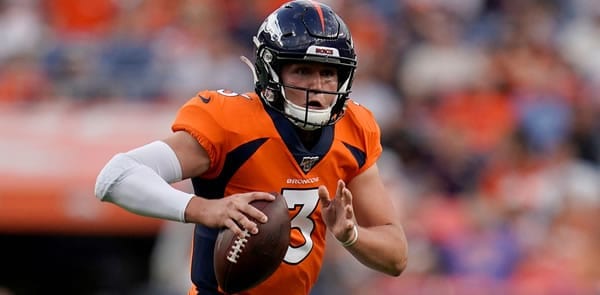 Denver Broncos Season Wins Total Over/Under
The Denver Broncos went 7-9 last season under first-year head coach Vic Fangio. But with a slew of acquisitions and some good things in place, it's not that crazy to fancy the Broncos as a team with some definite darkhorse appeal in 2020. Long-suffering with QB play since the retirement of Peyton Manning, they may have finally found something in Drew Lock, who shined when he hit the field last season for the Broncos. They already have a pretty good defense in place and even added a few pieces. But offense is where the signing bonanza really took off. Already with a good young TE in Noah Fant, a good WR in Courtland Sutton, and a rising RB in Phillip Lindsay, the Broncos went out of their way to add a bunch of talent. Winning four of their last five in 2019 and adding a bunch of good stuff has some people thinking Denver could be a bit of a surprise this season.
But the Broncos aren't the only ones who saw changes occur on their team. In this division, there is a lot to take into account. The Broncos not only have the Super Bowl Champion in the Chiefs with which to contend, but also two wide-window teams in the Chargers and Raiders. On top of that is a conference crowded at the top and it's not going to be easy to determine where the Broncos fit in this season. Let's look at the odds for how many wins the Broncos will pick up in 2020, followed by our analysis and best picks.
A Look at the Odds
DEN regular season wins over 9.5 +323
DEN regular season wins under 9.5 -395
DEN regular season wins over 9 +275
DEN regular season wins under 9 -335
DEN regular season wins over 8.5 +179
DEN regular season wins under 8.5 -217
DEN regular season wins over 8 +140
DEN regular season wins under 8 -160
DEN regular season wins over 7.5 -108
DEN regular season wins under 7.5 -112
DEN regular season wins over 7 -144
DEN regular season wins under 7 +124
DEN regular season wins over 6.5 -182
DEN regular season wins under 6.5 +159
Odds Explanation: The 5 Dimes season wins betting model is a bit more elaborate. On top of a standard line, where the odds for either side of the bet are relatively close, there are more-extreme stances you can take if you're expecting a more out-of-range season for the Broncos. The standard total is 7.5 wins, with over at -108 and under at -112. Not only does 5Dimes offer varied season wins lines, they also offer Predictem readers the ability to bet on games at reduced odds -105, instead of the more expensive -110 option (or more) that your bookie is socking you with! Start betting smarter today, by making the switch to 5Dimes Sportsbook! You'll be so glad you did!
Pick Analysis
I like over 7.5 wins at -108 and I think there is some value for those willing to go a little above that too. Granted, there are landmines in this wager. We have a lot riding on a QB in Drew Lock who has five games under his belt—hardly enough to make any concrete conclusions. And sure they made some splashy acquisitions—getting Melvin Gordon, Jurrell Casey, AJ Bouye, while getting Jerry Jeudy and KJ Hamler in the draft, but will all those pan out? We've seen teams add a bunch of pieces before in an effort to jump-start things and it ends in a wide range of possible results.
But still, we saw such good things late last year that it's hard to not admire the direction in which they're going after such a prolonged funk. The Broncos went from exciting contenders under Manning into one of the more overlooked and dull teams in the league over the last several seasons—mostly out of mind and out of sight. But their defense never really completely fell off and with the offense now apparently resuscitated, we need to start paying attention again.
If Lock's upward trajectory continues, he should have a vast tool box of different weapons to utilize. Already with a nice 1-2 punch in the backfield with Lindsay and Royce Freeman, getting Gordon gives them a really dynamic backfield. The thought of Sutton and Jeudy on either end, with Hamler in the slot and Fant at tight end is scary and if it delivers, could be trouble. The only concern on offense is that front, a group that should help spring a big run again, but not the best in pass-protection—a definite concern, especially in this division.
They lost to the Chiefs both times last season, which is understandable, though they did go 1-1 with the Raiders and swept the Bolts. Let's say they go 3-3 inside their own division again. They have to play the whole NFC South and NFC East, top-heavy divisions, but not the most complete divisions in the game. There's this really rough patch starting in week nine where the Broncos have 4 road games in 6 weeks, with home games against the Saints and Chargers. That stretch will tell a big part of the story. But I still have a hard time seeing how this bunch won't win 8 games this season.
It's still far from a slam-dunk. With that line, how sure are we Lock can survive the whole season? And it's pretty thin under Lock, with Jeff Driskel the main backup. These draft picks look good, but what if they are slow out of the gate or just not up-to-snuff? And how much do you want to invest in rookies hope-wise anyway? Therefore, with this squad, I think some well-placed optimism is called for, with some temperance as well from those who are getting carried away in their positive prognostications.
Best Bet
I think there are some signs that suggest the Broncos can be really good this season and at least set the table for big things down the line. But a lot of their projected success is wrapped up in unproven commodities and I'm a little concerned about the offensive line of scrimmage. For that reason, I'm going to only endorse an "over" pick on the standard 7.5-win line at -108. Bet your Week 1 NFL picks for FREE by taking advantage of a killer 100% bonus offer where you deposit anywhere from $100 to $300 and receive a real cash match on your deposited amount! Example: Deposit $300, get an additional $300 added to your account for a total of $600! Find this great offer at MyBookie!
Football Betting Guide
New to football betting? NFL point spreads can be confusing at first, but our how to bet on football article help you bet like a seasoned pro! You'll also learn how to wager on teasers, parlays, over/unders, prop bets, futures and how point buying works.