Denver Broncos vs. Kansas City Chiefs Week 17 Point Spread – Free Pick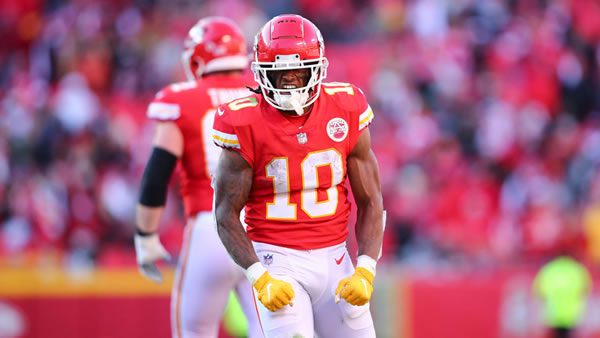 Denver Broncos (4-11 SU, 6-9 ATS) vs. Kansas City Chiefs (12-3 SU, 4-10-1 ATS)
Week 17 NFL
Date/Time: Sunday, January 1, 2023 at 1PM EST
Where: GEHA Field at Arrowhead Stadium, Kansas City, Missouri
TV: CBS
Point Spread: DEN +13.5/KC -13.5 (Bovada – 50% bonus! Awesome live betting platform! Rebates on ALL your bets! Fast payouts! What more could you ask for? It's where we bet!)
Over/Under Total: 45
The Denver Broncos take on the Kansas City Chiefs in an AFC West battle on Sunday in Week 17. Last week, the Chiefs beat the Seahawks 24-10, going to 12-3 on the season. Denver fell to the Rams on Sunday, 51-14, in one of the more-unsightly performances of the season. Entering this spot at 4-11 with everything going sideways and now facing a team that already beat them, one wonders what they can come up with in Kansas City this week. Let's break it down!
Can the Broncos be Resuscitated?
Understandably, the Broncos' hitting rock-bottom with a 37-point loss led to the firing of head coach Nathaniel Hackett. Normally, you'd almost tend to think a team can get a little spurt from a new face in a leadership position. We've seen that multiple times, where a team at least shows a little surge of energy on the heels of a late-season firing. You just wonder if the Broncos are even able to respond to anything at this point. They're demoralized, openly showing hostility on the sideline, and you wonder if the team isn't maybe resenting Russell Wilson at this point. Whereas you have a KC team pushing for something big this season, you have a Denver team that might just be trying to get to the finish line without any calamities.
In the old system of the two top seeds getting a first-round playoff bye, you'd maybe make a case of some Kansas City apathy in this case. But Kansas City is still pushing. Granted, we're not seeing the blowouts we used to see from this Chiefs bunch. But they're still a high-powered unit that is at home facing a dilapidated Broncos squad. And they're facing a Broncos team where it's almost as if someone wrote out a worst-case scenario in the preseason that came to life. And without really knowing what's going on in the Denver locker room, you wonder what it might really be like. For all we know, things could really be coming apart at the seams.
Searching for Optimism
Despite injuries and a baffling 51-point allowance to the Rams, do you still place any stock in the strength of the Denver defense? It has been the one aspect of the Broncos that held up all season. But with diminishing returns on offense and overall plummeting team morale, you had to wonder when they would start ebbing, and maybe we've started to see it. For the Rams to go on a frenzy really speaks volumes, and you have to wonder if that's what we're going to see from here on out. But maybe you get a decent defensive showing from a prideful unit looking to atone. And let's not forget that on December 11, the Chiefs only beat the Broncos, 34-28, as Denver overcame a 27-0 deficit to make it a little sweat late in the game.
The Chiefs' bottom-line record speaks for itself. One can take all the shots they want—how their defense is exploitable or how last week was the first spread that they covered in two months. But they're still in a familiar position atop the conference, so there's only so much you can say. It's just that there's this air of added vulnerability, a certain lack of domination and clear-cut greatness that almost makes it seem easier to bet against them this season. And that's something that would have paid off, for the most part, this season, with a long stretch of ATS losses. Maybe with the Denver defense, the immediate post-coaching firing mojo, and KC's tendency to play down to opponents this season is enough to warrant a look at Denver with the Chiefs laying almost two touchdowns. For all the Chiefs' reputation and firepower, that's a margin of victory they have only surpassed three times this season.
More Picks: Get Loot's Clevelnad at Washington predicted spread winner >>>
Pounce Spot for KC?
The lack of ease in covering spreads notwithstanding, it's almost hard to imagine the Chiefs at home pushing for a one-seed not going off against anything resembling what we saw from Denver last week or even in other spots in recent weeks. It's a Chiefs team with an agenda. It might not be a Chiefs team looking to make a point, but they still remember the cost of letting off the gas against the Broncos a few weeks ago, and that could give them a little extra edge along with their other postseason agenda where they'd love to have their games at Arrowhead. Against a Denver team that might be deflated, you start to think that the Chiefs holding back is the best chance for the Broncos this week.
Lay the Number on the Home Team
The Chiefs are less automatic— with a run game that doesn't always deliver, an aerial game where no receiver is a star, and a defense that can still be picked apart on given weeks. It just seems that when they need big things to happen in the regular season, it works out for the Chiefs. They have an ax to grind this week where they're not looking to mess around with the Broncos, and I think they'll be a little more conscious of separation this week, with that little edge helping get the Chiefs over the hump on Sunday. I'll take Kansas City this week.
Loot's Prediction to Cover the Point Spread: I'm betting on the Kansas City Chiefs minus 13.5 points. Kick 2023 off right with free bowl game and Week 17 NFL bets! Deposit $100 to $300 and use promo code PREDICT100 and you'll receive a massive 100% real cash bonus at MyBookie Sportsbook!