Denver Broncos vs. Los Angeles Chargers Odds, Tips, Free Pick ATS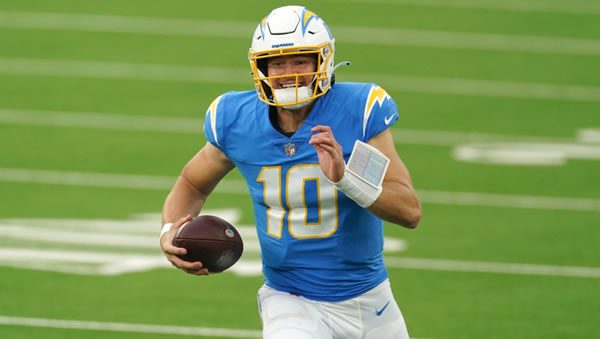 Denver Broncos (2-3 SU, 1-4 ATS) vs. Los Angeles Chargers (3-2 SU, 4-1 ATS)
Week 6 NFL
Date/Time: Monday Night Football, October 17, 2022 at 8:15PM EDT
Where: Sofi Stadium, Inglewood, California
TV: ESPN
Point Spread: DEN +5/LAC -5
Over/Under Total: 45.5
The Denver Broncos take on the Los Angeles Chargers in an AFC West battle on Monday Night Football. Denver is coming off the long week, following what was a hard-to-watch 12-9 overtime loss at home to the Colts. The setback put them at 2-3 on the season, with alarm bells already sounding in the Mile High City. They now go into SoFi to take on a Chargers' team that was lucky to get out of Cleveland with a 30-28 win on Sunday and now return home and look to latch onto some positive momentum after an uneven start to the season. Who can come out ahead and get us the cover in this divisional MNF battle from Inglewood?
Waiting for Denver to Deliver
While part of you figures Russell Wilson has to pay off at some point in this Denver offense, the other part has to acknowledge what you've seen up until now. It doesn't look good at all. The offense has been dead. Wilson doesn't seem to have a rapport with anyone in particular. The run-game is now in the dumps with Javonte Williams gone for the season. We see boneheaded moves from head coach Nathaniel Hackett. After last week's ugly loss, we saw players openly showing disgust and overall, it's been a really bad look through five weeks for the new-look Broncos. They did have the long week and there is a lot of professional pride on that sideline, so something tells me shoveling dirt on them could be premature. And it doesn't hurt when you're playing a team in the Chargers that can show up with a wide range of forms. The Denver team we've seen up until now wouldn't be able to handle a higher-end version of the Chargers perhaps, but the last time the Chargers were home, they lost 38-10 to the Jaguars, so you never know.
Not So Fast…
Any bettor has to have a reminder to not overly-focus on the most visible part of the game in offense. Other than one week this season, we've seen a Denver defense not getting much support, yet still able to provide stiff resistance. Remove the 32-point allowance to the Raiders a few weeks ago and the Broncos have allowed an average of 12 points in their other four games. They're getting a nice pass-rush from Bradley Chubb, while guys like Patrick Surtain, II. are making things really hard on opposing aerial attacks. Facing a Chargers' offense that isn't all-that-automatic, Denver might need to rely on this side of the ball if Sunday brings more offensive ineptitude. Still, it's not like they don't have anything upon which to fall back if Wilson and Company again fall flat.
Is This Where the Chargers Surge?
On one hand, you'd be right to think the Chargers are getting it together. We've seen what looked to be a run-game stuck in concrete get off big-time the last two weeks. We see Herbert getting healthier after hurting his ribs and the cast is pretty much intact. But it's still been uneven and after splitting games with the Chiefs and Raiders to open the season, we've seen them struggle with the Jaguars, Texans, and Browns in consecutive weeks. We see a nice 4-1 spread against the spread and some other good signs, but it still doesn't seem like it's really clicking as of yet. They can hit a wall inexplicably on both sides of the ball, while still playing down to their opponent a lot of weeks. But there were excuses—two tough road games in a row, some nagging injuries team-wide, and a team that just was struggling to get on-point. At home in this spot, a bad performance is something that would be taken more to heart.
At home against a struggling conference opponent, this is a spot in the season where the Chargers have to show what they're made of if there is really going to be a different look in this division this season. They can't just meander through the season, alternating wins and losses and hope to eke their way into the postseason. This is where we're supposed to be seeing the big games from Herbert, Mike Williams and Keenan Allen (questionable) running all over the field, and Austin Ekeler running in and catching touchdowns. And the same applies to a defense that may have suffered some unfortunate injuries, but should still have enough juice to get better results than they've been getting. After all, the offenses of Houston, Cleveland, and Jacksonville as a trio would not strike fear into the hearts of most defenses league-wide and those teams still put up 90 combined points on this Chargers' defense the last three weeks.
Lay the Points on the Home Favorite
Chargers backers should have some reservations—an inconsistent offense, along with a defense that seems headed in the wrong direction. They've lost some juice along both lines of scrimmage with some recent injuries and we don't see their sum total matching up with the power of their individual parts very often, which is troubling. I just don't think their issues are as big as Denver's. The problems the Broncos have are of the variety that seem harder to overcome. Not that they can't, but I think this sets up decently for a Chargers' team that despite not always playing up to their potential, should be able to get the win and cover at home this week against what sure seems like a sideways Denver bunch. I'll take the Chargers.
Loot's Prediction to Cover the Point Spread: I'm betting on the Los Angeles Chargers minus 5 points.