Denver Broncos vs. New England Patriots Pick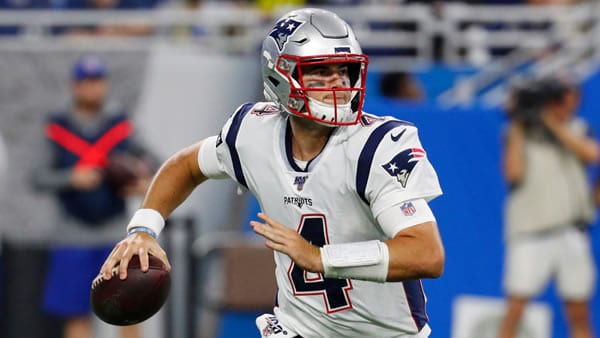 Denver Broncos (1-3 SU, 3-1 ATS) vs. New England Patriots (2-2 SU, 2-2 ATS)
Date/Time: Monday, October 12, 2020 5:00 PM
Where: Gillette Stadium, Foxboro, MA
TV: CBS
Point Spread: DEN +5 / NE -5 (BetNow)
Over/Under Total: N/A
The Denver Broncos head East to Massachusetts to take on the New England Patriots in a late Sunday afternoon matchup at Gillette Stadium. The Broncos have the historical upper hand in the series with a record of 30-23 against the Patriots, but that has not been the case of late, with New England has won seven of the last ten matchups, including five straight at home by an average of over 20 points per game. This includes their playoff meeting in early 2012 in which the Patriots won 45-10 as a 14 point favorite in a game fondly remembered as the easiest bet in the history of sports, thanks in large part to the overwhelming advantage of having Bill Belichick vs. Tim Tebow making a road playoff start for the first time in his short-lived NFL career.
FULL HOYER
New England fans would have gladly taken Tebow out of retirement and thrown him out on the field last week after watching the dumpster fire disaster that was Brian Hoyer. In a performance that reminded many of quarterback crapfests of Patriots past, such as Scott Secules and Marc Wilson, Hoyer destroyed any chance of New England success with two mind-numbingly moronic decisions that took points off the board twice to go along with all-around play that reminded everyone why someone who has been in the league for twelve years has only started 55 games. Hoyer has now lost his last eleven starts in a row, and after Monday's performance against the Chiefs, it would be a great surprise if he ever gets another one again in the NFL.
PROMISING SIGNS
The Patriots waited far too long to pull Hoyer from the game, and after they mercifully removed him, Jarret Stidham did a serviceable enough job in his place. Stidham threw for the first touchdown of his NFL career and certainly looked light years better than anything Hoyer was able to feebly attempt thru the first near three quarters. The second-year quarterback from Auburn did display some happy feet in the pocket, which is something. However, any further experience will help improve on as he gets more acclimated to the professional pace of the game. And while he did throw for two interceptions in the game, one was due to having to force the issue with time running out, and the other was the direct result of yet another Julian Edelman drop.
DROP IN PLAY
Julian Edelman will forever go down as a Patriots legend, especially thanks to his incredible performances in Super Bowl victories against the Seahawks and Falcons. Unfortunately, his later-in-career play is starting to resemble that of the player he essentially replaced in the Patriots lineup, Wes Welker. Concussions were the biggest cause of Welker's career-ending as it did, and it is starting to look like the slot receiver beating Edelman has received over 154 career games may have finally taken its true toll. His career is certainly not over, but relying on Edelman to be the elite option he once was would not be wise when game planning going forward, especially considering he has now gone eight straight games going back to last season without a touchdown reception.
100% REAL CASH up to $300

USE BONUS CODE:
PREDICT100
YOUTH MOVEMENT
There were definite promising signs for the Patriots against Kansas City especially considering they had a chance to win and reasonably should have if not for Hoyer shooting themselves in the foot along with egregious errors by the officiating as they did nothing to hide the NFL's agenda of pushing the Chiefs and protecting Patrick Mahomes like a porcelain doll. Second-year players Damien Harris and N'Keal Harry both looked on their way toward proving why the team used such high picks on them in the first place, and if their play continues as is could end up being starters for the team for years to come.
POCKET PATCHWORK
The Patriots aren't the only team dealing with an adjustment at the quarterback position. The Broncos expected starter Drew Lock already sidelined by injury and currently listed as questionable to play on Monday evening. If Lock ends up unavailable to play, the team will again turn to Brett Rypien, who led them to their first win of the year last Thursday against the hapless Jets. An undrafted free rookie out of Boise State in 2019, Rypien looked solid on down the field passes, though he will need to work on his accuracy as he has already compiled four interceptions through his first 40 pass attempts this season. Rypien will now be the 5th different Broncos quarterback to get a start in their last 20 games (Joe Flacco, Brandon Allen, Drew Lock, Jeff Driskell).
DEPLETED ARSENAL
Whether it is Lock or Rypien that goes on Monday, they will both be dealing with the same issue of who they will have available to throw to. Leading wide receiver Courtland Sutton was already lost for the year with a knee injury, and both KJ Hamler and top tight end Noah Fant were described as long shots for their chances to be able to play on Monday. Thankfully, all hope is not lost for the Broncos, as rookie receiver Jerry Jeudy has already shown why Denver chose him with their first-round pick. Along with Tim Patrick gives the team at least two quality options at their starting positions. The issue is who else is there, especially if the Broncos were to further fall victim to injuries, with wide receiver Daesean Hamilton and tight end Jake Butt the next up on the depth charts. Butt has only ten receptions since being drafted by the Broncos in 2017 due to the fact that his ACL's are seemingly made of scotch tape, while Hamilton has just three catches this season and has only caught three touchdowns over 23 career games.
FLASH GORDON
To offset the expected pressure that Bill Belichick and the Patriots are expected to bring the inexperienced Rypien at quarterback, the Broncos will depend on running back Melvin Gordon. Their biggest offensive free-agent signee from the offseason, Gordon, is coming off of the best game of his Denver career, though may find the goings tougher this week against a New England run defense that ranks 9th overall in yards allowed per game.
HIGH PRICE LOSSES
One major area of concern for the Broncos is their defense, which has been ravaged by injuries to start the season. Linebacker Von Miller, cornerback AJ Bouye, and lineman Jurrell Casey makes up over 43 million dollars of the Denver salary cap, and all are gone for the year, though they are far from alone as they have eleven players now on IR making up $53.4 million of their cap, which is just over 25% of it. The defense has allowed 82 points over their last three games, including 28 to a clown college Jets team a week ago that had scored that many points just three other times in the past 29 games.
FINAL DECISION
Who will play quarterback for the Patriots in this game remains to be seen. Considering the fact that Newton's replacement cost them a good chance at a victory last week, who we see starting has an obvious momentous effect on this week's selection. If it's Newton or Stidham starting, I would give the 5 points and take the Patriots to get the win and cover at home against a Broncos team that not only has a severely depleted defense but also due to the inexperience at quarterback and Bill Belichick's historical success when facing such an opponent. If it's Brian Hoyer starting, I wouldn't make a pick and would instead prepare by making sure you have a bucket on standby for the eventual vomiting that will ensue from watching his terribleness.
Mike's Pick to Cover the Point Spread: New England -5