Denver Broncos vs. Pittsburgh Steelers Spread Pick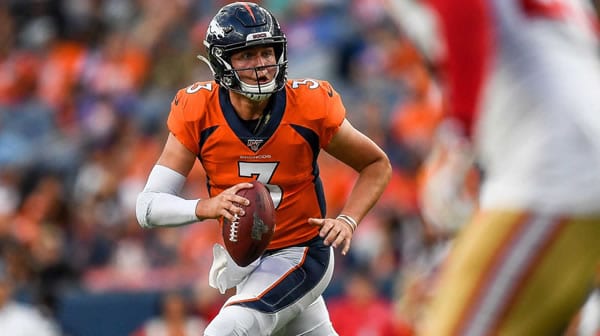 Denver Broncos (0-1 SU, 1-0 ATS) vs. Pittsburgh Steelers (1-0 SU, 1-0 ATS)
Week 2 NFL
Date/Time: Sunday, September 20, 2020 at 1PM EDT
Where: Heinz Field, Pittsburgh, Pennsylvania
TV: CBS
Point Spread: DEN +7/PIT -7 (Bet365 - Most solid Bookmaker for non-USA bettors by a mile!)
Over/Under Total: 41.5
The Denver Broncos come to Heinz Field on Sunday for a week two AFC battle with the Pittsburgh Steelers. Both teams are coming off a bit of a short week, as each played on Monday Night Football in week one. In the first game on MNF, the Steelers went into MetLife and took a nice 26-16 win over the New York Giants. However, Denver was not as fortunate, falling just short to the Titans at home in week one, 16-14. There were both good and bad to be seen from both squads in week one; let's try to figure out who is in a better spot to cover as the Steelers make their 2020 home-opener.
Will Denver Be OK?
Hopes were high with a revamped offense, but injuries seem to have already cost them some of their zest even though the season just started. On MNF, it was clear that rookie Jerry Jeudy alone isn't going to cut it as far as receivers, and not having Courtland Sutton in there really hurt. QB Drew Lock just wasn't able to depend on receivers the way you would have forecasted before Sutton and Hamler got injured, and Jeudy made a few key drops in his NFL debut. A key fumble by new Bronco Melvin Gordon was a key mistake in a game where points were hard to come by. And Lock missing a gimme-TD in the first half also proved to be a key moment. Also, hurt now is Phillip Lindsay on offense, along with AJ Bouye and Mark Barron on defense. It's something to keep an eye on, as it's pretty early to be this compromised due to injuries, and if it continues, it could undermine their whole effort this season.
A two-point loss to a team that went to the conference championships last season alone is not cause for alarm. But the Denver offensive play-calling in the second half left a lot to be desired, with new offensive coordinator Pat Shurmur now on the sidelines. The offensive line didn't look great, Lock was errant at times, and no one around him really took the bull by the horns to make it happen in an imminently-winnable game. And on defense, key penalties were costly. There were just too many mistakes and most of them of a very untimely nature.
Still, it's not all woe and misery with Denver. They hung in there in a game where a lot went wrong. The run-game was starting to resonate well later in the game, with Phillip Lindsay (questionable) and Gordon looking like they can be a nice 1-2 punch. And on defense, they were able to keep Derrick Henry in relative check and even without Von Miller, were able at times to foster a strong pass-rush. The back-seven was making plays left and right, and while discipline is still an issue with so much youth, there was a lot to like on the defensive side of the ball.
First Impressions on the Steelers
You saw a lot of things on MNF that you'd want to see if you're a Steelers fan. The Key was how the offense is a lot better with Ben Roethlisberger. He had three touchdown passes and commandeered this offense with his typical flair. They may have found an emerging running back, as Benny Snell went for over 100, with star receiver JuJu Smith-Schuster catching two TD passes and also recovering a fumble from Snell. There were some gaffes, namely a muffed punt that gave the Giants the ball in-close, but all in all, the offense looked to be in order.
While Daniel Jones was able at times to get the ball moving aerially against the Steelers, Pittsburgh made life hard on the Giants' offense as a whole. Their run game, led by star Saquon Barkley, got nowhere, with the mean Pittsburgh front utterly dominant. And that portends bad things for the Denver offense, which had to rely largely on their run. With that offensive line of Denver's against this front, one wonders aloud how successful the Broncos will be running the ball. And if they get nowhere going down that avenue, do they have the horses to make it work through the air?
More Matchup Concerns for Denver
It's going to be worth keeping an eye on Sutton and Hamler's progress as we build toward Sunday's showdown. When playing this defense, it's really helpful to have most of your top weapons. Sure, they have strong backs, a receiver who will be good in Jeudy, and a rising tight end in Noah Fant. But in this context, being depleted aerially is a hurdle the Broncos may not be able to jump. It would be hard enough under ideal circumstances.
The Broncos defense will miss Von Miller, and Bradley Chubb wasn't exactly electric on MNF. They did some things well, but against Pittsburgh, it might not go over as well. Shutting down Henry in spots helped them keep the Titans' offense subdued on Monday, but the Steelers have more options. They also have a better offensive line, making one wonder how disruptive the Denver front can actually be. And even if Chubb and Jurrell Casey do a good job up-front, there is a lot of other things to account for, and it might not be as easy as it was in week one at home.
Lay the Number on the Home Fave
At root, it looks like the Steelers are closer to being who they want to be than Denver is. We have to be careful to avoid the common week-two-fallacy, which is when information-starved bettors finally get some information and then get carried away with it. Week one can offer a glimpse, but to make any hard-and-fast conclusions based on week one could send us off-course. In other words, Denver could eliminate the mistakes they made on MNF and be a little closer to what their optimists thought they could be. That could be the case, but I don't really see Denver matching up all well, especially on offense, where they could be having one of their more-difficult days of the season on Sunday. I'm taking the Steelers.
Loot's Prediction to Cover the Point Spread: I'm betting on the Pittsburgh Steelers minus 7 points. Note: With 5Dimes leaving the U.S. market, there's still a site where you can bet on games at -105 reduced odds. —> BetAnySports
Football Betting Guide
New to football betting? NFL point spreads can be confusing at first, but our how to bet on football article help you bet like a seasoned pro! You'll also learn how to wager on teasers, parlays, over/unders, prop bets, futures and how point buying works.