Detroit Lions vs. Chicago Bears Pick 11/10/19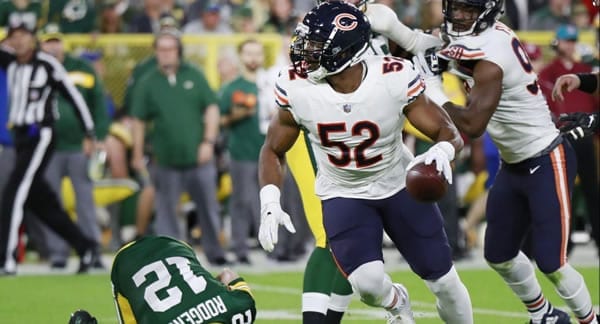 Detroit Lions (3-4-1 SU, 4-4 ATS) vs. Chicago Bears (3-5 SU, 2-6 ATS)
NFL Week 10
Date/Time: Sunday, November 10, 2019 at 1PM EST
Where: Soldier Field, Chicago, Illinois
TV: CBS
Point Spread: DET +2.5/CHI -2.5 (Wagerweb - Biggest Teasers Online - 50% Real Cash Bonus)
Over/Under Total: 42.5
The Detroit Lions face the Chicago Bears on Sunday at Soldier Field in an NFC North battle on Sunday. Both teams are on the skids. The Lions, after starting the season 2-0-1, have lost four out of five, including a 31-24 loss to the Raiders on Sunday. They look to get better this week against a nosediving Chicago team that lost its fourth game in a row on Sunday, falling to the Eagles, 22-14. After a 3-1 start, they are on the verge of squandering the season and will be looking to make some noise at home in this divisional battle.
Can Chicago Right the Ship?
The reasons the Bears are sideways and already exceeded last season's loss total in the first half of this season are multifold. At root, the offense is terrible. They can't run the ball, and the aerial attack is reaching new levels of being anemic. The defense, partially as a result of what's happening on the other side of the ball, has taken a distinct step back and is no longer able to make up for the inadequacies of the offense. Last week in the loss to the Eagles was par for the course, with Mitchell Trubisky throwing for 125 yards, with David Montgomery and Tarik Cohen unable to establish much of a run-game.
The urgency has long since set in for the Bears. And with 30 combined points scored in the last two games, they simply haven't been able to respond. Trubisky has regressed, and the lack of a viable run-game to set the table has hurt. They've lost some juice on both lines of scrimmage to injuries, and it's come at a cost. But against a Detroit defense that has been struggling, this would as good a week as any to start making some strides on offense.
More Picks: Rams vs. Steelers Prediction >>>
The Good and Bad with Detroit
Injuries have also hurt the Lions and issues on the offensive line have cost them a lot of the venom they were developing in the run-game. Losing Kerryon Johnson didn't help, and they're pretty deep in the barrel when it comes to running backs. It has once again rendered them a one-dimensional offense. Case in point would be last week, where Matthew Stafford put up 406 yards, with the team only able to manage 24 points of scoring. But the aerial attack is potent, with Kenny Golladay become a consistent producer of big games, along with Marvin Jones still doing his thing with the Lions. Rookie tight end TJ Hockenson is an asset, but the injury bug came back last week with Hockenson suffering a concussion and his status iffy for this game. Still, Stafford is connecting well with his weapons. And Chicago's secondary, while still respectable, is hardly what we saw last season from a stoutness and playmaking unit.
We're starting to see the Detroit defense undermine the entire operation. Outside of Trey Flowers, they aren't getting much pass-rush, and even he has underachieved. There just isn't much of a playmaking component to this "D," especially in the secondary, which used to be a difference-making unit. And the run-resistance has taken a big step back and was a massive part of the loss last week, with Oakland gaining chunks of yardage on the ground at will. Playing a struggling Chicago offense is a good thing, but the "D" we've seen in recent weeks, allowing point totals on the 30s and 40s, won't be able to stop even a floundering Bears' offense.
Who Has Higher Morale?
There can be variations within similar-looking positions. Both teams are hurting and not getting results. Let's take a closer look. Detroit is, in fact, still trying. Their recent setbacks are by narrow margins. And while it doesn't reflect well for them to be blowing games late, they are still into it, giving it a solid effort, but just coming up short. Morale might not be great, but they didn't have as far to fall as Chicago. We're talking about a 12-win team from last season, now having to wrap their heads around the fact that they probably aren't going to cut it this season. They also are not getting blown out, but in winning just once at home this season, they are showing very little fire. I think it's fair to say they landed in this position with a louder thud than Detroit.
Angles for Detroit
They are away, but at least in a building in which they are accustomed. They are still playing hard and being competitive. Some of Detroit's weaknesses might not shine through as much pitted against this counterpart. Detroit's secondary is struggling, but a big aerial day from Trubisky would still be a surprise. Chicago isn't running the ball that effectively, so while the Detroit "D" might struggle, it won't be a gap too wide for the Detroit offense to bridge. They're at least showing some fire aerially, which could end up being the most-compelling thing about this game. It might shine the brightest.
Take the Road Dog
It's never easy when you have two teams struggling. I would expect a hard-played game, with both teams no longer able to really sponge any more setbacks and still have any real hopes for the season. The situation Chicago faces and the increasing urgency, and even being at home, hasn't been able to spur them to better results and the idea of laying points with them in this spot is daunting indeed. I see this as being a tough-to-call game where having points might be the ticket by the time it's said and done. I'm taking the Lions.
Loot's Pick to Cover the Point Spread: I'm betting on the Detroit Lions plus 2.5 points. Make the Lions a +21.5 (four score!) underdog by inserting them into a massive 19% NFL teaser found at BetAnySports!
STOP LOSING TODAY! START WINNING WITH DOC'S TEAM OF PROFESSIONALS! GET A FREE NO STRINGS ATTACHED $60 FOR THIS WEEKEND'S GAMES!