Green Bay Packers Season Wins Total Line & Picks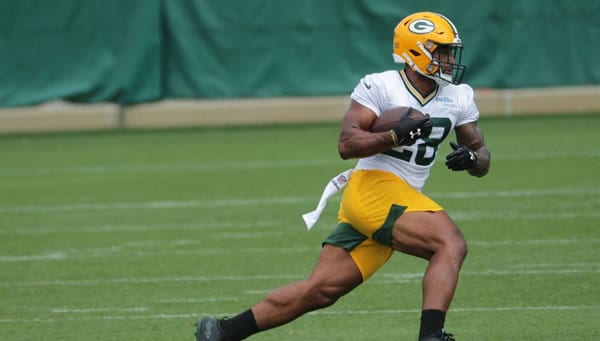 Green Bay Packers Season Wins Total Over/Under
The Green Bay Packers are coming off a 13-3 season that saw then take down the NFC North, in addition to making an appearance in the NFC Conference title game. It would seem that a season as successful as that would result in high optimism the following season. Still, with the Packers listed as only the sixth leading choice in their conference, the confidence appears to have slipped in the offseason. That means there can be some nice value for those who are anticipating another big year for Green Bay.
These bets can be tricky, and the sportsbook can take advantage of what is usually an over-abundance of optimism. People in total are a tad more optimistic than what reality dictates. So we need to temper our enthusiasm with being realistic. You have to weigh both sides of the equation. And if you emerge with a takeaway that the bookies are off their rockers, there may have been something you overlooked. Be that as it may, I think there could be some good moves here for those who are picturing good things for the Packers.
A Look at the Odds
At 5Dimes, they offer a bevy of season totals bets. You have your standard wins total, accented with other totals that are either less than or that exceeds that total, for those looking to take a more extreme stance. Let's look at the choices.
GB regular season wins over 10.5 +251
GB regular season wins under 10.5 -301
GB regular season wins over 10 +215
GB regular season wins under 10 -255
GB regular season wins over 9.5 +157
GB regular season wins under 9.5 -178
GB regular season wins over 9 +115
GB regular season wins under 9 -135
GB regular season wins over 8.5 -124
GB regular season wins under 8.5 +104
GB regular season wins over 8 -174
GB regular season wins under 8 +154
GB regular season wins over 7.5 -228
GB regular season wins under 7.5 +188
Odds Explanation: The standard win total is 8.5 wins, with over at -124 and under at +104. That would be the standard win totals line, with the other choices being alternative lines. Let's look at what the best move is!
Picks
On this particular bet, we favor the "over" on the standard line. We feel "over" 8.5 wins at -124 is a good bet, the safest move on the board. We don't question that Green Bay might be hard-pressed to reach their win-total of last season. By the same token, we don't see enough evidence to forecast a downswing of 5 more losses this season. The sentiment behind this projected downturn isn't entirely misplaced. After all, the power of the teams in the same conference is considerable, with a slew of contenders. With the Niners, Cowboys, Seahawks, Saints, Eagles, and Vikings, there are a lot of contenders and only so many wins to go around.
The division seems manageable enough. Detroit and Chicago could be better, but they likely won't be what you can call good teams. The Vikings are their main divisional threat, but the NFC North is more-negotiable than other divisions in the league as far as divisions go. Their non-division schedule has some difficult spots, going away to take on the Saints, Bucs, and Texans. And that just takes you up to week 6. They then have to go into Frisco and Indy. So you can start to see why some would forecast a downturn. They have some tough spots, and with this schedule being so tough early, it's at least possible that they get off to a rough start, which would put some of these season-totals out of reach.
You also see a team that is starved for star-power once you get past QB Aaron Rodgers. But it's largely the same cast that made big things happen last season. They appear to have latched onto a nice groove under now second-year head coach Matt LaFleur. They weren't terribly active in an offseason where a lot of conference teams made splashy signings. I think all of this adds up to people having a lesser image of the Packers than what reality dictates.
BET YOUR WEEK 1, 2 AND 3 FOOTBALL PICKS FOR FREE! SIMPLY OPEN AN ACCOUNT AT MYBOOOKIE SPORTSBOOK, DEPOSIT $300 AND THEY'LL GIVE YOU $300 EXTRA FOR FREE!
Starting all 16 games last season and throwing for over 4000 yards with just four picks showed Rodgers still has it. They were able to fashion a nice run-game for a change with Aaron Jones going over 1000, with a big assist from useful Jamaal Williams. Both were also handy aerial targets. Davante Adams was the number-one receiver, with a gaggle of guys chipping in. There is room for a lot of different people to shine in this offense, and their depth is an actual strength, though their lack of stars is perceived as a weakness. Throw in one of the best offensive lines in the conference, and I don't know why there would be an appreciable falloff.
Defense could be another issue, and it's really the only sticking-point preventing an overly-hearty endorsement on the Packers' success in 2020. Losing useful pieces in the offseason and not addressing needs in the draft or free agency is a cause for concern. Their line is in good hands, with Za'Darius Smith and Preston Smith making for a fierce 1-2 combo punch in the pass-rush. Their secondary is loaded, and getting S Adrian Amos last year paid off, as does CB Jaire Alexander's continued growth. But losing two starting linebackers and replacing them with iffy talent will put a lot of pressure on the front and the secondary, who will need to pick up the slack.
Final Verdict
I'm taking over 8.5 wins at -124. For those willing to go a little higher than that in an effort to cut into those odds a little bit, I think anything up to 9.5 has value, but I also think some trepidation is called for with a team that, in fact, has a pretty wide range. With their overall personnel having not seen an upgrade, an unimpactful draft and free-agent period, a tough schedule, and a packed conference of contenders, it's not a slam-dunk. With tempered optimism, however, I think an "over" bet on the Packers has some nice value at the 8.5 wins threshold. Bet your Packers (and all teams) season wins bets at 5Dimes! Also enjoy -105 discounted odds on straight bets and totals wagers! Best book on the web!
Football Betting Guide
New to football betting? NFL point spreads can be confusing at first, but our how to bet on football article help you bet like a seasoned pro! You'll also learn how to wager on teasers, parlays, over/unders, prop bets, futures and how point buying works.