Houston Texans vs. Las Vegas Raiders Analysis & Point Spread Pick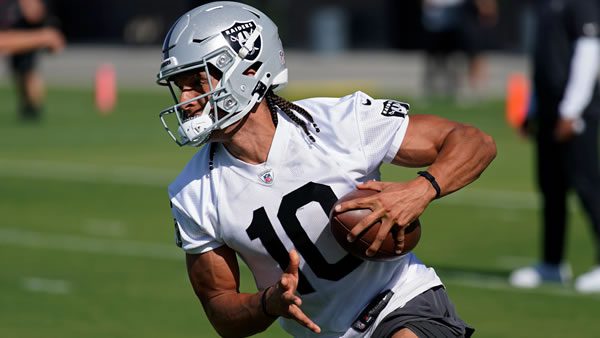 Houston Texans (1-3-1 SU, 3-1-1 ATS) vs. Las Vegas Raiders (1-4 SU, 1-4 ATS)
Week 7 NFL
Date/Time: Sunday, October 23, 2022 at 4:05PM EDT
Where: Allegiant Stadium, Las Vegas, Nevada
TV: CBS
Point Spread: HOU +7/LV -7 (Bovada)
Over/Under Total: 45.5
The Houston Texans come to Allegiant Stadium on Sunday to take on the Las Vegas Raiders in AFC action. Both teams had week six off following tough starts to the season that amounted to one win apiece so far. For the Raiders, this has been a hard blow to take, following a tough season where they gutted their way into the playoffs, made improvements, only to see it fall flat thus far in 2022. For the Texans, not much was expected, but they've been scrappy despite their won-loss record. Who used the time off to good effect and is ready to get us the cover in week 7 in Las Vegas?
Can the Raiders Get it Together?
A 1-4 record to start the season wasn't what the Raiders had in mind, not after all the moves, including getting Davante Adams. And while the leaders of the Vegas offense haven't been great, including Derek Carr and old college teammate Adams, they've been getting good play from Joshua Jacobs at running back. Sure, the supporting cast has been a bit muddled, particularly aerially, but it's not unreasonable to think that they won't be able to find answers offensively. The other side of the ball, however, is of greater concern.
Despite some progress seen last season and acquisitions like Chandler Jones on defense, we've seen a group underperforming thus far in 2022. They haven't been that bad against the run, as their front is the crown jewel of the defense, even if they're not that great overall. But against the pass, we've seen stretches of games where they're really getting victimized. Sure, some unfortunate developments on the injury front have impacted that equation. But if this "D" were at least a playmaking unit, it could help make it a little easier to sponge this porousness and loss of certain personnel, but other than Maxx Crosby, the pass-rush has been minimal. They have just two interceptions as a team and just aren't making much of an impact, on top of being pretty leaky.
10* CONF CHAMP TOTAL - 7-3 (70%) NFL PLAYOFFS
AAA Sports has hit BOTH their Wildcard Round and Divisional Round TOTAL OF THE YEAR, meaning you simply CAN NOT afford to miss out on their CONFERENCE CHAMPIONSHIP TOTALS WINNER! Now an ABSOLUTELY ELECTRIC 7-3 (70%) in the NFL Playoffs, this is TRULY the BIG PLAY that you've been waiting to just UNLOAD on!
Can the Texans Do Anything About It?
The Raiders are perhaps fortunate to be coming off the bye at home and against the one-win Texans. The Raiders' defense will be going against one of the worst offenses in the league, while Joshua Jacobs can feast on one of the worst run-defenses, with Carr going against a secondary not known for its rigidness. But with their record ATS and overall pluck, the Texans might not be the utter doormat that backers of opposing teams are thinking. Not that they're good, but being scrappy counts for something. They're putting together a little run-game with rookie Dameon Pierce. QB Davis Mills isn't what most teams have in mind in terms of a starting QB, but he can spark a drive from time to time, with Brandin Cooks still very serviceable in certain spots, against this Vegas secondary possibly being one of them. So far, it's been enough for them to cover the spread in all but one game, so while the team owner might not be thrilled, their backers at the betting windows certainly have been.
We'll just have to see if Houston will have the chops on defense to pull it off. It's a group devoid of stars that is able to play over their heads on occasion, making big plays here and there and showing some clutch form in certain spots. But it's unfortunate timing for them this week that the Raiders see Jacobs in such good form heading into this game. It's been an element of opposing offenses that have caused the Texans the most problems and the prospects of a fresh Jacobs running roughshod over this bunch is a very real thing. And even if the Raiders' aerial-attack has been off-key for much of the early-going this season, that's also not a particular strength of this Houston defense. In other words, any real progress the Raiders stumbled upon in their off-week or even in their losing effort in a shootout against KC before the break would likely register well in this spot. But let's not forget that before the break, the Texans were able to win their first game of the season, beating Jacksonville on the road, 13-6, so who's to say they haven't turned the corner?
X-Factors
Houston has been resolute, even scoring an upset in their last game. But with four of their five games coming against the Colts, Jags, Broncos, and Bears, have they perhaps been made to look a little better than they are? Does being scrappy against bad or so-so teams count for a lot when facing better squads? Is Las Vegas a markedly better squad to begin with? Still, against a more-potent offense, could we see the wheels start to come off more on a Houston defense along with an offense that has a harder time keeping pace? Is there a something wrong with Las Vegas and has a team that forged a strong team identity amidst all kinds of issues last season seen the recipe fall just inexplicably fall flat this season?
Take the Points
In the interests of full disclosure, this pick is from a bettor who might have grown weary chasing form from teams who have yet to turn the corner in a season where there were high hopes. While those teams like the Raiders can still turn things around, it's late enough in the season to start accepting things for what they are. I don't get the dominant vibe from the Raiders and not that they necessarily need that to beat Houston by more than a TD at home this weekend, but things seem to be just hard enough to come by for the Raiders lately that what has been a typically-tough Houston team might have just enough juice to keep this one in the ballpark and get out of Sin City with the cover.
Loot's Prediction to Cover the Point Spread: I'm betting on the Houston Texans plus 7 points.