Indianapolis Colts vs. Jacksonville Jaguars Pick 1/9/22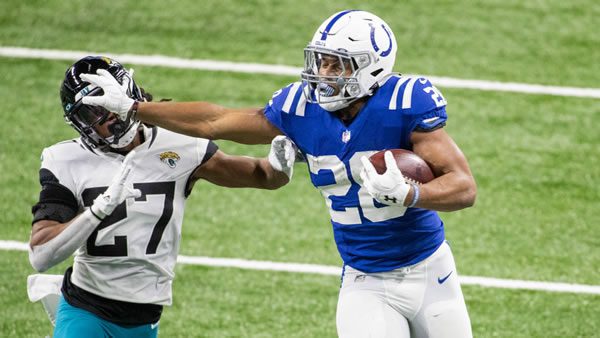 Indianapolis Colts (9-7 SU, 10-6 ATS) vs. Jacksonville Jaguars (2-14 SU, 4-12 ATS)
Week 18 NFL
Date/Time: Sunday, January 9, 2022 at 1PM EST
Where: TIAA Bank Field, Jacksonville, Florida
TV: CBS
Point Spread: IND -15.5/JAC +15.5 (Bookmaker – The second oldest sportsbook on the web, dating back over 20 years! No frills, just a rock solid bookie!)
Over/Under Total: 44
The Indianapolis Colts come to TIAA Bank Field on Sunday for a week 18 AFC South showdown with the Jacksonville Jaguars. Neither team had a good time of it on Sunday. For the hapless Jags, their 50-10 loss to the Patriots was their eighth loss in a row. At the very least, they are the worst team in the conference. The Colts falling 23-20 to the Raiders last week was a troubling development for a team looking to push their way into the postseason. They look to atone for that this week in what seems to be a manageable spot.
Playoff Ramifications
Last week was costly for the Colts in terms of the postseason. With the Titans winning and Indy losing, the Titans locked up the division. The Colts could have clinched a playoff spot with a win. They can still clinch a playoff berth with a win. If they win, they're in. And they can lose and still get in, though that will require some stars lining up. The Chargers and Ravens would need to lose. Or the Chargers and Steelers would need to lose with Miami winning. They will try to bypass that this week and just go ahead and beat the Jaguars.
In week ten, the Colts were able to beat the Jaguars, 23-17. Carson Wentz didn't have a good game with the aerial game pedestrian. Jonathan Taylor and his 116 yards and a TD paced the Colts in their one-score win. The Jaguars were able to run the ball well, with both Jamal Agnew and James Robinson both making a lot of big plays. Both men are now out. With the heightened conditions for the Colts and some bad developments for the Jags, we'll see if they can come close to giving the Colts the same tough matchup they had the first time around.
What to Expect from Jacksonville
Nothing really works for this Jaguars team. The top QB prospect in the last decade leads to nothing. Even dumping a disliked coach gets no mojo. It's just a team overturned on its back with no ray of sunshine in sight. Their best moment over the last handful of weeks was keeping the lowly Jets within 5 points. Houston beat them by two TDs, while the Rams mashed them by 30, the Titans shut them out, and then the 50-10 disgrace against the Patriots last week. In other words, you can sit there and think the Colts are fraudulent and completely overrated. And still, what are the Jaguars going to do about it?
I suppose if one was looking hard enough for ammo on the Jags, they could point to how the Jaguars kept it within 6 points a few months ago, with that game being on the road. Maybe in a divisional home setting, things can shake out more in their favor. We've seen it before, where a divisional team with a lot to play for runs into greater resistance than expected by their low-end divisional opponent. But it's not just inconsistent play, turmoil in the coaching position, and the mistakes of youth that have the Jaguars off the rails. And maybe with such a big spread, Indy will pull some guys if they get up by a bunch. Again, it's hard to find optimism for the Jags' case this week.
To begin the season, Trevor Lawrence wasn't stepping into an enviable position. He was strapped for offensive weaponry, and his line wasn't great. Now he's without his best weapon on offense with James Robinson out of action. The aerial crew that was bad, to begin with, is now in tatters. If you take away the Jets game, the last time the Jags scored more than 16 points was back in week ten when they put up 17 against this Colts team.
More Picks: Titans vs. Texans Prediction ATS 1/9/22 >>>
Good Spot for Colts?
On the surface, one would think this is a pounce-spot for a Colts team that started out 1-4 and can win their way into the playoffs with a win over what might be the worst team in the league. Carson Wentz should be able to hit his weapons while taking enough attention off Jonathan Taylor, who will be pumped up against a team that has been less and less resistant against the run as of late. A lot of things line up well for Indy this week.
The return of some viable defensive weaponry only enhances the Colts' prospects this week. With guys like Darius Leonard getting back into the swing of things in the nick of time, one struggles to envision a road to success for this Jacksonville offense this week. A playmaking Indy "D" should be flying all over the field. I'd also look for Wentz to reconnect a bit with his aerial weaponry, with guys like Michael Pittman and others looking to feast in this spot. From what we've seen recently from this Jaguars' defense, the combination of Taylor and the Indy air-attack in a high-urgency context could be too much to withstand.
Lay the Points
Make no mistake, this is one heck of a number. And the Colts on the road might not be the most-ideal team with which to lay that many points. But if this season never ended, it'd be interesting to see how long it would take the oddsmakers to truly capture reality as it pertains to how bad the Jaguars are. They haven't covered the spread in seven weeks, even with them getting decent betting value on paper. I still don't think this giant spread does justice in a game where Indy will be in if they win. I see a romp ensuing, and I'll take the Colts.
Loot's Prediction to Cover the Point Spread: I'm betting on the Indianapolis Colts minus 15.5 points. Bet your Week 18 NFL predictions for FREE by taking advantage of a 100% real cash bonus on your first deposit of $100 to $300 at MyBookie Sportsbook! (Must use bonus code PREDICT100 on the registration page).
10* GAME OF MONTH **INSANE 75% NFL PLAYOFFS!
AAA Sports has gone 5-1 (83%) with their NFL Playoff picks over the L2 rounds and overall they enter the Super Bowl having gone an INSANE 75% (9-3!) with ALL of their NFL Playoff releases! AAA Sports is playing with HOUSE MONEY in BOTH the NFL and College Football this season and they're UNLOADING MASSIVELY in this year's Super Bowl with BOTH SIDE and TOTAL! BE THERE!