Tennessee Titans vs. Houston Texans Week 18 Pick ATS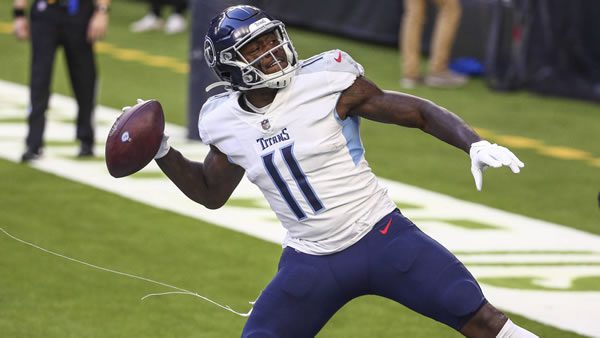 Tennessee Titans (11-5 SU, 10-6 ATS) vs. Houston Texans (4-12 SU, 7-9 ATS)
Week 18 NFL
Date/Time: Sunday, January 9, 2022 at 1PM EST
Where: NRG Stadium, Houston, Texas
TV: CBS
Point Spread: TEN -10/HOU +10 (Betanysports – Why bet on games at -110 odds when you could be saving money by wagering at -105 here?)
Over/Under Total: 42.5
The Tennessee Titans take on the Houston Texans on Sunday in key AFC South action from NRG Stadium. The Texans saw their little spurt come to an end with a 23-7 loss to San Francisco last week. Still, they've at least been showing better energy with Davis Mills behind center, as they continue trying for head coach David Culley. The Titans, meanwhile, were impressive in flattening Miami, 34-3, last Sunday, as they get in gear for the playoffs. Can Houston come up with any answers for what could be a revved-up Titans' bunch?
Playoff Concerns
Naturally for the 4-12 Texans, there are no such concerns. But The Titans still have some work to do. First, let's take our hats off at a team winning the division despite a lot of things not going their way in terms of personnel issues. A win here would clinch them the top-seed in the conference and a first-round bye, giving the Titans more time to get Derrick Henry up to speed for a potential postseason run. Even if they lost, they could still get in if the Chiefs, Bengals, and Patriots lose or if the Chiefs and Bengals lose and the Bills win.
Houston Already Pulled it Off
There have been multiple times this season where we saw a Houston team overperform. Week 11 when they beat this Titans team, 22-13, was one of those times. Granted, it was a funky period of the season for the Titans, who were mashed by the Pats the next week. Injuries, mistakes, and a sudden lack of offensive weaponry was responsible. The Titans, with three wins in four games since, have found some answers and gotten some people back, making them a little more dangerous than they were the first time they played the Texans. And Houston probably won't be able to depend on four picks from Ryan Tannehill this time around. It's not as if the Texans blew the Titans' doors off with their 190 yards of total offense that day.
Prime Tennessee This Week?
At root, they have a chance to get the top-seed in the conference with a win against a team that embarrassed them with an upset win previously. You'd imagine Tannehill wants to atone for one of the worst showings of his career. Combine that with a team-wide urgency to get the job done this week, along with a coach who is adept at bringing that urgency about in Mike Vrabel, it all shakes out to what should be a good showing this week. They won't be caught sleeping because the opponent is 4-12 and they won't be satisfied by the fact that they're already in the postseason.
The Tennessee run-game, even without Henry, isn't it bad shape. We've seen D'Onta Foreman putting together some big games lately. The return of AJ Brown gives the passing-attack a real X-factor. Maybe Julio Jones can prove those wrong who think he's dogmeat now. Without Henry, they've used backs in different ways, with guys like Dontrell Hilliard and Jeremy McNichols getting involved. They're getting a little more out of TE Geoff Swaim and still have plenty of juice along that offensive line. And over the last few seasons, this is a team that has been able to deliver when in spots like this. More often than not in the regular season when faced with a need-to-win scenario, they come through in shining colors.
The Dangerous Texans
It wouldn't be the first time we saw urgency not resonate accordingly with a team. Houston is in many ways the ideal spoiler—a team with enough issues to be a lowly 4-12, but a team still trying hard and seeing things come together against the odds. The increased production of late from QB Davis Mills, along with pieces like Rex Burkhead and Brandin Cooks makes them an interesting X-factor, It didn't really deliver last week against a good San Fran defense, but two straight wins leading to that, the previous win over Tennessee, and other spikes this season make them less than a total doormat.
More Picks: Get Loot's Saturday Chiefs at Broncos Spread Winner >>>
You could be here all day going over all the issues with the Texans this season. The point is that you're seeing a bad team still into it mentally. Guys like Mills, Foreman, and others are doing what they should be doing—making a good impression even if the bottom-line results aren't in order. With Mills firing it up, with Cooks and other obscure receivers fighting to stay in this league, you have an aerial-attack that could threaten this Titans' secondary, which isn't the stoutest around. There are a lot of teams in the league with similar W-L records as the Texans who wouldn't be dangerous in spots like this. But this is a team that already beat the Texans, just beat the Chargers, and hasn't folded in contexts where you'd expect them to do just that.
Take the Points
At the end of the day, a team playing for a top seed in the postseason against a 4-12 team can definitely result in a stomping. We know that much out the gate. I think the combination of Houston's level of effort, the sometimes-porous Tennessee air-defense, and the Titans still being without their main weapon is enough to keep Houston hanging around in this game. I see Mills having some success and making the Titans have to work a bit for the win on the road this week. I'll take Houston and the points.
Loot's Prediction to Cover the Point Spread: I'm betting on the Houston Texans plus ten points. Note: Many NFL bettors have gotten smoked over the past few weeks with all the crazy results. Instead of re-depositing for NOTHING at your sportsbook, why not grab some free cash by taking advantage of one of many of the 100% sportsbook bonuses offered on our top sportsbooks list? It helps us both!
10* GAME OF MONTH **INSANE 75% NFL PLAYOFFS!
AAA Sports has gone 5-1 (83%) with their NFL Playoff picks over the L2 rounds and overall they enter the Super Bowl having gone an INSANE 75% (9-3!) with ALL of their NFL Playoff releases! AAA Sports is playing with HOUSE MONEY in BOTH the NFL and College Football this season and they're UNLOADING MASSIVELY in this year's Super Bowl with BOTH SIDE and TOTAL! BE THERE!