Indianapolis Colts vs. Minnesota Vikings Analysis & Spread Play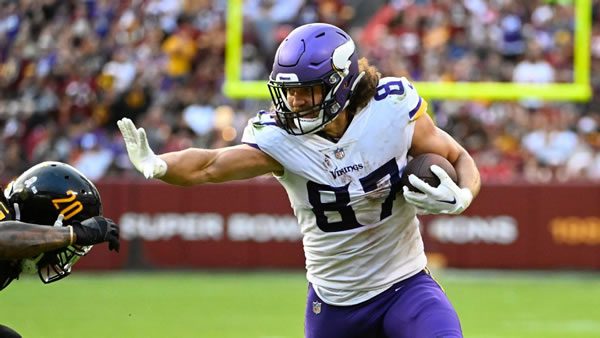 Indianapolis Colts (4-8-1 SU, 5-8 ATS) vs. Minnesota Vikings (10-3 SU, 6-6-1 ATS)
Week 15 NFL
Date/Time: Saturday, December 17, 2022 at 1 PM EST
Where: U.S. Bank Stadium, Minneapolis, Minnesota
TV: NFL Net
Point Spread: IND +4/MIN -4 (BetNow – Bonus code PREDICTEM gets you a 100% dollar for dollar matching REAL CASH bonus up to $500!)
Over/Under Total: 48.5
The Indianapolis Colts travel to Minneapolis for a week 15 showdown with the Minnesota Vikings on Saturday. The Vikings are looking to consolidate their postseason status with maybe a little heightened urgency after losing to the Lions last week, 34-23. They look to have a decent spot at home against a 4-8-1 Colts squad. The Colts are coming off the bye, with their last appearance being a disheartening 54-19 loss to Dallas. Can they hang in there or will a refocused Vikings squad take their recent frustrations out on Indy?
What to Make of the Vikings?
A 10-3 mark tells most of the story. When a team gets off to a nice start like that, leveraging their schedule against them and nit-picking goes against the whole point. At the same time, a 2-2 mark in their last four games with both of those wins being one-score wins over the Patriots and Jets, we've seen some holes. That secondary is a real hindrance to big success and even in this game, it gives an avenue for Matt Ryan and this offense to get some business done that they otherwise wouldn't against more serviceable pass-defenses. In keeping with some of their previous offensive issues, we're also seeing Kirk Cousins and Company put up massive production without the points that would reflect that. Coming up with 23 last week against Detroit with Cousins going for 425 yards, Justin Jefferson catching 11 balls for 223 yards, and with Adam Thielen, Dalvin Cook, and KJ Osborn scoring TDs is pretty bad all told.
Still, I'd stop short of chalking their success up to this point as being a fluke or a product of a soft schedule. Those wins over the Jets and Pats were decent quality wins. Throw those in with wins over the Lions, Dolphins, Commanders, and Bills, and it's a decent ledger of victories. That defense is not great and it's hard to go far with a secondary like that. And sure, the Colts have shown a good pass defense this season, but after giving up 54 to Dallas, can one really site their defense as reason to back them this week? And has there been anything particularly automatic about the Indy aerial attack to have the Vikings shaking in their boots? For all of the drawbacks on this Minnesota "D" what really stands out this week is the prospect of what Dalvin Cook can do with this Colts' defense and how Indy will withstand an aerial attack that is really clicking right now.
10* CONF CHAMP TOTAL - 7-3 (70%) NFL PLAYOFFS
AAA Sports has hit BOTH their Wildcard Round and Divisional Round TOTAL OF THE YEAR, meaning you simply CAN NOT afford to miss out on their CONFERENCE CHAMPIONSHIP TOTALS WINNER! Now an ABSOLUTELY ELECTRIC 7-3 (70%) in the NFL Playoffs, this is TRULY the BIG PLAY that you've been waiting to just UNLOAD on!
Silver Lining for the Colts?
It's not an easy spot for Indy, coming out of their conference in the NFC North, albeit out of the elements. They're still rested and in an underdog role, and probably healthier than they've been in a while. With some pieces on IR, the rest of their standouts who were nursing injuries should be ready to go. And with guys on offense like Jonathan Taylor, along with a talented receiver crew, a team isn't going to be hopeless against a Minnesota defense that has given up 120 combined points in their last four games. Matt Ryan is far from a bankable commodity at this point. He can be a veritable turnover machine. It's still an offense that at its best can be very balanced and potent.
We still need to be realistic about the Colts right now. It's a team that had a midseason coach firing, with unproven Jeff Saturday now running things. They've dumped 6 of their last 7 games, with bottoming-out showings where they lost by 7 at home to the Steelers, while also losing a 26-3 affair to the Pats. We've seen more valleys than peaks lately. So, while the prospects of Jonathan Taylor being due for a big game or Ryan taking it this suffering Minnesota secondary is there, they have zero momentum, the O-line has betrayed them all season, and they're going against an irritated Vikings squad that won't be suffering from any letdowns like they might have if they just won last week.
More Picks: Get Keith Allen's Dolphins vs. Bills Week 15 betting analysis and top pick >>>
Scope of Possibilities
There are times where we have seen the Colts' defense keep opposing offenses in check. With the bye and their last game being the Dallas disaster, their defensive scrappiness might be out of focus, but it has popped up this season. For teams like the Vikings, it's not just a matter of turning the urgency switch on and off. They wouldn't be the first team to start fast and slowly melt away over the second half of the season. If that's what the reality of it is, the Colts could come in and hang in there or even possibly win. On the other side of the spectrum is that the Vikings are in atonement-mode, ready to wield a potent offense on a road Colts team that won't have many answers on either side of the ball.
Lay the Points
I can understand the spread, though it sure seems to be easy on the Vikings in a way that makes you pause out of suspicion. What are they seeing that we're not? But, the Vikings haven't been in great form and it's easy to overplay the urgency-card this late in the season. The Colts are a worthy X-factor and upset candidate. I just sense that having a tangible agenda will pay off for Minnesota this week, as they angle hard to get it done at home where a loss would squarely land them in a crisis-mode they're looking to avoid. I'd look for Dalvin Cook to get some better results this week, with Cousins exacting enough damage aerially to get the Vikings over the hump on Saturday.
Loot's Prediction to Cover the Point Spread: I'm betting on the Minnesota Vikings minus 4 points. Bet your college bowl game predictions for FREE by scoring a 100% real cash bonus on your first deposit up to $500 by entering bonus code PREDICTEM on the Special Offers page at the web's oldest and most trusted sportsbook —> Everygame!