Indianapolis Colts vs. Oakland Raiders Pick ATS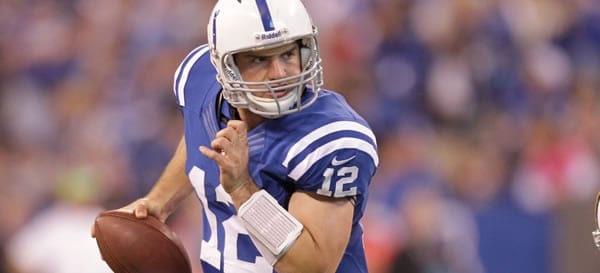 Indianapolis Colts (2-5 SU, 3-4 ATS) vs. Oakland Raiders (1-5 SU, 2-4 ATS)
NFL Week 8
Date/Time: Sunday, October 28, 2018 at 4:05PM EDT
Where: Oakland Coliseum, Oakland, California
TV: CBS
Point Spread: IND -3/OAK +3
Over/Under Total: 50
The Indianapolis Colts take on the Oakland Raiders on Sunday at the Coliseum in week 8 AFC action. The Colts smashed the Bills, 37-5, last Sunday and will look to get closer to .500 this week in Oakland. The Raiders are coming off a bye week, which followed a rough 1-5 start to the season. Things haven't gone well for either team thus far. Who can get a leg up this week and get on the winning track?
Granted, Indy's win over Buffalo, as lopsided as it was, is not cause for celebration. It showed they can still showcase a potent offense under QB Andrew Luck. If nothing else, they can still score points. They might not be great, but at least they're intact and who they're trying to be at least to some extent. I think the Raiders will continue to struggle, especially as it's been shown they are looking more to the future. The Colts certainly leave a lot to be desired as a road favorite, but I like them to cover the spread this Sunday in Oakland.
Is Oakland Giving Up?
Well, it's never cut-and-dry as the media will have you believe. Players are still professionals and will play hard. But some personnel moves are certainly not consistent with a team in win-now mode. First, it was Khalil Mack. Then this week, we saw Amari Cooper shipped out to Dallas for a first-round pick. While the trade itself might not be so awful, getting such a high pick for a receiver in Cooper who has tailed off after two good seasons, it does show that the future shines brighter than the present as far as the Oakland brass is concerned.
Part of the Raiders' current predicament is due to injuries. Now, they will be without Marshawn Lynch, who was just put on IR. And it's not just Lynch, but a look at the Oakland injury report shows more potential starters than their actual active roster. We hear things in the press that Derek Carr has waning support from his teammates and it's clear that Gruden's first year is not shaping up well at all. When one thinks of the optimism and hope the day Gruden came aboard and where they are now, that's a lot of distance covered and not in the right direction.
Oakland's Football Problems
With Oakland, it's not all tied to morale. They have football-related issues that aren't the kind of problems that go away overnight. With Indy, they need to keep pace offensively. And while Carr connects well with TE Jared Cook and Martavis Bryant is dangerous, they are now fairly-understaffed in terms of weapons. And operating behind a banged-up and depreciated O-line isn't helping. Indy's defense is by no means stout, but with Jabaal Sheard, Margus Hunt, Darius Leonard, and others, they rush the heck out of the passer. And they can secure turnovers, with Carr having already thrown ten picks. It looms as a concern. On offense, it's basically Derek Carr, a subpar O-line, retrograde RB Doug Martin, and a receiving corps that lacks pizzazz.
Indy Showing Some Vitality
The results don't speak well of the Colts, with a big win over Buffalo only their second win of the season. A look behind the results, however, shows a team that has taken a few lumps but is progressing. And in the AFC South, they're vaguely in the mix and still have something in which to shoot for. Andrew Luck has been getting better in his return after a prolonged layoff. One would expect him to get sharper, as he's already near 2000 yards with 20 touchdowns.
There are some nice pieces for Luck to work with, like old dance-partner TY Hilton. But he's bringing others into the mix, an excellent trait that Luck has. Eric Ebron has 6 TDs in his first season in Indy, with Chester Rogers, Ryan Grant, and Nyheim Hines getting involved aerially, as well. We see a nice run-game forming with Hines, Marlon Mack, and Jordan Wilkins. At 4.5 yards a clip and the Oakland run-defense in the dumps, look for the Indy offense to be a group with options on Sunday.
The Indy defense is still dicey, and that's been true since Luck came into the league. Let's just say they're more adept at making plays than they are at actually being rigid. Carr's mistake-prone play would seem to set up well for the Indy defense to make a positive imprint on this game, but Derek Carr has shown he can still be prolific, averaging almost 300 yards a game so far this season. If the Colts "D" doesn't make plays, they just look porous. This looms as a potential hang in the fence for Colts backers. In other words, the offense will do their part against Oakland, but will the Indy "D" prevent this track meet from being a competitive one? Or will Carr and Company be able to hang in there?
Lay the Points on the Road Favorite
As we try to find a wagering edge, going against Oakland almost seems too obvious. With the press running with the story, it's unlikely that the Oakland demise is something that has been understated. Just as quickly as they boarded the Gruden bandwagon, they are now hopping off in droves, and it has resonated with the betting public. I just think that Indy is underrated, especially with their bottom-line record. They're better than they've shown and are starting to see some things come into focus. I see them exploiting a lack of Oakland defensive stoutness and playmaking, en route to the win and cover on Sunday.
Loot's Pick to Cover the Point Spread: I'm betting on the Indianapolis Colts minus three points and laying it down at a sportsbook that offers reduced juice sports betting
<div style="width:340px; margin: 0 auto;"><!-- [et_pb_line_break_holder] --> <a class="twitter-timeline" data-width="340" data-height="500" data-link-color="#008156" href="https://twitter.com/PredictemPicks?ref_src=twsrc%5Etfw">Tweets by PredictemPicks</a> <script async src="https://platform.twitter.com/widgets.js" charset="utf-8"></script><!-- [et_pb_line_break_holder] --></div>
<div class="widget105"><!-- [et_pb_line_break_holder] --><h4 class="parlays">Best Sportsbooks for Parlays</h4><!-- [et_pb_line_break_holder] --><!-- [et_pb_line_break_holder] --><table id="parlay"><!-- [et_pb_line_break_holder] --> <tr><!-- [et_pb_line_break_holder] --> <th><span class="team"></span></th><!-- [et_pb_line_break_holder] --> <th>2 Team Parlay</th><!-- [et_pb_line_break_holder] --> <th>3 Team Parlay</th><!-- [et_pb_line_break_holder] --> <th>4 Team Parlay</th><!-- [et_pb_line_break_holder] --> </tr><!-- [et_pb_line_break_holder] --> <tr><!-- [et_pb_line_break_holder] --> <td><a href="https://www.predictem.com/out/SportbetP"><img src="https://www.predictem.com/wp-content/uploads/2018/06/sportbet-sm.png"></a></td><!-- [et_pb_line_break_holder] --> <td>2.74 to 1</td><!-- [et_pb_line_break_holder] --> <td>6.24 to 1</td><!-- [et_pb_line_break_holder] --> <td>13 to 1</td><!-- [et_pb_line_break_holder] --> </tr><!-- [et_pb_line_break_holder] --> <tr><!-- [et_pb_line_break_holder] --> <td><a href="https://www.predictem.com/out/BovadaP"><img src="https://www.predictem.com/wp-content/uploads/2018/06/bovada_sm.png"></a></td><!-- [et_pb_line_break_holder] --> <td>2.64 to 1</td><!-- [et_pb_line_break_holder] --> <td>6 to 1</td><!-- [et_pb_line_break_holder] --> <td>12.3 to 1</td><!-- [et_pb_line_break_holder] --> </tr><!-- [et_pb_line_break_holder] --> <tr><!-- [et_pb_line_break_holder] --> <td><a href="https://www.predictem.com/out/MybookieP"><img src="https://www.predictem.com/wp-content/uploads/2018/06/mybookie-sm.png"></a></td><!-- [et_pb_line_break_holder] --> <td>2.64 to 1</td><!-- [et_pb_line_break_holder] --> <td>6 to 1</td><!-- [et_pb_line_break_holder] --> <td>12 to 1</td><!-- [et_pb_line_break_holder] --> </tr><!-- [et_pb_line_break_holder] --></table><!-- [et_pb_line_break_holder] --><div class="widget-footer"><a href="https://www.predictem.com/best-sportsbooks/parlays-odds/">See all Sportsbook Parlays</a></div><!-- [et_pb_line_break_holder] --></div><!-- [et_pb_line_break_holder] --><!-- [et_pb_line_break_holder] --><!-- [et_pb_line_break_holder] --><style><!-- [et_pb_line_break_holder] --> #parlay {border-collapse: collapse;<!-- [et_pb_line_break_holder] --> width: 100%; border: 0px;<!-- [et_pb_line_break_holder] --> font-size: 14px!important;}<!-- [et_pb_line_break_holder] --> #parlay td, #parlay th {<!-- [et_pb_line_break_holder] --> border: 0px;<!-- [et_pb_line_break_holder] --> padding: 8px;<!-- [et_pb_line_break_holder] --> text-align: left;}<!-- [et_pb_line_break_holder] --> #parlay th {<!-- [et_pb_line_break_holder] --> padding-top: 5px;<!-- [et_pb_line_break_holder] --> padding-bottom: 5px;<!-- [et_pb_line_break_holder] --> font-weight: bold;<!-- [et_pb_line_break_holder] --> line-height: 14px;<!-- [et_pb_line_break_holder] --> text-align: center;<!-- [et_pb_line_break_holder] --> color: #000;}<!-- [et_pb_line_break_holder] --> #parlay tr {border-bottom: 1px solid #edeef0;}<!-- [et_pb_line_break_holder] --> .team {font-size: 16px;}<!-- [et_pb_line_break_holder] --></style>
<div style="width:340px; margin: 0 auto;"><!-- [et_pb_line_break_holder] --> <a class="twitter-timeline" data-width="340" data-height="500" data-link-color="#008156" href="https://twitter.com/PredictemPicks?ref_src=twsrc%5Etfw">Tweets by PredictemPicks</a> <script async src="https://platform.twitter.com/widgets.js" charset="utf-8"></script><!-- [et_pb_line_break_holder] --></div>