Kansas City at Denver Week 18 Prediction ATS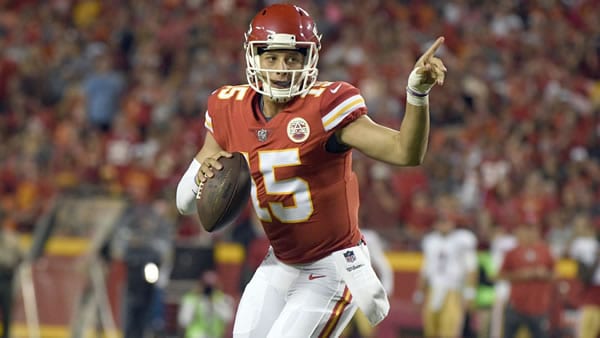 Kansas City Chiefs (11-5 SU, 8-8 ATS) vs. Denver Broncos (7-9 SU, 7-9 ATS)
Week 18 NFL
Date/Time: Saturday, January 8, 2022 at 4:30PM EST
Where: Empower Field at Mile High, Denver, Colorado
TV: ESPN/ABC
Point Spread: KC -10/DEN +10 (Betanysports – Bet on games at -105 here instead of -110!)
Over/Under Total: 44
The Kansas City Chiefs take on the Denver Broncos in AFC West action from Mile High on Saturday in the final game of the regular season. The Chiefs fell out of the top seed in the AFC with their upsetting 34-31 loss to the Bengals on Sunday. Denver was eliminated from the postseason with their 34-13 loss to the Chargers last week. On December 5, the Broncos fell to the Chiefs, 22-9. It was a subdued game, with the Chiefs pulling away late to win part one of their divisional rivalry this season. Who can cover the spread in part two?
The Urgency Factor
Having already beaten the Broncos by 13, this might not be the most high-urgency spot for the Chiefs. It's easy to overstate the gulf in each team's respective agenda. Denver saw their slim playoff hope go down the drain in an ugly three-touchdown loss to the Bolts last week. It almost gives the vibe of a team just looking to get to the finish line. Contrarily, the top seed is still on the table for the Chiefs. But it didn't result in any advantage last week when the Bengals came back from a deficit to beat them. And now they're reduced to the prospects of winning this game and hoping the Titans lose to the Texans on Sunday. Granted, the Texans have already beaten the Titans this season, but I'm not sure the scenario at hand warrants taking some enhanced stand on the Chiefs this week.
Chiefs Getting in Top Gear?
Coming off a loss, it's hard to sell the Chiefs as being in top form. And we saw that what appeared to be an improving Chiefs defense might not be all that infallible against playoff-quality offenses. But in the Broncos, they will be seeing no such thing. Meanwhile, we see a Chiefs offense beginning to click with more regularity with Patrick Mahomes connecting with all his viable weaponry, in addition to a run-game that seems to thrive often with different backs.
While a week 17 home loss with a top conference seed still in the offing was a letdown on Sunday against Cincy, especially when leading at one point by two TDs, let's not forget the seven straight Chiefs wins that led to that point. The Broncos don't have anything resembling the suddenly-unstoppable Cincinnati passing game. And while this predicament might not give rise to the most-vintage Chiefs team we've seen this season, being in good form for the postseason would be enough of a motivation to see a pretty close to top-end Chiefs squad this week.
What to Expect This Week from Denver?
Three weeks ago, the Broncos were still hanging in there at 7-6, which was commendable amidst all their injuries and various team issues. However, three straight losses see them land in this Week 18 spot with a bit of a thud. The last three weeks, a time where they could have made a move, they managed a combined 36 points. They have a nice cast of ball-catchers and two worthwhile backs, yet abysmal quarterback play makes it, so it rarely surfaces into a big day. It's a shame that they wasted the seasons of so many good players. The defense can play soundly in spots, but even that part of the team is waning, first with injuries and then the lack of support they get on the other side of the ball.
Considering how badly the Broncos folded at a time in the season when a push would have really paid off, it might be hard to forecast a big week 18 showing from this bunch. Granted, they're still out there trying hard, and until last week, the defense was still holding up well. In other words, while they might not be a team that delivered in a pinch this season, they might fall short of a team phoning it in on the last week of the season.
MORE BETTING ACTION: CHECK OUT OUR OTHER WEEK 18 NFL PICKS!
Can the Chiefs Drop the Hammer?
This might be the easiest scenario to envision. The Chiefs, looking to get into postseason form and with a chance at the top-seed at least vaguely still on the table, will just completely romp Denver and their dysfunctional offense and get a nice little tune-up before taking on the bigger dogs. But that first game looms as a warning for those suspecting the Broncos to put up little resistance. And this one is in Denver, where it should be cold against a Broncos team that might have a lot of issues but still doesn't get annihilated on a regular basis.
But to get to where we want to be, the Chiefs wouldn't necessarily need to drop the hammer. And a win to the tune of 10 points or greater seems to be squarely on the table. The Chiefs can wield the kind of versatile offense that saw the Denver "D" crumble last week—a group that wears you down with the run-game, completes short passes, works with a large variety of receivers, and is adept in creating big plays.
Lay the Points
At this point, I'd rather roll the dice on the Chiefs. Sure, there is this sneaking suspicion that something is off about them—enough to make you wonder if they can realistically make it to their third straight Super Bowl appearance. But banking on this Denver offense to keep it in the ballpark against a Chiefs offense that should be flexing some of its muscle this week seems like a far more negative outlook. I'll take the Chiefs to cruise home the winner and cover the spread this week.
Loot's Prediction to Cover the Point Spread: I'm betting on the Kansas City Chiefs minus 10 points. Note: Many football bettors get cleaned out and then head back to their bookie and re-deposit, receiving NOTHING for doing so! Why not grab one of many 100% sportsbook bonuses offered from one of our top flight advertisers? You'd be helping us both!
10* GAME OF MONTH **INSANE 75% NFL PLAYOFFS!
AAA Sports has gone 5-1 (83%) with their NFL Playoff picks over the L2 rounds and overall they enter the Super Bowl having gone an INSANE 75% (9-3!) with ALL of their NFL Playoff releases! AAA Sports is playing with HOUSE MONEY in BOTH the NFL and College Football this season and they're UNLOADING MASSIVELY in this year's Super Bowl with BOTH SIDE and TOTAL! BE THERE!