Kansas City Chiefs vs. Denver Broncos Pick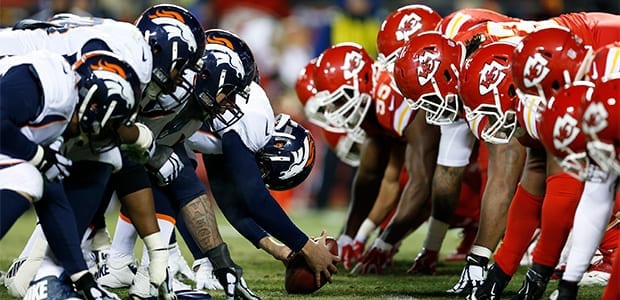 Kansas City Chiefs (3-0 SU, 3-0 ATS) vs. Denver Broncos (2-1 SU, 0-2-1 ATS)
When: Monday, October 1st, 2018, 8:15 PM EST
Where: Mile High Stadium, Denver, Colorado
TV: ESPN (DirecTV 206)
By: Kevin West, NFL Football Handicapper, Predictem.com
Point Spread: KC -5.5/Den +5.5 (Opened at 5, dropped to 4, bet up to -5.5). Update: (10/1) This line has dropped to +3.5 at most books with a couple even showing +3.
Over/Under: 56.5 (Opened at 55)
Power Ratings: Chiefs -5
Takeaways From Week 3
KC plays well vs. crappy defenses. Sorry Chiefs fans, I'm not buying into the Pat Mahomes hype (yet). Yeah, he's led the team to three wins and amazingly the team only has one turnover this season, but the Chargers, Steelers and Niners are the 25th, 24th and 22nd ranked defenses in the league. The weak draws have made the offense look nothing less than dynamic. You'd look dominant too if you walked up to your 3 year old and snatched his sucker!
Needless to say, all three Chiefs games have gone over so far. As good as their offense has been, their defensive unit has been just as bad (or worse). In fact, I can confidently say the "D" has been worse than the "O". The reason I say this is because all of their opponents have had two or more key offensive linemen missing. Theoretically speaking, a team with missing offensive linemen should get beat up by the D-line which in turn leads to the quarterback not having sufficient time to hit a receiver. The Chiefs gave up 418 passing yards to the Chargers and 442 to Pittsburgh. They've also given up a massive SIX yards per rush in two of their three games this season. This team is a ticking time bomb and one that will blow up once they meet up with a team like Denver who plays above average defense and is playing at home with the crowd behind them.
The Broncos haven't played as well as I thought they would. I actually threw down a small play on Denver to win the Super Bowl and still think that'll be a possibility by seasons end. It's my opinion that the team is still acclimating to new QB Case Keenum. They're also in transition in the run game as Phillip Lindsay and Royce Freeman are finding their roles with the team. The team is 2-1 despite playing mediocre football. Consider getting down on Denver for a lunch money bet to win the Super Bowl. This team has a massive amount of untapped potential/upside. This may seem like an awkward time to be talking about this coming off a loss at Baltimore last week, but that's a tough place to play for ANY team and the Broncos are coming home this week to one of the best home field advantages in the NFL.
How the Public is Betting the Chiefs/Broncos Game
I wasn't surprised to learn that the public is siding with KC, as the media is blasting Pat Mahomes mania after the barrage of touchdowns he's thrown. What did surprise me was that only 34% of bettors are backing the Broncs. Within that 34% are sharp bettors/wiseguys with ear to ear smiles, some which are breaking their strict money management rules to get a bigger piece of this pie that is oh so sweet. I myself will be taking a strong position with a double play on the Broncos, broken down with 80% of my bet on the Broncos point spread and 20% on the money line at +180, as Denver is a live dog here and I expect them to win this game straight up. I'd have still bet this game if Denver were +2.5 (which is what I anticipated this line to be), although my whole play would have been on the money line. With the Denver spread being +5, I'm happy to risk the vigorish here as this line crosses both the "3" and "4" which are common final score margins in the NFL. I don't claim to have a crystal ball, nor am I a screaming tout who promises treasure and unicorns, but I firmly believe the current line of +5 has an 80% chance of covering. As far as the money line goes, I believe the Broncos win this game 65 out of 100 times (65%). I'm not a hind-sighter and am happy any time I come out on the winning end, but on Monday it might be tough not to be second guessing not putting more on the money line. With that being said, one of my favorite sayings in gambling is "there's no need for greed" and we should all be happy that we have an opportunity to "get paid" while participating in this wonderful hobby called football betting.
The Historicals
These teams are very familiar with each other as they usually go at it twice a season. KC has dominated the series as of late, winning the last four matchups. They've owned the Broncos at Arrowhead winning convincingly by 10 and 23. It's been a bit of a different story at Mile High as the last two games have come down to the wire with a 3 point margin (Horrible Paxton Lynch started the 12/31 game!) Needless to say, if those games were played with today's +5 spread, both would have covered. Squares (General public - Uneducated bettors) have heads filled with Mahomes Mania and Denver being 0-4 in the last four matchups and will be hammering KC. This is such a beautiful scenario for us as NFL spreads are purely based on public perception which as mentioned above, has blessed us with +5, a number that crosses not one, but two key numbers. It's not good content to mention the same thing twice in an article, however that's how much I love this variable.
BET TONIGHT'S CHIEFS/BRONCOS GAME FREE BY TAKING ADVANTAGE OF A 100% BONUS AT MYBOOKIE!
Injury Concerns
The Chiefs are relatively healthy as well, but one key player worth mentioning is LB Dee Ford who left last week's game with a groin issue. He's currently listed as questionable. The Chiefs are already very short on pass rushers. This would be a huge loss if he can't go. DB Eric Berry has missed the first 3 games of the season with a heel injury. He's listed as questionable and even if he does play, will likely be winded and ineffective.
The Broncos come into this one healthy with only Adam "Pac Man" Jones being listed as questionable with a thigh issue.
When the Chiefs Have the Ball
KC won't be able to run vs. the Denver defense. This will either create a bunch of sub 3 yard runs or force Mahomes to scramble/pass which is bad news for K. City as Bradley Chubb and Von Miller (4 sacks, 2 forced fumbles) are sure to have the upper hand on each end. It's likely that Mahomes will move to his left to avoid the Von Miller side of the line. If this holds true, this puts the young QB in an awkward motion. It's not easy to be right handed and have to throw moving to your left. In the end, I think we'll see 2+ interceptions in this game from Mahomes. I believe their main means of moving the ball will be getting Travis Kelce heavily involved. Expect Kelce to have 10 catches or more in this one.
When the Broncos Have the Ball
I expect a heavy does of passing by Case Keenum in this game. The Chiefs get very little push at the line of scrimmage and their secondary is putrid. Keenum is set up for a big game on Monday night.
No push at the line of scrimmage gives a QB time to setup and for receivers to get open. I believe Demaryius Thomas is going to have a huge game. This is tough for me to say as it's well known that Keenum favors slot receivers. I believe that with all the time he'll have in the pocket, a more-than-usual amount of downfield opportunities will present themselves. The Broncos lead the NFL in passes attempted of 20 yards or more.
Have any Broncos in fantasy football? All are in play vs. what might be the worst secondary in the NFL.
Betting Trends
The Chiefs are 7-1 against the spread in their last 8 games.
KC is 6-1 ATS in their last 7 games vs. the AFC.
Andy Reid has shined in MNF games lately at 4-1 ATS in his last 5.
The Chiefs are 12-4 ATS in their last 16 road games.
KC is 20-7 ATS in their last 27 vs. the AFC West.
The Chiefs are 1-4 ATS in their last 5 after having 90 yards rushing or less.
Denver is 4-1 ATS in their last 5 Week 4 games.
The Broncos are 7-18-2 ATS in their last 27 games.
Denver is 5-15-1 ATS over their last 21 contests vs. the AFC.
The Broncos are 2-7-2 ATS over their last 11 MNF games.
Den. is 1-5-1 ATS in their last 7 home games.
The Broncos are 0-5 ATS in their last 5 vs. the AFC West.
The OVER is 4-0 in the Chiefs last 4 road games.
UNDER is 4-1 in Denver's last 5 games vs. the AFC.
The road team is 7-2 ATS in their last 9 meetings.
All signs point to KC, however, the trend is not you friend. These are just stats the bookmakers use to prey on your opinions and then turn around and inflate the line. Denver is the play here, regardless of history.
Weather Report
Great football weather! Temps are expected to be 73-77 degrees with 23% humidity and only a 2% chance of rain.
Kevin West's Pick to Cover the Point Spread
I almost fell out of my chair when I saw KC favored by 5 points at Mile High. There's an old adage that says "Defense Wins Super Bowls!" Well, defense also wins Week 4 NFL games! The big question mark here is how Case Keenum will play. However, I believe the KC defense is so bad that it's nothing to worry about. Denver wins by a field goal or more in a game that most will get crushed, as everybody is on the "Mahomes Train". With Denver being a live dog, it'd be prudent to split your bet up with 20% on the money line at +180 and 80% on the spread. You better believe a home team on Monday Night Football getting points is going to be motivated!
Please consider following us on Twitter @PredictemPicks where you'll get pinged with articles like this one and get alerted to betting tips that will help increase your odds of beating the books. I also live tweet during Sunday NFL games and would enjoy shootin' the sh*t with ya!