LA Chargers vs. Kansas City Chiefs Odds, Analysis, Free Pick 9/15/22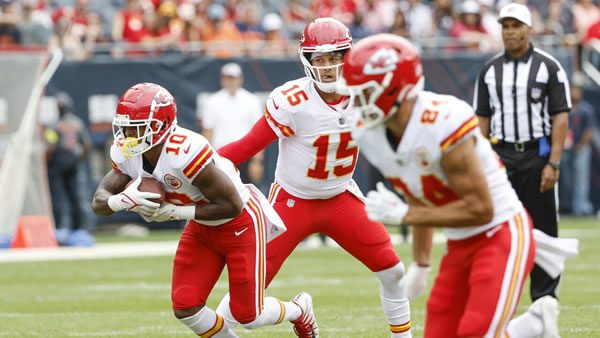 Los Angeles Chargers (1-0 SU, 1-0 ATS) vs. Kansas City Chiefs (1-0 SU, 1-0 ATS)

Week 2 NFL

Date/Time: Thursday Night Football, September 15, 2022 at 8:15PM EDT

Where: Arrowhead Stadium, Kansas City, Missouri

TV: Prime Video
Point Spread: LAC +3.5/KC -3.5 (Bovada – 50% bonus! Rebates on ALL your bets; win, lose or draw! BEST live betting platform on the planet! FAST crypto payouts! This book is a MUST HAVE!)

Over/Under Total: 54
The Los Angeles Chargers come to Arrowhead to take on the Kansas City Chiefs in an AFC West battle on Thursday Night Football. Both teams were victorious in week one, as each squad covered the spread, as well. The Chargers overcame a bit of a rally against the Raiders on Sunday to hold on, 24-19. Despite the Bolts sagging a little in the second half, their defense always had them in control, as they now take to the road to face a Chiefs team that really turned some heads on Sunday, with a rollicking 44-21 road win over the Cardinals. Patrick Mahomes threw five TDs, and any inkling that the Chiefs might not be the team to beat in the AFC has already been quieted a bit. Who can emerge in what has the looks of a high-powered divisional face-off on Thursday Night Football?
Different Context for the Chiefs on Thursday?
Not to take shots at the Cardinals' defense, but the Chiefs might run into more resistance this week. First off, despite the sudden murkiness of the identity of the contributors on offense, the unit as a whole looked powerful. Mahomes was sharp and more productive than any other QB on the week. Among what remains are TE Travis Kelce and Clyde Edwards-Helaire, both of whom had big games on Sunday. But with Mahomes spraying the ball around to guys like JuJu Smith-Schuster, Marquez Valdez-Scantling, Skyy Moore, and Mecole Hardman, it seems like variety is more the name of the game now. On the ground, we saw Isaiah Pacheco score a TD with 62 yards rushing. There are some new faces, but one shouldn't expect different results.
But again, this isn't the Cardinals' defense. The Chargers have a lot of juice in all areas. We saw on Sunday that a Raiders offense with a lot of hope was never really able to establish a rhythm, other than some isolated big plays here and there and a few sustained big drives. Up-front, the Chargers bring a lot of menace with Joey Bosa, who had 1.5 sacks, joined by Khalil Mack, who made his Chargers' debut in a big way with three sacks and a forced fumble. They picked off Carr thrice, as the pieces they added to an already-promising secondary have already started to pay off. Derwin James was all over the field, as the safety really gives them a different dimension on defense. So suffice to say that things could get a little trickier for the Chiefs on offense this week.
125% Cash up to $400 w/Bonus Code: PREDICTEM

The Flip Side of the Coin
Week one showed that variety might not be the spice of life for the Chargers offense. Granted, you don't want to have a predictable spread of targets that a defense can prepare to beat. But what's with the carries being split among all these different backs? You see a target share spread out almost dead-even among like ten guys. I understand they want to use an injury-prone Austin Ekeler more intelligently and maybe find alternate targets for the aging Keenan Allen and a guy that defenses focus on with Mike Williams. But the offense seemed almost faceless, and the better guys on the team need to be focused on more heavily. It was a big part of why the offense inexplicably stalled for the most part in the second half, with all these secondary and tertiary guys getting so much run. Still, QB Justin Herbert was efficient, going 26-for-34 with three TDs and no picks. He was protected well and did a good job evading with no sacks on the afternoon. A Chargers' offensive line that could be better didn't spring the run game that well but gave Herbert a long time to survey the field. We also see the offense play in consort with the defense. And when the defense has things in relative control, the offense stresses game-management a bit more than offensive fireworks. I'd expect them to turn it loose more this week, being that they need to keep up with a Kansas City offense that will put a lot more pressure on their defense.
The Issue of the KC "D"
Last week and even over the last several seasons, we see the Chiefs overwhelm opponents to such a thorough degree that whatever shortcomings they have on defense don't really appear to the naked eye. When you look at recent matchups between these teams, we don't see that favorable script play out for the Chiefs that consistently. And against a Chargers team that is growing in power, we might start to see some of those liabilities in more living color. Say what you will about the gap in quality between Mahomes' offense and Herbert's offense. But the Chargers are, if anything, the more-complete team. Their weaknesses are few, and we might see that versatility take hold in the event that the Chiefs' offense doesn't just drown everything else out.
Take the Road Dog
Not that an early-season win for the Bolts here at Arrowhead last season is any kind of guiding light, but they've done OK here lately against the high-octane Chiefs. It's hard to picture the Chiefs' defense not being tested by a Chargers' offense that will be looking to atone for an uneven showing last Sunday. That's not to say that Mahomes can't wield an ungodly amount of production on the Chargers' defense, a unit that might be in its toughest matchup of the season. But I sense some big plays on the defensive side of the ball, giving the Chargers' cause more teeth this week, with Herbert making better use of his signature talent en route to a cover at Arrowhead in week two.
Loot's Prediction to Cover the Point Spread:
I'm betting on the Los Angeles Chargers plus 3.5 points. You can make the LAC +22.5 by inserting them into a massive 19 point NFL teaser found at
Wagerweb Sportsbook
!