LA Chargers vs. Miami Dolphins Odds & Predictions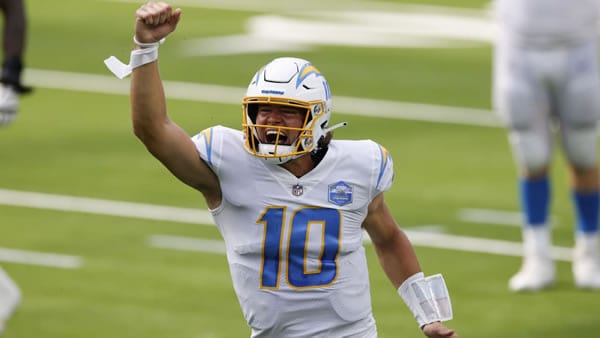 Los Angeles Chargers (2-6 SU, 5-3 ATS) vs. Miami Dolphins (5-3 SU, 6-2 ATS)
Week 10 NFL
Date/Time: Sunday, November 15, 2020 at 4:05PM EST
Where: Hard Rock Stadium, Miami, Florida
TV: CBS
Point Spread: LAC +2.5/MIA -2.5 (BAS)
Over/Under Total: 47
The Los Angeles Chargers come to Hard Rock Stadium to take on the Miami Dolphins on Sunday. The Dolphins are getting their first taste of real success in this new incarnation under head coach Brian Flores. Their 34-31 win over the Cardinals on Sunday was their fourth win in a row, and they look for another win with the Bolts coming into town. For the Chargers, the follies continue, following another last-second loss where the Chargers once again came up short in critical last-second play. Who can get it done this week?
The Two Sides of the Chargers
They're a really hard team to break down. They're 2-6, which is awful. But with Justin Herbert and that offense, they're really not bad, as their 5-3 ATS mark would partially attest. A lot of their plans as a team have been dashed by injuries, with key players on both sides of the ball out of action—losses they really couldn't afford to take. It has taken away some of their edge. But they're still a team with a good aerial attack, along with a running-attack that can still do damage even without some main artillery. But a defense that could have been good has been rendered average by their personnel losses.
What really hurts is how the late-game action rarely seems to break for the Bolts. And that's not just this season, as longtime fans would readily testify. And that goes for bettors too, long snake-bitten when sure winning bets on the Chargers end up being tickets angrily ripped apart and tossed to the floor. And this season, it has been almost unbearable to watch. Time and again, the ceiling caves in on a Chargers team that looks like they're going to win/cover. On Sunday, they were set up close on first and goal, with multiple plays looking like they would-be touchdowns, only to somehow not get it done in what has to be a bitter defeat.
At 2-6, the Chargers are pretty dangerous. When getting points, they're a little more appealing because you at least have some buffer for the almost-inevitable collapse late. Also, at 2-6, on the heels of some excruciating losses, the writing on the wall is becoming clear, which is to say the Chargers aren't going to make it happen this season. So as they go into Miami, gauging their headspace when compared to how good Miami must be feeling might carry some weight.
More Picks: Expert free college football and NFL picks >>>
Will Tua Make it Work With the 'Fins?
In his second start, rookie Tua Tagovailoa was more active after letting his defense do most of the work in beating the Rams the previous week. Against the Cardinals, he turned it loose a bit more, going 20-for-28 for 248 yards and two TDs. He also took better care of the ball and sprung loose a few good runs with his legs. But still, we saw a defense take a major role in getting the Dolphins to where they want to be. Tua is a bit strapped for viable weaponry around him, and getting more help on the other side of the ball will really help. But if the defense doesn't make big splash plays, at some point, this offense might have to flash a little more of its upside.
For the Miami defense to be able to flip two games against opponents with winning records with big plays on this side of the ball has been a revelation for this team. Against the Rams, once the defense stepped up, it was a wrap. And with another score on Sunday against Arizona in a tough road-game, the defense once again had a big say. But they are also exploitable, and as we saw with how well Murray aired it out on Sunday, Herbert could pick up a lot of yardage against this group. But they will seize upon any mistakes with a flair. They're not iron-clad, but there are a lot of defenses who are stouter who haven't made the impact we've seen from this unit in recent weeks.
Why the Dolphins are Still Dicey
If their defense isn't making the massive contributions they have recently, you're left with a rookie QB who is working with a substandard cast of receivers and backs. Some are players who could produce on a given week, but getting these guys to all perform well on the same day is elusive. When you look on the other sideline in this game, there is an offensive firepower differential that could definitely surface in a given week. For all their playmaking ability, Miami is not that great against either the run or the pass, which suggests they will have to repel a potentially-prolific Chargers' offense while trying to keep pace with an offense that isn't always on-fire. On the one hand, you don't want to lose a bunch of bets by virtue of not buying into a rising team. But something about Miami seems pretty exploitable for a team with four straight wins.
Take the Points
To take a down-in-the-dumps Chargers team against a high-flying Dolphins team presents some issues. And when long-suffering teams like the Dolphins finally latch onto something good, they usually aren't easily separated from that momentum. I'm going to just assume that Miami can't buck having low-grade offensive weapons forever, especially against teams who have the difference-makers the Chargers have on offense. I see the Chargers getting on the board with enough regularity to make a run at this and cover the spread.
Loot's Prediction to Cover the Point Spread: I'm betting on the Los Angeles Chargers plus 2.5 points.
50% Cash up to $250

Get $60 of FREE member picks & predictions
(NO commitments. NO Credit Card. NO Salesman.)