Las Vegas Raiders vs. New York Giants Prediction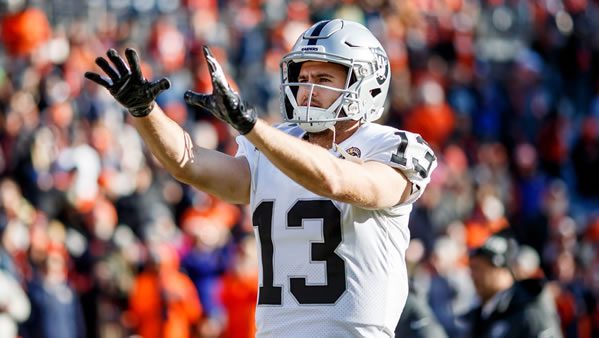 Las Vegas Raiders (5-2 SU, 4-3 ATS) vs. New York Giants (2-6 SU, 4-4 ATS)
Week 9 NFL
Date/Time: Sunday, November 7, 2021 at 1PM EST
Where: MetLife Stadium, East Rutherford, New Jersey
TV: CBS
Point Spread: LV -3/NYG +3 (Bookmaker - If big bets, fast payouts and security is your thing, this book is for you! In business since the 1980's!)
Over/Under Total: 47
The Las Vegas Raiders come to MetLife on Sunday for a Week 9 showdown with the New York Giants. Somewhat resolutely, the Raiders have scored two straight wins, including a 33-22 win over the Philadelphia Eagles on Sunday. At 5-2, they are atop the AFC West standings with a nice chance to push it to 6-2 against a Giants team that came up short to the Chiefs on MNF, 20-17. They didn't get the win. but have been showing some better results lately and might provide some resistance to the Raiders. Let's break it down and see who is more likely to cover the spread.
Is the Silver and Black Back?
The team performance over the last two weeks with Gruden suddenly dispatched is worthy of respect. It shows an inner resource that could serve them well moving forward. Gruden was more than a coach, but a man who was turned over the keys of the franchise. He loomed largely. It had to be a major distraction. And after a disheartening 20-9 loss at home to the Bears, they seemed to have derailed. So a pair of consecutive double-digit point wins really hits the spot. After what seemed to be a slump, Derek Carr has responded with two straight 300+-yard games. A lot of players are getting involved, and they're overcoming a lot of personnel setbacks as a team.
With big dings in the secondary, along with having Joshua Jacobs (questionable) and Darren Waller (questionable) as looming injury concerns, the Raiders have also dealt with that end of things. And against the Broncos and the sideways Eagles, it worked. And on paper, they would seem to have a manageable opponent this week. You just wonder if the areas of weakness they've done a good job concealing will come to light at some point. Over the last several years, the Raiders have also been in this same position after a fast start to the season. It has always fizzled out. The notion of the Raiders as being vulnerable for a 5-2 team isn't completely unfounded.
Good Spot for the Raiders?
While the Giants have shown some life recently. They are dealing with a lot of the same issues. It seems that the injury bug has loomed over the entire offense this season. With Saquon Barkley again out and it being iffy, he will soon reclaim his status; the run game is the hands of QB Daniel Jones and Devontae Booker—not the rosiest proposition. A pass-catching crew with some depth is constantly battling injuries, with Kenny Golladay, exciting rookie Kadarius Toney, Sterling Shepard, Dante Pettis, and Darius Slayton seemingly stuck forever on the injury list.
This is a game where you could very easily see a continuation of what the Raiders have been doing—good play from Carr to a variety of players, none of whom is really a star, a patchwork run-game, and increased playmaking on the defensive side of the ball. The Giants have some juice in the secondary, which could go a long way here. But that offensive line should give opportunities for a Raiders defensive front growing in power. New York not being able to run the ball or stop the run is a major liability the Raiders could pounce on this week.
More Picks: Bills vs. Jags Betting Predictions
Giants Subtly Righting the Ship?
It's perhaps hard to say amidst all the losing and injuries. Against the Chiefs, the Giants saw two more receivers go down with Sterling Shepard and Dante Pettis leaving during the game. A look at their results since an 0-3 start suggests they could be more than some suspect. There was an overtime road win over the Saints, and sure, it was followed by two bad defeats, but that was to the Cowboys and Rams. In beating Carolina by 22 and nearly beating the Chiefs in Arrowhead on Monday, we see a team not really playing all that bad at all.
Giving up a combined 23 points in their last two games to the Panthers and Chiefs shows a Giants' defense in decent form. Some tough matchups and a difficult start to the season might have those defensive stats pumped up because there have been spots where they were more than adequate, including the last two weeks against offenses that can really hurt you. It's just that if you're a potential Raiders' backer in this spot, it's worth noting that the resistance you end up seeing on Sunday might surpass what you had in mind.
Still, there is a lingering stink in the air with the Giants' offense and their depreciated state. The aerial targets of Jones are a tough equation, with continuity being elusive among all the personnel snafus. They can't run the ball all that well with Booker as the lead back, though he does make some nice plays here and there. But maybe with their abundance of receivers, they can make it work. For what it's worth, they've been getting through it pretty well the last few weeks with what they have. Enough X-factors still remain on the Giants' offense to warrant concern.
Take the Points
Coming off the road on the short week after a tough game against the Chiefs where even more aerial pieces bit the dust isn't ideal. But I sense this being a grind for the Raiders out-of-conference and on the road. I see the Giants' pass-defense again stepping up and preventing a feeding frenzy from Carr, who is also dealing with some potentially-depreciated weaponry, as well. It's a game that suggests a grind that could come down to the end. I'll take the Giants and the points.
Loot's Prediction to Cover the Point Spread: I'm betting on the New York Giants plus 3 points. Note: This is a GREAT game to partake in live betting. Most books only offer live lines during commercial breaks and halftimes. Did you know that Bovada Sportsbook offers a line during the whole game? They can get your credit card to work for deposits, you receive rebates on ALL your bets; win, lose or draw AND they payout FAST! A must have in every sports bettor's arsenal! Check'em out!