Los Angeles Chargers vs. Seattle Seahawks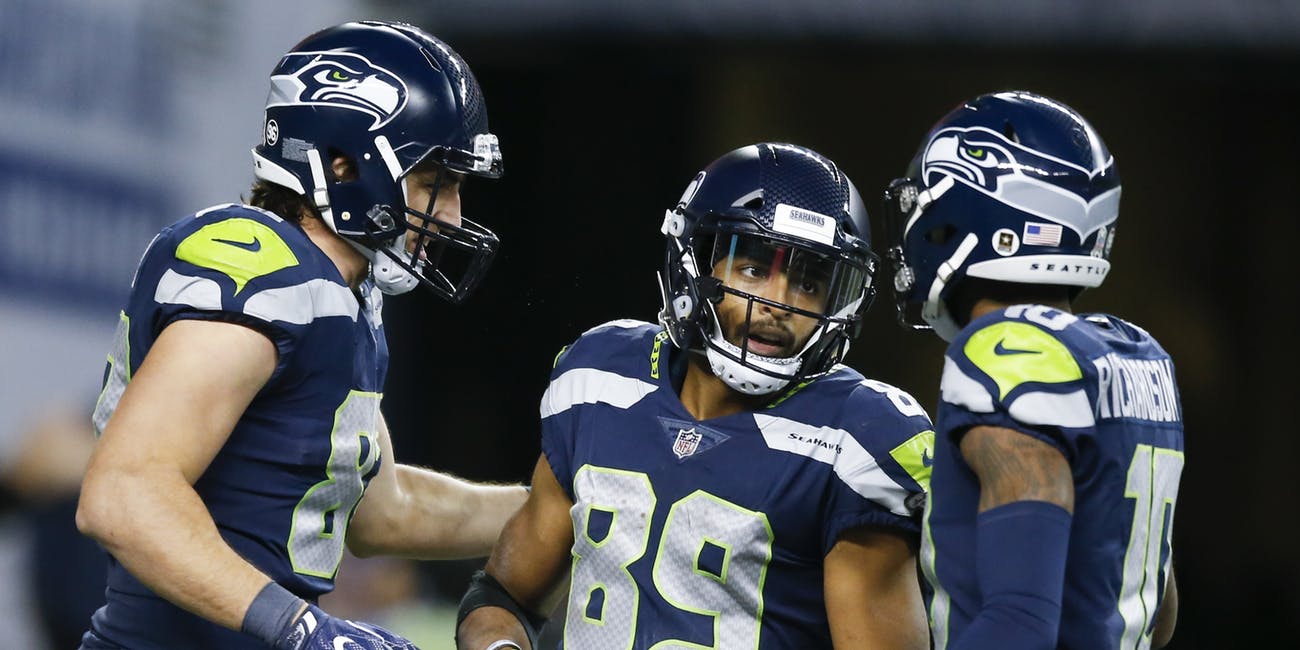 Los Angeles Chargers (5-2 SU, 3-4 ATS) vs. Seattle Seahawks (4-3 SU, 4-2-1 ATS)
NFL Week 9
Date/Time: Sunday, November 4, 2018 at 4:05PM EDT
Where: CenturyLink Field, Seattle, Washington
TV: CBS
By Loot Levinson, Expert Football Handicapper, Predictem.com
Point Spread: LAC +1/SEA -1
Over/Under Total: 48
The Los Angeles Chargers come to CenturyLink on Sunday for a week nine matchup with the Seattle Seahawks. I like the Seahawks to emerge with the cover at home on Sunday. Following a conclusive 28-14 win over the Lions on the road Sunday, they have now won 4 of their last five. And after two road wins, which sandwiched a bye, they now come home to what should be a frothing home crowd, with the Seahawks at a high-water point this season. The Chargers come off the bye, which followed 4 straight wins. We see two teams on the rise. Something has to break between these former division rivals.
Changing the View on Seattle
Even for those who felt the supposed Seattle demise was overstated, the recent form they're showing has to be a surprise. The defense, in particular, has stayed very strong, even within this massive shift in personnel. And after an 0-2 start, they really had to get after it and look to be squarely on the right track after a thorough beating of a surging Lions' team on Sunday. In their last two games, both on the road, they have allowed a total of 17 points. And this is without a lot of their former firepower—all the guys who have departed and guys like Earl Thomas who are now on IR. They are getting some guys back, as we saw on Sunday with KJ Wright back in the fold and TE Ed Dickson catching a long TD pass. Even with nary a familiar name, their secondary is still among the best in the league, which could be trouble for a powerful, but mistake-prone Chargers' passing-attack.
We see an identity starting to form on the Seattle offense. Wilson is a fine quarterback, a real dual-threat guy in an era where that term is overused. Aerially, Doug Baldwin and Tyler Lockett are still a big part of the air-game, but we see guys like David Moore, Nick Vannett, and first-year Seahawk Dickson now getting involved. Chris Carson was over 100 yards on the ground, while Mike Davis combines for a nice 1-2 punch. Their run-game looks as good as it has since the glory days of Beast-Mode. Making it all come together is a line that has been playing a lot better—for reasons that aren't immediately clear. After starting the season a little ragged and looking quite average, the Chargers' defense has blossomed, allowing a total of just 43 points in their last three games. This might not be as easy for Seattle as it has been the last few weeks.
How the Chargers Got on a Roll
Some intangibles have crept into the equation, giving the Bolts a little boost. One is some long-elusive suitable kicking and punting. On defense, we see some massive talent starting to manifest. Making it scarier is the prospects of a returning Joey Bosa this week, adding to an immense pass-rush, featuring Melvin Ingram and even rookie safety standout Derwin James. Linebackers Denzel Perryman and Jatavis Brown anchor a fearsome middle. The secondary is rich in talent, with James, Casey Hayward, Jahleel Addae, Trevor Williams, and Desmond King. It's a playmaking group. With Seattle's recent wins coming against Detroit, Oakland, Arizona, and Dallas, they have yet to show they can thrive offensively against a "D" like what the Chargers bring to the table.
That also goes for the Seattle defense, which will be facing the second-best offense they have seen this season other than the Rams. The Chargers are gifted on this side of the ball and will throw a lot of different looks at the Seattle secondary—a group that hasn't really been tested on this level. QB Philip Rivers can still pick apart a young defense like Seattle's. The sheer variety is a lot to handle. Coming out of the backfield is a real handful in Melvin Gordon, with Austin Ekeler adding a lot of fire. Aerially is also where they look to push the Seattle defense. Keenan Allen is a good number-one receiver. They have added more of Tyrell Williams to the mix, who has 336 yards and three TDs in the last two games. Mike Williams adds a lot too, with 4 TDs, along with still-dangerous Antonio Gates. Even backs Gordon and Ekeler have each added three receiving TDs apiece. That's a lot to contain, even for a young rising secondary like the Seahawks.'
Seattle Matchup Advantages
Sure, Seattle isn't great against the run and the varied Bolts' aerial-attack looms as a concern. Still, Seattle can really run the ball and have achieved better balance on offense, something that always gives the Chargers issues. We've been seeing how well-coached Seattle is at the top the last several weeks. Carroll really goes for it, which goes a long way when you have money on a team. He's not going to leave a lot on the table, whereas the Chargers go into safety-first mode when things start going their way. Both teams get turnovers and have positive takeaway ratios. Seattle is better on third down, but the Chargers have more playmakers on their front-seven. Statistically, though, Seattle is the better defense, albeit against weaker opposition. The Chargers will be facing one of the more-mobile quarterbacks they see this season. But the Seattle O-line, which has been a lot better, will get to show how good they are, with a lot of Chargers' defensive weapons to contain up-front.
Lay the Points on the Home Favorite
The home-away component is usually meted-out well enough by those who set these numbers. Still, the Seattle crowd gets their first look at a 2018 Seahawks team that is on a roll, returning home above .500 and with a future for the first time this season. The Chargers don't make it up to CenturyLink often, with it being the first northwest appearance for a big chunk of the roster. I see the Chargers' grinding more than they usually have to in order to get points, with the Seahawks scrapping and clawing to cross the wire with their nose ahead in a close game.
Loot's Pick to Cover the Point Spread: I'm betting on the Seattle Seahawks minus 1 point.
<aside><!-- [et_pb_line_break_holder] --><div class="widget105"><!-- [et_pb_line_break_holder] --><h4 class="cash">NFL Sportsbook Bonuses</h4><!-- [et_pb_line_break_holder] --><div class="widgetlist"><!-- [et_pb_line_break_holder] --><div class="col1"><!-- [et_pb_line_break_holder] --> <a href="https://www.predictem.com/out/Bovada"><img src="https://www.predictem.com/wp-content/uploads/2018/04/bovada.png" width="" alt="Bovada" /></a><!-- [et_pb_line_break_holder] --></div><!-- [et_pb_line_break_holder] --><div class="col2"><!-- [et_pb_line_break_holder] --><span class="list"><b>50% Cash</b></span><br><!-- [et_pb_line_break_holder] --><span class="list">5x Rollover</span><!-- [et_pb_line_break_holder] --> </div><!-- [et_pb_line_break_holder] --> <div class="col3"><!-- [et_pb_line_break_holder] --><a href="https://www.predictem.com/betting-sites/bovada/"><button class="btn-widget">Review</button></a><!-- [et_pb_line_break_holder] --></div><!-- [et_pb_line_break_holder] --></div><!-- [et_pb_line_break_holder] --><div class="widgetlist"><!-- [et_pb_line_break_holder] --><div class="col1"><!-- [et_pb_line_break_holder] --> <a href="https://www.predictem.com/out/Intertops"><img src="https://www.predictem.com/wp-content/uploads/2018/04/intertops.png" width="" alt="Intertops" /></a><!-- [et_pb_line_break_holder] --></div><!-- [et_pb_line_break_holder] --><div class="col2"><!-- [et_pb_line_break_holder] --><span class="list"><b>50% Cash</b></span><br><!-- [et_pb_line_break_holder] --><span class="list">4x Rollover</span><!-- [et_pb_line_break_holder] --> </div><!-- [et_pb_line_break_holder] --><div class="col3"><!-- [et_pb_line_break_holder] --><a href="https://www.predictem.com/betting-sites/intertops/"><button class="btn-widget">Review</button></a><!-- [et_pb_line_break_holder] --></div><!-- [et_pb_line_break_holder] --></div><!-- [et_pb_line_break_holder] --><div class="widgetlist"><!-- [et_pb_line_break_holder] --><div class="col1"><!-- [et_pb_line_break_holder] --> <a href="https://www.predictem.com/out/Gtbets"><img src="https://www.predictem.com/wp-content/uploads/2018/05/gt-bets.png" width="" alt="GtBets" /></a><!-- [et_pb_line_break_holder] --></div><!-- [et_pb_line_break_holder] --><div class="col2"><!-- [et_pb_line_break_holder] --><span class="list"><b>150% Cash</b></span><br><!-- [et_pb_line_break_holder] --><span class="list">4x Rollover</span><!-- [et_pb_line_break_holder] --> </div><!-- [et_pb_line_break_holder] --> <div class="col3"><!-- [et_pb_line_break_holder] --> <a href="https://www.predictem.com/betting-sites/gtbets/"><button class="btn-widget">Review</button></a><!-- [et_pb_line_break_holder] --></div><!-- [et_pb_line_break_holder] --></div><!-- [et_pb_line_break_holder] --><div class="widget-footer"><a href="https://www.predictem.com/best-sportsbooks/bonuses/">See all sportsbook bonuses</a></div><!-- [et_pb_line_break_holder] --> </div></aside>
<h4 class="widgettitle">NFL Picks</h4><!-- [et_pb_line_break_holder] -->
<div style="width:340px; margin: 0 auto;"><!-- [et_pb_line_break_holder] --> <a class="twitter-timeline" data-width="340" data-height="500" data-link-color="#008156" href="https://twitter.com/PredictemPicks?ref_src=twsrc%5Etfw">Tweets by PredictemPicks</a> <script async src="https://platform.twitter.com/widgets.js" charset="utf-8"></script><!-- [et_pb_line_break_holder] --></div>