Miami Dolphins vs. Tennessee Titans Point Spread – Free Pick ATS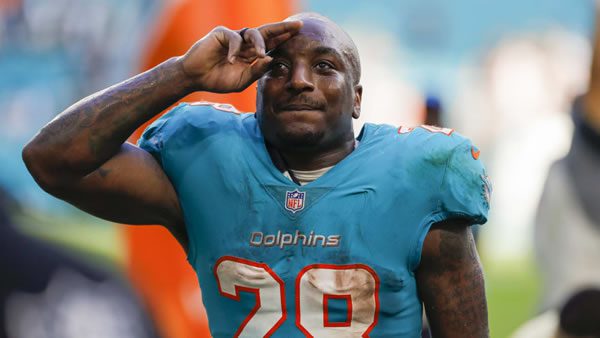 Miami Dolphins (8-7 SU, 7-7-1 ATS) vs. Tennessee Titans (10-5 SU, 9-6 ATS)
Week 17 NFL
Date/Time: Sunday, January 2, 2021 at 1PM EST
Where: Nissan Stadium, Nashville, Tennessee
TV: CBS
Point Spread: MIA +3/TEN -3 (MyBookie – Use bonus code PREDICT100 and they'll give you a 100% bonus on your first deposit of $100 to $300!)
Over/Under Total: 41.5
The Miami Dolphins take on the Tennessee Titans on Sunday in Nashville in a key AFC matchup. The Titans are coming off the long week following a Thursday Night Football win over the 49ers, 20-17. Having experienced and up-and-down patch as of late, getting a win over a team that had been doing well was big. They will need to do it again this week against an incoming Dolphins squad that has won seven games in a row, following a 20-3 win over the Saints on MNF. Who can get the upper hand in Nashville on Sunday?
Good Developments for the Titans?
While they had been able to keep it together offensively amidst a slew of injuries, the Titans had begun to wilt with their top aerial threat in AJ Brown being out, along with Derrick Henry also continuing to miss time. We saw a lack of firepower, no one stepping up to fill the void, and Tannehill looking really bad without viable weaponry around him. So seeing Brown get back into the fold in such a big way against the Niners was huge and they look to flex that connection on the Dolphins this week.
Then again, beating the Niners at home and a win over the Jags are the only positive recent developments for this Titans team, Sandwiched in between are bad losses to the Steelers, Patriots, and Texans. And a Henry-less Titans team is just going to be a team that isn't easy to get a read on in games like this. The script has been flipped and whereas it was the Titans who were the positive and consistent force in the first half of the season, while the Dolphins were spiraling, it's now the 'Fins who are seeing their recipe for success rise to the top, while the Titans are sputtering.
Matchup Issues for Tennessee This Week
We've seen the Dolphins fare well as of late against some pretty good offenses, ones with variety and high-octane firepower. Even with Brown back in the fold and giving this offense a lot more upside, it's still a group that is strapped for viable weaponry. They'll get some good production from role-backs D'Onta Foreman, Dontrell Hilliard, and Jeremy McNichols, but it's not really to a difference-making effect most weeks. And while some contribute aerially, no one is really taking the lead, with Julio Jones either too hurt or spent to contribute consistently, and others simply disappearing during games.
Against a Miami defense that has found answers on the defensive side of the ball, these issues on the Titans' offense loom as a major issue for the Titans this week. Miami has become increasingly adept at stifling the run. Tennessee is just too devoid of overall options to see any of the few things they can still do get shut down. And Tannehill might have to over-rely on Brown, while getting what he can on little dump-offs to his backs.
At the very least on paper, the Titans don't match up great defensively with Miami, either. We've seen greater returns from Tua Tagovailoa lately, as he has become more of a force aerially. The Dolphins didn't win all these games in a row by running the ball well, so the Titans' good run-defense might not resonate in this spot. What might resonate is a Tennessee secondary that while being good from a playmaking point-of-view, isn't altogether stout. With Jaylen Waddle back in the swing of things, this is an area of Miami's offense that they could see work well this week.
Confusing Showtime-Appeal with Merit
It's not always pretty. And it's not like the Dolphins have much star-appeal with a QB where it's still unclear if Tua's the Miami QB of the future, no discernible run-game that manifests with much consistency, and a rookie wide receiver who is basically their only consistent high-end weapon in Waddle. Aa far as turning it around, Miami is the only team in NFL history with a seven-game losing streak and a 7-game winning streak in the same season, which basically speaks to Miami's feat in righting a ship that seemed lost at sea heading into the second half of the season. And as they continue to win ugly in a lot of spots, people still seem reluctant to wrap their heads around what Miami has accomplished, going for their eighth win in a row on Sunday.
More Picks: Get Jay's Raiders at Colts Week 17 O/U Prediction >>>
Miami makes it work a way that fails to entice a lot of attention. A dysfunctional defense morphed into a good one. In their last seven games, the Dolphins have allowed a total of 82 points. Opposing offense aren't able to establish any foothold at all. That doesn't seem to bode well for a Tennessee offense that can struggle. A wayward Miami offense with no identity started seeing improvement with people taking on meaningful roles. It's not going to be impressive most weeks, but in a lot of games, the combination of a stout defense and a lack of mistakes on the other side of the ball results in quite the romp, as it did last week against the Saints.
Take the Road Dog
Playing against other teams with a winning record who have a lot to play for on the road could throw Miami into a bit of a different light. While their formula for success has resulted in seven straight wins, something about it seems vulnerable enough that a Tennessee team looking to snap into late-season form could upset the apple-cart. Still, I see this as being a tough defensive matchup for the Titans, who might be relegated to the air, where they have a grand total of one viable weapon. I don't see the Titans' having enough on the plate at the moment to put a stop to Miami's good momentum. I see the Dolphins covering the spread in Nashville.
Loot's Prediction to Cover the Point Spread: I'm betting on the Miami Dolphins plus 3 points. Note: You could be saving a massive amount of money if you were placing your bets at -105 odds instead of -110! It helps our site stay free too! Be smart! Make the switch to BetAnySports today!
10* GAME OF MONTH **INSANE 75% NFL PLAYOFFS!
AAA Sports has gone 5-1 (83%) with their NFL Playoff picks over the L2 rounds and overall they enter the Super Bowl having gone an INSANE 75% (9-3!) with ALL of their NFL Playoff releases! AAA Sports is playing with HOUSE MONEY in BOTH the NFL and College Football this season and they're UNLOADING MASSIVELY in this year's Super Bowl with BOTH SIDE and TOTAL! BE THERE!