Minnesota Vikings at Detroit Lions Pick 10/20/19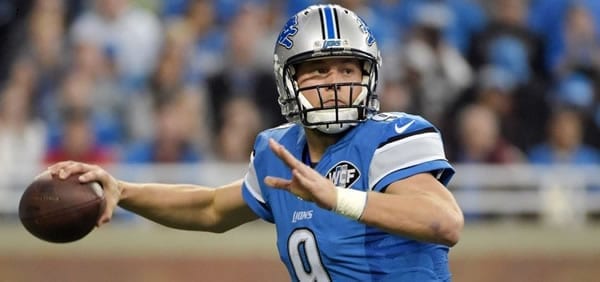 NFL Betting: Lions Need to Bounce Back Strong vs. Vikings
Refs "jobbed" them, but they have to leave that behind
Very few things could be as potentially crushing, from a psychological standpoint, than to lose a game on bad calls. It presents a special challenge, and that is what the Detroit Lions have to stand up to. If they are still thinking about their defeat at the hands of the Green Bay Packers last Monday night, they could experience another crushing loss, this time at the hands of the Minnesota Vikings, who seem to have injected some energy into their passing attack.
On the whole, you have to give credit to Matt Patricia for shifting the Lions a little more toward the more hard-nosed approach to things. But these Vikings, who swept two games against Detroit in Patricia's maiden voyage at the helm, are pretty hard-nosed themselves and are going to make the Lions beat them in the trenches.
So the stage is set, with Sunday's game beginning at 1 PM ET at Ford Field.
Let's take a look at the numbers on this game, as they come with reduced juice from VietBet……
Minnesota Vikings -2 (-105)
Detroit Lions +2 (-105) Over 43.5 points (-105)
Under 43.5 points (-105)
And it is worth noting that the Vikes have moved from an underdog to a favorite - of course, Detroit's loss to Green Bay came in between.
Minnesota and the question of "balance"
The Vikings were such an awful running team last year, and that directly related to the injury absence of Dalvin Cook. With a healthier Cook, head coach Mike Zimmer set out to reverse that by devoting his offense heavily to the ground game this season. He was doing that to the point of excess early in the schedule, and wide receivers Adam Thielen and Stefon Diggs were voicing their displeasure, in particular after a 16-6 loss to the Chicago Bears.
So the adjustment was made, in an effort to get Kirk Cousins out and in a position to launch his throws to what, truth be told, is one of the league's better wide receiver combos. And they've gotten results; Thielen had 130 yards in receptions and two TD's against the New York Giants, and then Diggs had three TD catches last week as Minnesota beat Philadelphia 38-20.
They'll have Cousins moving a little more, rolling out, among other things. But we wonder if he's in much danger, even in the pocket. The Lions, under Patricia, are very hesitant to blitz; his philosophy is that he wants to see if he can get pressure with four people and place emphasis on coverage. Fans who were watching the Monday night game noticed that Detroit got so little pressure on Aaron Rodgers that it was almost embarrassing. Still, one wouldn't expect for Patricia to change a basic component of his defense.
The Lions have only six sacks, and because the Vikings can run the ball, one would expect that they could keep Detroit, especially off-balance. As of now, the Vikes run it with the second-highest frequency in the NFL - just under 53% - and in the process of their 18-point win last week, their percentage was even a little higher than that.
And they are going to get positive yardage - that much is almost guaranteed. The Lions are dead last in the NFL when it comes to "stuff rate." That means they have limited their opponents to no yardage or negative yardage only 12% of the time. That's even a little worse than Miami and Kansas City.
Can Detroit do some "smashmouth"?
Patricia was like a lot of incoming coaches last year, in that he talked about changing the "culture" through, among other things, running the football. And in this particular instance, that meant more participation from Kerryon Johnson. It is a fact that these Lions are throwing the ball less frequently than they have in previous regimes and the fact that the opponent knows this is enough to take at least some of the focus off an all-out pass rush directed at Matthew Stafford.
The Lions currently stand ninth in the NFL in terms of rushing play frequency (43.9%), but at some point, you have to be effective doing it for it actually to work. And they are not at that point yet, under Patricia and offensive coordinator Darrell Bevell, who held that position in Minnesota from 2006-2010.
They are, in fact, at 3.9 yards per carry as a team, and 3.4 ypc for Johnson. Against Green Bay, they ran 20 times for 56 yards. And VietBet patrons should consider that they were ahead much of the way. So maybe they're going to be trending a bit more toward Stafford's arm.
At any rate, Minnesota isn't half bad; they are ninth in the league, allowing just 3.8 yards an attempt. The Vikings did not surrender a touchdown to Detroit in either of last year's meetings, and they are starting to employ some new looks; one of them, which they call the "diamond," has linebacker Anthony Barr and defensive end Danielle Hunter a little wider at the edges in what is still essentially a 4-3 front alignment.
Minnesota hasn't necessarily been overwhelming with its defense, but they are solidly within the league's top ten in most of the drive stats, including points allowed per drive (just 1.45). In the first six games, no one has yet scored more than 21 points against them.
Is there a "psychological effect"?
When you lose a game the way the Lions did last Monday, and you are coming in on a short week, there's a real challenge with regard to shaking that off and getting back to football.
It wasn't just the two "hands to the face" penalties that were called against Trey Flowers, at least one of which was in error. It was an entire laundry list of stuff, as the zebras looked very intent on artificially keeping Green Bay drives going throughout the contest.
And when the NFL steps in the next day and says, "Oops, we screwed up," it's got to be particularly gnawing, considering there is nothing you can do about it.
This can become a bad thing if there is a carry-over. Nobody on the Detroit roster is going to admit that they are so angry at the last result that it has caused them to lose focus. But some element of that has to be there.
The conclusion…………..
Honestly, I thought since there was so much attention paid to the fact that the Lions "wuz robbed," and on the road no less, it might make them look like a stronger entity in the eyes of bettors. But in some places they were a one-point favorite on Monday - which was before that game - and now you see that the Vikings are favored. So there will be Detroit advocates who believe the market has reacted too much.
That may be the case. Maybe this game should be close to a pick'em, so this would make Detroit a slight value play. But I think you have to consider other things, including the styles and how they play into the whole "strengths vs. weaknesses" equation.
Riley Reiff, Minnesota's left tackle, who was a first-round pick of the Lions in 2012, has an ankle injury but has been cleared to play. The Vikings' offensive line, though a bit nicked up, is intact at the moment. Detroit's refusal to put extra pressure on the passer is going to be problematic for them. Kirk Cousins may not be an All-Pro caliber quarterback, but he is efficient enough and has two big-time wideouts. Like most other NFL QB's, if you give him time, he can do some damage. He'll be able to work play-action, and even if Darius Slay takes away one receiver, he'll be able to find the other.
Detroit's offensive tackles - Rick Wagner and Taylor Decker - have graded out poorly (as per Pro Football Focus) when it comes to keeping pressure away from Stafford, so if the Lions fail to push back Minnesota's defensive front and become pass-happy (a distinct possibility), that will make the Vikings' task easier.
Fundamentally, I like the Vikings in this matchup.
Remember that you can get more value for your dollar at VietBet, as well, with reduced juice on games in both the NFL and college football. And if you want to stay in the action even after the kickoff, real-time wagering comes through Live Betting Ultra……. Open your account using a major credit card or person-to-person transfers. You can also use cryptocurrencies like Bitcoin, which NEVER incurs a transaction fee. …….. Enjoy TWO live casinos as well, including the brand-new Lucky Live Dealer Casino, where you'll find some games you may have never experienced before……
Sign up for an account through this site and use the bonus code of PREDICTEM, and it will be good for a 50% Welcome Bonus up to a $1,000 Deposit!