Minnesota Vikings vs. Los Angeles Rams Pick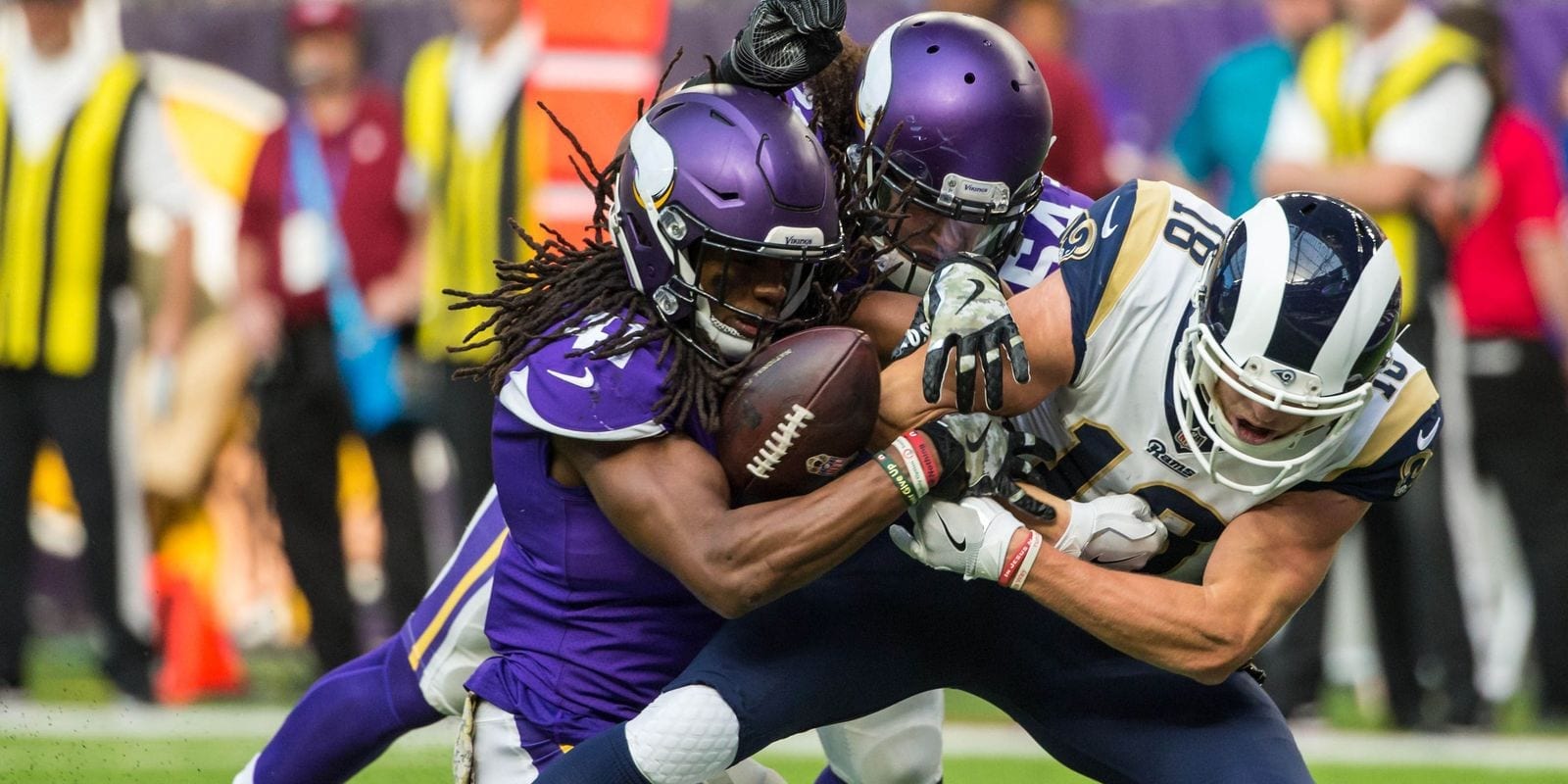 Minnesota Vikings (1-1-1 SU, 1-2 ATS) vs. Los Angeles Rams (3-0 SU, 3-0 ATS)
NFL Week 4
Date/Time: Thursday, September 27, 2018 at 8:20PM EDT
Where: Los Angeles Memorial Coliseum, Los Angeles, California
TV: NFL
By :Loot Levinson, Expert Football Handicapper, Predictem.com
Spread: MIN +6.5/LAR -6.5
Total: 48.5
The Minnesota Vikings take on the Los Angeles Rams on Thursday Night Football in a big NFC pairing. I like the Rams in this one. That might be a straightforward pick that is devoid of much creativity, but it's hard to ignore what the Rams are doing, as well as the Vikings looking like a reduced version of what they were last season. We see the Rams' power on both sides of the ball earning them the cover on TNF.
Pieces Don't Congeal As Easy As You Think
The Vikings will be gunning for a win, but I see them being out of their depth against a Rams team that has looked like the class of the conference through three games. After a 1-1-1 start which included a 27-6 home-loss to Buffalo last Sunday, the Vikings are showing us once again that when a team reshuffles enough pieces, things don't always click as easily as some forecast.
On Sunday, we saw some bad signs from the Vikings. Sure, it was one of those results that could lead us off-track if we put too much credence in it. The Bills won by 21, a staggering feat for the biggest underdog to win straight-up since 1995. While that might not be a bankable result upon which to base a new viewpoint on the Vikings, it did in fact happen and some of it goes toward what we're saying about things taking a while to form.
NFL Pick: Saints visit Giants Sunday Afternoon
With Kirk Cousins at the helm at QB, the Vikings have a more-prolific aerial offense perhaps, but also a more-volatile one. Three turnovers were costly against the Bills, with Cousins throwing an interception and coughing up the ball twice. Some player departures and Dalvin Cook being seemingly always an injury-concern has left them a bit one-dimensional offensively—a bit out of their character. They're somewhat relegated to become a team that relies on the pass. While Adam Thielen, Stefon Diggs, and TE Kyle Rudolph are all great weapons, it doesn't mean they're suited to carry out that type of philosophy. They need an identity on offense and this is a tough week to find it.
REDUCED ODDS SAVES YOU BIG MONEY! START SAVING $$$ BY MAKING THE SWITCH TODAY TO 5DIMES SPORTSBOOK!
With the Minnesota defense pressed into action more, we've seen a pass-rush that is waning. Last season, the Vikes' defense would go long stretches not allowing big plays. This season, we're seeing them left and right. That's not to say we should in any way write off a "D" that is still thoughtfully-constructed and capable of getting back to their prior form. But after looking good in week one, they've been well off their best. Again, this is a strange time for them to improve—facing a Rams offense that looks to be the goods.
Why Question Your Vision?
At some point, and hopefully not too late, you have to acknowledge what the Rams are really doing. It's all making sense now. Last season was a staging for this, as all the pieces have come together. The offense upgraded to the point where they were the top-ranked group last year after being last the previous season. Adding Brandin Cooks has already paid off, giving them game-changing talent at receiver to go with productive ball-catchers like Robert Woods, Cooper Kupp, along with the best RB in the biz with Todd Gurley, also a valued aerial weapon. And on defense, Ndamukong Suh and two stars in the secondary in Aqib Talib and Marcus Peters (both questionable this week) have taken a really good defense and made it one that can truly be great.
In outscoring the Raiders, Cardinals, and Chargers by a combined 112-36, we're seeing a team that is dominant. The last time the Rams looked this good was the Greatest Show on Turf and those who then continued to doubt the Rams amidst all the success will attest to how unprofitable that proved to be. We simply need to resign ourselves to what we see and know is true. Sure, we see a head coach who is more than a decade younger than some of us. They invested a lot of money at this, with some moves that seemed rash and thrown-together, with some possible locker-room disruptions in the mix. There's something about it that elicits a feeling of not wanting it to work out, maybe even on a subconscious level.
Things that Don't Cash Tickets
A lot of the reasons a person would take the Vikes this week don't manifest on the field. You think a 13-3 team from last season isn't going to fall to 1-2-1. But being "due" is something that often doesn't really resonate on the field. To beat the Rams, high urgency is definitely a prerequisite, but not alone a recipe for victory. Still, there are some things potential Vikings backers can use to substantiate a contrary pick this week.
Looking for Land Mines
While things haven't gone according to plan through three games for the Vikings, is it so bad? They beat the Niners in week one, stormed back to get a tie against the Packers on the road in week two, before falling on their faces in near-historic proportions last week. That might not be enough in which to base the idea of a downfall of any kind. Let's also mention that the Rams may have been made to look better than they are by beating three teams that now stand a combined 1-8. OK, three of those losses were to the Rams and they've covered easily, so there's only so much to say.
By the same token, Minnesota does have a good defense, one that could start rising to the occasion or at least keep the Rams' offense from marching up and down the field like they've been doing. With 965 yards passing through 3 games with 7 TDs, Cousins has shown he can be prolific in this offense, which could pay off in this spot. It's fair to say Minnesota offers some things that the Rams maybe haven't needed to deal with yet this season.
Lay the Points on the Home Favorite
What's not to like—a great offense, a great defense, good coaching with the young McVay and old cagey Wade Phillips running the "D," and they are nice and dug-in at home. This is also a spot for them to show-and-prove against a team that has at least been identified as a conference contender after three easier wins that won't mean as much when looking back at the season as a whole. We realize that last week painted Minnesota in an unrealistically-negative light, but also feel that it might take some time despite all the hype before people truly wrap their heads around what the Rams are doing.
Loot's Pick to Cover the Point Spread: I'm betting on the Los Angeles Rams minus 6.5 points.