MNF Pick: Tampa Bay Buccaneers vs. New York Giants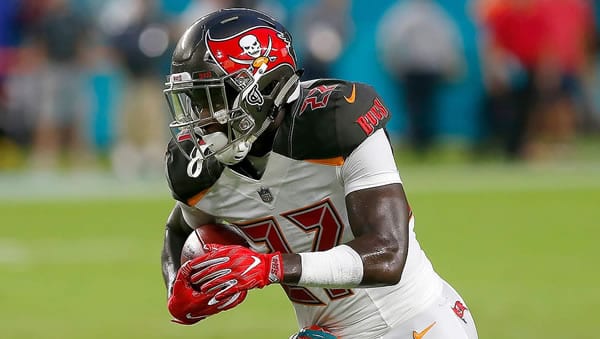 Tampa Bay Buccaneers (5-2 SU, 4-3 ATS) vs. New York Giants (1-6 SU, 4-3 ATS)
When: Monday, November 2, 8:20 p.m.
Where: MetLife Stadium, East Rutherford, N.J.
TV: ESPN
Point Spread: TB -10.5/NYG +10.5 (MyBookie - Deposit $100 get $100 FREE!)
Total: O/U 46
Outlook
Maybe the purpose of this week's slate of games was to get Americans out of the house before winter arrives instead of watching football because this week's Monday night game is every bit as bad as the Sunday night debacle projects to be. At least one of the teams in this game is competent, as the Bucs are playing very good football right now and appear to have only gotten stronger by giving Tom Brady another weapon in Antonio Brown.
But that actually might be worse in terms of competitiveness because that just further underscores just how vast the gulf is between the NFC South-leading Bucs and the NFC East's last-place team. The Giants appear to be the weakest of a truly awful collection of teams that have managed just two wins and a tie outside of their division. None of those positive results belong to the Giants, who managed to fritter away a late lead against Philadelphia and came up with their sixth loss of the season. But for all of their struggles this season, the Giants have actually been somewhat competitive when it comes to the spread. Can they stay with the Bucs in a game that absolutely nobody expects them to win?
How the Public is Betting the Tampa Bay/N.Y. Giants Game
The public has taken two points off the total and added them to the spread, bumping the spread from 8.5 to 10.5 and knocking the total down to 46 from 48.
Injury Concerns
Tampa Bay:
Guard John Molchon (knee), tight end Antony Auclair (calf), defensive lineman Khalil Davis (ankle), and cornerback Carlton Davis (chest) are questionable. Wide receiver Chris Godwin (finger) is out, and wide receiver Antonio Brown is ineligible to play until Week 9.
N.Y. Giants:
Cornerback Brandon Williams (groin), cornerback Darnay Holmes (neck), wide receiver C.J. Board (concussion), defensive back Adrian Colbert (shoulder), running back Devonta Freeman (ankle), and kicker Graham Gano (leg) are all questionable. Quarterback Daniel Jones could be suspended for part of the game after violating COVID protocols but is expected to play for most, if not all, of the contest.
DON'T YOU DARE LAY -110 ODDS ON GAMES! YOU'RE HARD EARNED MONEY DESERVES MORE RESPECT! YOU ONLY HAVE TO LAY -105 AT BETANYSPORTS!
When Tampa Bay Has the Ball
For the Bucs, this almost isn't fair. They were already hitting their stride as a team after blowing out both the Packers and the Raiders, and now they get to add the likes of Antonio Brown to their roster. He won't play in this contest, but he really doesn't need to for this offense to get going. Only the Bears have even managed to slow down this Tampa Bay attack, and the Bucs shouldn't even have lost that game but for a fumble by rookie back Ke'Shawn Vaughn. Brady is still accurate as ever, and the Bucs have so many weapons for him to throw to that it's difficult for any defense to do much to get them under control.
What makes Tampa Bay so dangerous is that the Bucs no longer beat themselves the way they did in years past. Having Brady has a lot to do with that, as the aging quarterback doesn't force throws that he doesn't need to make and is smart enough to pick his moments to attack the defense. Having a group of pass-catcher that includes Mike Evans, Rob Gronkowski, and leading receiver Scotty Miller doesn't hurt either. Four different Tampa Bay pass-catchers have at least 279 receiving yards this year, showing just how effectively Brady is spreading the ball among his teammates.
Against the Giants, things might be a bit more challenging than people expect, but still should be manageable. New York has actually played pretty solid on defense, but the Giants also have played against some relatively weak offenses. Against Dallas, who actually had a good offense before Dak Prescott got injured, the Giants were shredded to the tune of 37 points, which means Brady should be able to put up strong numbers.
When the N.Y. Giants Have the Ball
It's not like Daniel Jones was playing well before he was photographed at a New York bar without a mask on, but things could really get ugly if he ends up sitting for a quarter or so. Giants coach Joe Judge hasn't said if Jones will be suspended at all for violating COVID protocols, but it seems likely that the second-year quarterback will probably start the game on the bench before coming in later in the contest. For now, bettors should assume Jones will play but might sit out for the first series or even the first 15 minutes of the contest. If he is suspended for a few plays, Colt McCoy is the only other quarterback on the roster, and he played in just one game last year, a 33-7 loss to New England while he was with Washington.
Anyway, with Jones on the field, this offense has been a royal mess. Jones hasn't taken much of a leap forward in year two, in part because he's still plagued by poor decision-making and, in part, because his teammates don't give him a lot of time to make decisions. He's been sacked 13 times in the past five games and thrown four interceptions, with Dallas marking the only time that he hadn't thrown a pick in the past five games.
What makes matters worse for the Giants is that Jones is also the Giants' leading rusher, and Michael Vick he is not. Jones is a decently mobile quarterback who can pick up the first down when needed, but he is still a pass-first quarterback who is getting no help from his ground game. Devonta Freeman appears to have nothing left in the tank, and Wayne Gallman hasn't been much of a substitute for Saquon Barkley. For the time being, this is an offense that's got to figure out throwing the ball, and that means dealing with Jones' mistakes…hardly an encouraging thought against Tampa Bay's third-ranked defense. Fast hassle free payouts! The BEST live betting! A 50% real cash bonus! A ton of wager offerings! Find all this and more at a betting company that has been around for 20+ years! —> Bovada Sportsbook!