MNF Picks: New England Patriots vs. New York Jets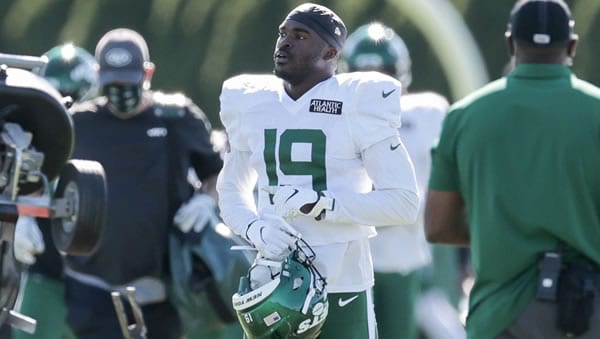 New England Patriots (2-5 SU, 3-4 ATS) vs. New York Jets (0-8 SU, 1-7 ATS)
Date/Time: Monday, November 9th, 8:15 PM
Where: MetLife Stadium, East Rutherford, NJ
TV: ESPN
Point Spread: NE -10 / NYJ +10 (BetNow - Did you get blown out this weekend? Many did! ROUGH week of Sunday NFL. If so, instead of re-depositing for nothing at your book, you might want to consider replenishing your bankroll DOUBLE with a 100% real cash bonus on your deposit of $100 to $1000 at Betnow!) 
Over/Under Total: 42.5
In a Monday Night Football matchup perfect for people who hate offense, the winless New York Jets host the 2-5 New England Patriots at MetLife Stadium in a battle of the bottom of the basement in the AFC East.
NO PASS NO POINTS
The Patriots and Jets are two of four NFL teams that average less than 20 points per game, and they are both especially bad through the air, with New England ranking 30th in passing yards per game, New York dead last at 32nd. They came into the season sporting arguably the worst all-around wide receiver groupings in the league, and now both have injuries to their starters with Julian Edelman out with knee surgery and N'Keal Harry, Jamison Crowder, and Breshad Perriman all questionable to play. It's no wonder the Jets and Patriots rank 31st and 32nd in the league in touchdowns receptions with just seven combined between them.
JET CRASH
The Jets were expected to struggle this year, but they have gone far beyond that and are now in danger of becoming the first in team history to start a season with an 0-9 record. They are being outscored by an average of 18 points per game and are nothing short of terrible on both sides of the ball, as the offense and defense each rank near or at the bottom of the league in total yards gained/allowed and points gained/allowed. This lack of success is nothing new for the team and fan base, though, as the Jets have finished a season with a winning record just once in the past ten years. They also haven't been to a Super Bowl since before the moon landing in 1969, but they are far from alone in the New York sports world in this regard considering the Knicks haven't won a championship since 1973, and the Rangers have won once in 80 years. And the Bills have never won. And the Islanders haven't won since 1983. And the Mets just once since 1969.
Week 10 Picks: Bookmark to get our weekly NFL Football Picks as they are published
LOSING FOR LAWRENCE
The Jets remain at the head of the line for the first pick in the NFL Draft and, in turn, the rights to Clemson quarterback Trevor Lawrence. They still have a lot of competition around them for that selection, though, as four NFL teams have just one win on the season (Giants, Jaguars, and Texans), and seven teams have been victorious only twice (Patriots, Bengals, Chargers, Cowboys, Falcons, Vikings and Washington).
SHOULDERING THE BLAME
Who will be playing quarterback for the Jets on Monday remains to be seen, with Sam Darnold currently questionable due to a shoulder injury. Darnold has thrown zero touchdowns in his past three matchups and has completed over 60% of his passes in a game this season just once. While it's obvious the former third pick in the draft has regressed this season, how much of the blame can be placed on his is certainly debatable considering he has next to nothing around him in terms of skill-position talent, which was clearly evident a week ago when Braxton Berrios was the teams' number one receiver and his eight receptions were nearly half of Sam Darnold's 18 completions. The offense has scored just one touchdown in their last thirteen quarters, so no matter who is at quarterback between a banged-up Darnold or back up, Joe Flacco will certainly have a challenging task on hand trying to right their sinking ship.
RECEIVER SHORTAGE
Thanks to the previously mentioned injuries to Jamison Crowder and Breshad Perriman, the Jets are pencil-thin in terms of their wide receiver depth chart as both of their availabilities for Monday remain in doubt. Braxton Berrios is the apparent top target in their absence after his eight catches last week. It's at least a positive sign that he was able to take advantage of the opportunity provided, considering he had just nine receptions combined in the previous five games. After that, Jeff Smith, rookie Denzel Mims and tight end Chris Herndon are the likely next best options for whoever is playing quarterback for the team.
BELL RUNG
The departure of Le'Veon Bell from the Jets offense is a tough loss, as he at least got some respect from opposing defenses based upon his previous success and assumed potential. The ageless Frank Gore and rookie La'Mical Perine now make up the core of the Jets backfield. Perine is in a great spot to learn from the future hall of fame Gore's extensive experience and success, especially when you consider Perine was just seven years old when Gore joined the NFL.
A SPORTSBOOK WHERE YOUR CREDIT CARD WILL WORK FOR DEPOSITS: BOVADA
CLIFF DIVE CONTINUES
The Patriots find themselves in unchartered territory, having lost four games in a row and now sitting in third place in the division they have dominated for the past 20 years. Even though we haven't reached the exact midway point of the season, it certainly appears to be nothing but a lost cause. The schedule still includes three teams with five wins apiece (Ravens, Cardinals, and Rams), and the Patriots two remaining games against the Jets might very well be the only ones they find themselves favored in the rest of the way. But those for dancing on the teams' grave, let's not forgot that New England did just have the greatest dynastic run in football history, so it begins to sound a bit moronic going overboard about their one bad season when you're a fan of a team that hasn't come remotely to anything resembling the Patriots success. Or in the case of Rex Ryan, you're a foot-loving ex-coach blabbering away in a studio because you failed out of the league after your schtick got old and finished your last six seasons as a head coach without a winning record.
TARGET DEPLETION
How the Patriots can improve on their horrific passing game remains to be seen. One major obstacle they have to overcome is the depleted health of the players, with Edelman out for the foreseeable after knee surgery and N'Keal Harry still questionable due to a previous concussion. This leaves Damiere Byrd and Jakobi Meyers as the top two options at the wide receiver position, which, combined with another year of lack of productivity from the tight ends or consistent success from Cam Newton, means the Patriots will likely be leaning even heavier on their running game as the season progresses.
ROLLING ALONG
One of the only positives to come out of the Patriots disappointing thus far has been the play of running back Damien Harris. After sharing backfield time at Alabama with the likes of Derrick Henry, Kenyan Drake, and Josh Jacobs, Harris has broken out as the clear best of the bunch in the New England rushing attack. He is now averaging 5.7 yards per carry and, in two out of four games played this season, has at least 100 yards on the ground. He could be in line for a big night on Monday with the Jets having traded away Jordan Wilkins, Steve McLendon, and Avery Williamson before the trading deadline to go along with Quinnen Williams being questionable to play due to a hamstring injury.
NEWTON OR BUST
Patriots head coach Bill Belichick confirmed after Sunday's that Cam Newton is here to stay as the starting quarterback for the team. It was a much-needed vote of confidence for Newton after fumbling away the teams' chance at victory a week ago while also continuing to struggle in the passing game with zero touchdowns and five interceptions over his past three games. The lone trade New England made at the deadline was a conditional 6th round pick for Isaiah Ford from the Dolphins, and the opportunity is undoubtedly there for the slot receiver and punt returner to make an impact with the Patriots depleted depth chart.
THE FINAL DECISION
As bad as New England has looked this season, it doesn't compare to the all-out awfulness seen from the Jets. The Patriots may be reeling, but this still a matchup of Bill Belichick against Adam Gase, and as bad as the New England roster has looked, it's a significant upgrade from anything that Gang Green can put out there. The Jets have gone 2-16 over the last eighteen games in the series, including eight straight losses. I believe that lack of success against the Patriots will continue on Monday Night with New England getting a much-needed win and cover at MetLife Stadium.
Mike's Pick to Cover the Point Spread: New England -10 (Note* The line was -7 when Mann submitted his analysis). Bet this game and ALL your sports bets at -105 instead of -110! Making the switch to reduced juice football betting will save you THOUSANDS of dollars in vigorish over a ten year period! Find this great money saving offer at BetAnySports!
Football Betting Guide
New to football betting? NFL point spreads can be confusing at first, but our how to bet on football article help you bet like a seasoned pro! You'll also learn how to wager on teasers, parlays, over/unders, prop bets, futures and how point buying works.