Quarterback Bet: Most Passing Yards In 2019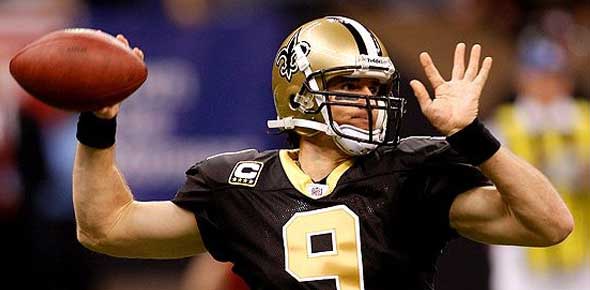 Bet on QB To Have Most Passing Yards in NFL
There is a lot to consider when betting on which quarterback will have the most passing yards in a season. Unlike other props, this seems to be one where you don't really have to account for every aspect of the team. In other words, a team needn't be great for their quarterback to lead the league in passing yards. With Ben Roethlisberger leading the league last season, it was the fourth time in five years that the passing yards leader came from a team that didn't make the playoffs. The team that passed for the most yards was Tampa. In other words, aerial proficiency doesn't necessarily equal overall team excellence.
While a good team can have a QB who leads in passing yards, it can also be a sign that's something's wrong. We saw the Bucs putting up huge numbers last year, but they couldn't run the ball at all and were often playing from behind. Those things make you throw the ball more. So while we want to look for good quarterbacks, it's also important to consider teams that lack offensive balance and have issues on defense.
The fact that Drew Brees has led in passing yards in five of the last nine seasons shows the advantages of playing in a dome. Still, with Denver's Peyton Manning and Pittsburgh's Roethlisberger leading in passing yards in that span, it shows that playing in less-than-ideal weather doesn't disqualify you from this category. Kansas City gets some weather and we see Patrick Mahomes is a co-favorite this season, with Aaron Rodgers, Roethlisberger, and Mayfield also near the top of the list. These are all players from places that are prone to some weather issues late in the season.
Perhaps more important are other issues that directly affect the offense. Player moves are an important area in which to keep track. That applies to backs, receivers, and definitely the O-line, an area of deep concern for this particular bet. You certainly want to account for durability, as missing any games can really cost when it comes to this statistic. Guys who are near-locks to play 16 games have an edge over quarterbacks who have typically missed some time. And be leery of teams that might be very dominant, as it's painful to lose this bet because your QB is sitting out the regular season finale, as the team has nothing to gain in the last game.
While there is some fluidity from year-to-year with most offenses, there are enough coaching changes from year-to-year to warrant considering the team's offensive approach. A third of the top nine choices on the board will be playing with new head coaches this season. With no further ado, here are the odds.
Odds to Lead the NFL in Passing Yardage
Matt Ryan +500
Patrick Mahomes +500
Aaron Rodgers +800
Andrew Luck +800
Ben Roethlisberger +1000
Baker Mayfield +1400
Drew Brees +1800
Philip Rivers +2000
Jameis Winston +2200
Tom Brady +2500
Kirk Cousins +3300
Carson Wentz +4000
Jared Goff +4000
Deshaun Watson +5000
Jimmy Garoppolo +5000
Kyler Murray +5000
Derek Carr +6600
Matthew Stafford +6600
Russell Wilson +8000
Andy Dalton +10000
Cam Newton +10000
Sam Darnold +10000
Dak Prescott +12500
Nick Foles +12500
Joe Flacco +15000
Mitch Trubisky +15000
Marcus Mariota +17500
Case Keenum +20000
Dwayne Haskins +20000
Eli Manning +20000
Josh Allen +20000
Lamar Jackson +20000
Ryan Fitzpatrick +20000
Josh Rosen +25000
Daniel Jones +50000
The Best Picks of the Top Ten:
Matt Ryan (+500): Just a little over 200 yards off the league-lead last season, Atlanta's offense definitely leans toward the pass. The aerial forces are well-stocked with receiving yards leader Julio Jones, Calvin Ridley, Mohamed Sanu, and others. Investments made on the line could also pay off. A definite contender.
Patrick Mahomes (+500): Only 32 yards behind the league-leader last season, Mahomes should be in solid contention for the lead in aerial yardage. The prospects of playing without leading receiver Tyreek Hill is a concern, but they have some contingencies in place. The run-game might be mere window dressing in this offense, as they've lost Hunt. I don't see a lot of drop-off, if any.
Ben Roethlisberger (+1000): Usually the defending passing-yards leader would get more respect, making Big Ben a high-value pick perhaps at +1000. We understand the thinking. He lost Antonio Brown. Last season was his first 16-game year since 2014. But he plays in an offense that is pass-heavy in its approach, still has horses, along with one of the best lines in the conference.
Philip Rivers (+2000): He's usually in the mix and has led the league before, so he's in this realm. He was a good 800 yards off the pace last season, hence his 20-1 odds. But he plays in good weather on a team with an abundance of receivers who should grow in strength. The line has improved measurably over the past year or so and he never misses time. A solid middle-of-the-road choice at this number.
Jameis Winston (+2200): This isn't so much an endorsement of Winston's skill, but more the conditions and the new system. Most quarterbacks under new head coach Bruce Arians have thrived in this stat. Their offense has a negligible run-game and they should be playing from behind in some games. And they do have some horses aerially, as illustrated by being the top-passing offense last season. Worth a look at 22-to-1.
The Worst Picks of the Top Ten:
Aaron Rodgers (+800): Last season's sixth-place finisher in this category is just 8-to-1. The run-game is iffy and he plays behind one of the best offensive lines in football. So some conditions are there, but the weather does get extreme and he's not a lock to play all 16 games, though he has in 4 of the last 5 seasons. Not a bad pick, but not great value.
Andrew Luck (+800): Another bonafide contender who is just not getting great value. At this price, you need someone really solid and he is an injury threat. Head coach Frank Reich is also adding a big dose of the run-game, meaning this Indy offense might be too balanced for Luck's stats to swell to this extent. He finished fifth last season and plays behind a great line, but would like more than +800.
Baker Mayfield (+1400): He put up pretty good numbers last season and added what appears to be a lot more aerial firepower. I'm not sure their line is on the upswing as much as the rest of the team, however, and their offensive approach stresses the run-game enough to maybe take Mayfield a little out of range for this. On  a related note Beckham's O/U for receptions this season is 93.5 and 1225 for receiving yards.
Drew Brees (+1800): Always a threat after winning this 7 years already in his illustrious career. However, he finished 13th last season. If New Orleans doesn't need that last game of the season with home-field already locked up, sitting it out could cost Brees and that's assuming he's even in the running. New Orleans runs the ball very well and even after losing Mark Ingram, they look to do more of it this season.
Tom Brady (+2500): Pretty well off the pace in 2018, it's hard to see where he finds another 600-700 yards to get in the thick of it. They catch some weather in Foxborough, have some balance with a strong run-game, and Brady will be 42 by the start of the season. I think it's best to look elsewhere.
Interesting Dark Horse Picks:
Kirk Cousins (+3300): Admittedly at first thought, it doesn't make a lot of sense. When you think of the Vikings, you don't think aerial high-wire acts. But in a season where not a ton really clicked, he was still good for 4300 yards. Some additions up-front and a better break in terms of injuries on offense could see that number swell.
Deshaun Watson (+5000): You could see a 3rd year surge and more consistency from Watson this season. Granted, that line is going to have to find answers and come around to keep him healthy and off his backside. But he has weapons, the run isn't terribly strong, and he did throw for 4165 yards last season. A more-complete season and better health in his receiving corps could pay off and 50-to-1 isn't bad value at all.
Kyler Murray (+5000): Granted, this could flop dramatically. But their run-game hasn't gotten any better and they will be airing it out a ton under first-year coach Kliff Kingsbury and presumably playing from behind in a lot of spots. Hey, it's a long-shot for a reason, but a better X-factor than some other quarterbacks going off at similar odds.
TIRED OF YOUR CREDIT CARD NOT WORKING AT SPORTSBOOKS? IT WILL AT MYBOOKIE+ GET a $1000 FREE PLAY!!