New England Patriots 2021 Total Wins Odds & Best Bet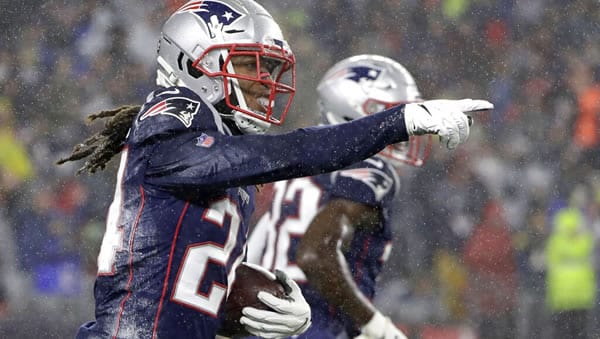 Preseason props have been posted on Bovada for the upcoming NFL season, and below, you will find seven reasons why you should take the New England Patriots to go over their projected win total of 9.5
DOUBLE TIGHT ENDS
Last season the Patriots tight ends combined to post a total stat line of 18 receptions for 254 yards and one touchdown, which was somehow nearly half of the already abysmal mark of just 37/419/2 from the previous season after Rob Gronkowski took his one-year hiatus away from the game of football. The attempted quick fix of taking both Devin Asiasi and Dalton Keene in the 3rd round of the 2020 NFL Draft never panned out. New England made a point to correct their roster hole by signing free agents Jonnu Smith and Hunter Henry in the offseason. This duo gives the Patriots their best positional combination since they had Rob Gronkowski and Aaron Hernandez, and with hopes realistic that neither Smith or Henry will commit multiple homicides in the near future, New England's biggest weakness of the past two seasons should become one of their roster strengths.
BETTER TARGETS ALL AROUND
The Patriots had only twelve touchdowns through the air in 2020, and just four of those were caught by a wide receiver. Cam Newton had issues with accuracy and injuries during the season, but it's only fair to point out just how bad his target arsenal was throughout the year. With an unfortunate history of drafting missteps at the wide receiver position, the team went the free agency route to try and improve their situation by signing Nelson Agholor and Kendrick Bourne. The two of them will likely begin the season as the number one and two starters at the position, with Jakobi Meyers, 2019 first-round failure N'Keal Harry, rookie Tre Nixon and possibly Gunner Olszewski rounding out the group.
THE SCHEDULE
Entering the 2020 season, the Patriots faced what was rated as the most difficult schedule in the league, but things appear to have gotten a lot easier for them in 2021. Trips away from Foxboro are set up well, as they face only two teams on the road (Buffalo and Indianapolis) who are either favored to make the playoffs or are expected to reach the double-digit win mark in preseason props available on Bovada. This is an especially welcome break for New England as they went just 2-6 on the road last year, with one of those wins a 30-27 squeaker against the lowly Jets. New England also benefits from a schedule with nine home matchups, though those appear much tougher with Tampa Bay, Cleveland, Dallas, Tennessee, and Buffalo on the slate. The Patriots will undoubtedly need to step up their play at Gillette Stadium as they have gone just 6-6 in their last twelve games at home after winning their previous 18 in a row.
STRONGER AT THE TOP
The Patriots drafted Mac Jones with the 15th pick in the 2021 draft, but the Patriots' plan continues to look like Cam Newton will be the on the field leader to start the season. The hope is that Newton's struggles last year were more to do with the previously mentioned injuries and lack of weapons around him to go along with the usual poor play calling from vastly overrated offensive coordinator Josh McDaniels and the overall roster upheaval caused by a litany of free-agent departures and a league-high number of players forgoing the season due to COVID. Early reports out of camp saw Jones make an immediate impact with the team, so if Newton's issues continue, they will at least have a more capable backup in the Alabama rookie this time around. Brian Hoyer was signed in the offseason, though this had to be for coaching/mentoring reasons only as there is no way they could possibly allow him on the field ever again after watching his play last season after he single-handedly destroyed any chance of an upset against the Chiefs on Monday Night Football and gave Patriots fans the entertainment equivalent of getting a root canal and a prostate exam at the same time. The signing of Hoyer will likely mean the end of the road for 2019 fourth-round pick Jarret Stidham, as the team hasn't carried four quarterbacks on the roster since Tom Brady's rookie season in 2000, and Stidham has done next to nothing on the field to show he is worthy of taking up a coveted roster spot.
RUNNING TO SUCCESS
As bad as the Patriots offense was last season, finishing 27th in scoring and yards per game and 30th in passing, their rushing attack was the one saving grace, ending the year ranked 4th in the league averaging 146.6 yards per game. Not only are three major components back from a season ago (Damien Harris, Sony Michel, and James White), but they also added RB/FB hybrid Rhamondre Stevenson in the draft. The offensive line got better as well with Trent Brown back and joining center Ted Karras as free agent acquisitions to go along with previous starters Isaiah Wynn, David Andrews, Shaq Mason, and Michael Onwenu.
UPFRONT UPGRADE
New England's defense ranked 7th in scoring and 8th against the pass last season but were frequently porous upfront, finishing their 2020 campaign near the bottom of the league at 26th in both sacks and rushing yards allowed. Fixing that sieve was a clear priority this offseason. They added Matt Judon, Kyle Van Noy, Raekwon McMillon, and Davon Godchaux via free agency and Christian Barmore and Ronnie Perkins in the 2nd and 3rd rounds of the NFL Draft. With the newcomers joining Dont'a Hightower, Deatrich Wise, Lawrence Guy, Chase Winovich, and Josh Uche, the Patriots' defensive front seven have the opportunity to be a night and day difference from their lackluster performance a year ago. Especially when you consider their defensive backfield remained nearly entirely intact with Stephon Gilmore, Devin McCourty, JC Jackson, Adrian Phillips, and Kyle Duggar all returning to help give the line that additional time needed to hopefully find their way to the opposing quarterback more often.
BELICHICK
The Patriots' 2020 season was an all-around disappointment, which only adds fuel to the fire to what I expect to be a strong rebound in 2021. It is usually not a wise wagering strategy to bet based upon trends, but in the case of Bill Belichick and his tenure in New England, their repeated success and escalated win totals of the past 20+ years far surpass what could be considered a trend and instead show a clear recipe for greatness. After trying to win one last time with a weak 2019 roster that even Tom Brady couldn't get past the first round of the playoffs, the team appeared to realize what was in store for them last year and rather than attempt to make band-aid trades (i.e. second-round pick for Mohammed Sanu), they did the best they could with what they had while essentially biding their time until the 2021 season when they would be vastly under the salary cap and fully able to make the necessary roster improvements. With those adjustments made and a fire of motivation lit under Belichick unlike any he has had before, I believe the Patriots are an incredibly wise investment to go over 9.5 wins on the season. Bet your NFL futures picks FREE by taking advantage of a 100% REAL CASH bonus on your first deposit of $100 to $300 at MyBookie Sportsbook! (Must use bonus/promo code PREDICT100 to get the extra bonus dollars credited).