[et_pb_dcsbcm_divi_breadcrumbs_module hide_homebreadcrumb="off" homebreadcrumbtext="Home" separator="sep-raquo" hide_currentbreadcrumb="off" homebreadcrumborientation="left" _builder_version="3.8″ fontsbreadcrumbs_font="Lato||||||||" fontsbreadcrumbs_text_color="#000000″ fontsbreadcrumbs_font_size="15px" fontsbreadcrumbs_line_height="16px" fontsseperator_font="||||||||" fontsbreadcrumblinks_font="||||||||" fontsbreadcrumblinks_text_color="#2567cf" custom_margin="25px|||" custom_margin_phone="30px|||" custom_margin_last_edited="off|desktop" custom_css_main_element="font-family: Helvetica Regular;" global_module="3641″ saved_tabs="all"][/et_pb_dcsbcm_divi_breadcrumbs_module]
New England Patriots -6 picked vs Detroit Lions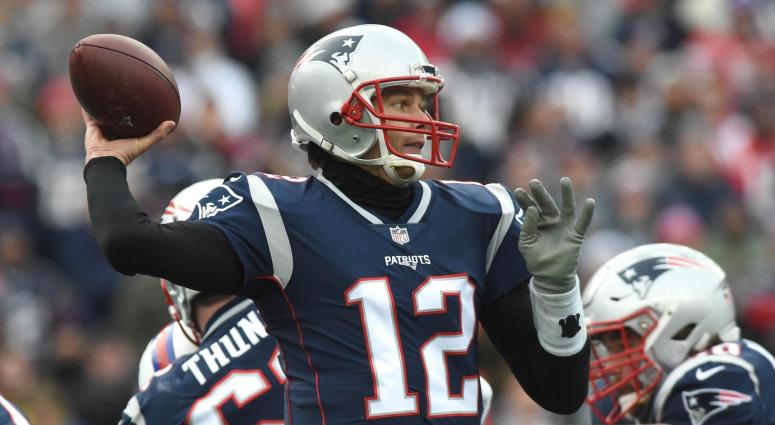 New England Patriots (1-1 SU, 1-1 ATS) vs. Detroit Lions (0-2 SU, 0-2 ATS)
Date/Time: Sunday, September 23rd, 8:20 PM
Where: Ford Field, Detroit, MI
TV: NBC
By: Mike Mann., NFL Football Handicapper, Predictem.com

Spread: NE -6/ DET +6
Over/Under Total: 51.5
In a battle of two teams looking to rebound after losses a week ago, the Patriots head to Detroit to take on the Lions in a primetime battle on Sunday Night. New England has gone 7-4 all time against the Lions, including a 4-0 record with Tom Brady as the quarterback.
PATRIOT DOWNFALL
The Patriots go to Detroit fresh off of a disappointing 31-20 loss at Jacksonville. The Patriots started slow with some questionable offensive play-calling that included ignoring leading receiver on the day James White until they had already dug themselves too deep. The defense looked helpless while allowing Blake Bortles to torch them for four touchdown passes, though the early loss of Trey Flowers followed by Patrick Chung to concussion injuries certainly didn't help a depleted squad in the intense heat of Florida.
NEW WEAPON FOR BRADY
Despite some mental mishaps by his targets, Tom Brady still put up solid numbers and on the season has thrown for 511 yards with five touchdowns compared to just one interception while completing an impressive 67% of his passes. He was undoubtedly pleased on Monday when the Patriots traded a conditional fifth round pick for often troubled but immensely talented Josh Gordon. The speedy wideout represents the second best deep threat he has ever played with outside of Randy Moss and could pay immense dividends for Brady and the Patriots considering they have a team option on his contract for next year as well.
New England has had issues with their O line. Right tackle Marcus Cannon missed the game with injury, and his loss was felt throughout but no time more so than late in the 4th quarter when his replacement got beat and Brady got strip sacked on a play that killed any chance of a Patriots comeback. His status for this coming week remains questionable, which could pose especial problems against a Lions defense that is 2nd in the league with eight sacks on the season.
TROUBLED START
Unfortunately those sacks haven't translated into wins for the Lions, who now stand at 0-2 after losing to the 49ers on Sunday 30-27. They had opportunities to win, but in in the long run were not able to complete their comeback after once being down by seventeen points. They at least seemed able to solve their play calling woes suffered against the Jets in week one when the opposing players said post game they knew what was being called before it happened throughout the game.
bitcoin Sportsbooks: Time is Money
Matthew Stafford was able to turn things around with a three touchdown performance against San Francisco, and is likely looking forward to a matchup against a Patriots defense that ranks 20th or below in every major defensive categories and over their last couple games against pocket passers have gotten lit up by Nick Foles and Blake Bortles. The emergence of second year wideout Kenny Golladay has been a welcome addition to an already talented Lions receiver corps that also consists of Golden Tate and Marvin Jones Jr.
On the other hand is the Lions running game, which ranked last in the league a season ago, and continues to struggle despite some quality play from rookie running back Kerryon Johnson. Legarette Blount hasn't been to do much thus far and Theo Riddick is only really of use in the passing game. As a group they will be looking to get their first rushing touchdown of the season, having been shut out of the endzone so far.
LIONS DEFENSE
Led by Devon Kennard and Jarrad Davis, the Lions have been able to put continuous pressure on the quarterback while strong safety Tavon Wilson leads the team in tackles. The trouble they are facing though is that arguably their top defensive back, cornerback Darius Slay, is currently in concussion protocol after being knocked out of the game against San Francisco due to an injury. With Tom Brady coming to town, his return will be much needed for a Detroit defense looking to rebound after a tough first couple of weeks that saw them let up the most amount of points so far in the league.
FINAL DECISION
The Patriots are well known for there ability to bounce back from adversity, especially following defeat. They are 41-11 in their last 52 games after a loss and have been even better against the spread, going 14-2-1 in their last 17. Matt Patricia may have a bit of an advantage having coached in New England before going over to Detroit, but considering the amount of pub about him having nearly lost his team already he appears to be bringing more of a negative factor to the table. In what should be a high scoring game, I will be backing Belichick and the Patriots to rebound with a win and cover on the road in Detroit.
Mike's Pick to Cover the Point Spread: New England -6
<div class="widget105"><!-- [et_pb_line_break_holder] --><h4 class="parlays">Best Sportsbooks for Parlays</h4><!-- [et_pb_line_break_holder] --><!-- [et_pb_line_break_holder] --><table id="parlay"><!-- [et_pb_line_break_holder] --> <tr><!-- [et_pb_line_break_holder] --> <th><span class="team"></span></th><!-- [et_pb_line_break_holder] --> <th>2 Team Parlay</th><!-- [et_pb_line_break_holder] --> <th>3 Team Parlay</th><!-- [et_pb_line_break_holder] --> <th>4 Team Parlay</th><!-- [et_pb_line_break_holder] --> </tr><!-- [et_pb_line_break_holder] --> <tr><!-- [et_pb_line_break_holder] --> <td><a href="https://www.predictem.com/out/SportbetP"><img src="https://www.predictem.com/wp-content/uploads/2018/06/sportbet-sm.png"></a></td><!-- [et_pb_line_break_holder] --> <td>2.74 to 1</td><!-- [et_pb_line_break_holder] --> <td>6.24 to 1</td><!-- [et_pb_line_break_holder] --> <td>13 to 1</td><!-- [et_pb_line_break_holder] --> </tr><!-- [et_pb_line_break_holder] --> <tr><!-- [et_pb_line_break_holder] --> <td><a href="https://www.predictem.com/out/BovadaP"><img src="https://www.predictem.com/wp-content/uploads/2018/06/bovada_sm.png"></a></td><!-- [et_pb_line_break_holder] --> <td>2.64 to 1</td><!-- [et_pb_line_break_holder] --> <td>6 to 1</td><!-- [et_pb_line_break_holder] --> <td>12.3 to 1</td><!-- [et_pb_line_break_holder] --> </tr><!-- [et_pb_line_break_holder] --> <tr><!-- [et_pb_line_break_holder] --> <td><a href="https://www.predictem.com/out/MybookieP"><img src="https://www.predictem.com/wp-content/uploads/2018/06/mybookie-sm.png"></a></td><!-- [et_pb_line_break_holder] --> <td>2.64 to 1</td><!-- [et_pb_line_break_holder] --> <td>6 to 1</td><!-- [et_pb_line_break_holder] --> <td>12 to 1</td><!-- [et_pb_line_break_holder] --> </tr><!-- [et_pb_line_break_holder] --></table><!-- [et_pb_line_break_holder] --><div class="widget-footer"><a href="https://www.predictem.com/best-sportsbooks/parlays-odds/">See all Sportsbook Parlays</a></div><!-- [et_pb_line_break_holder] --></div><!-- [et_pb_line_break_holder] --><!-- [et_pb_line_break_holder] --><!-- [et_pb_line_break_holder] --><style><!-- [et_pb_line_break_holder] --> #parlay {border-collapse: collapse;<!-- [et_pb_line_break_holder] --> width: 100%; border: 0px;<!-- [et_pb_line_break_holder] --> font-size: 14px!important;}<!-- [et_pb_line_break_holder] --> #parlay td, #parlay th {<!-- [et_pb_line_break_holder] --> border: 0px;<!-- [et_pb_line_break_holder] --> padding: 8px;<!-- [et_pb_line_break_holder] --> text-align: left;}<!-- [et_pb_line_break_holder] --> #parlay th {<!-- [et_pb_line_break_holder] --> padding-top: 5px;<!-- [et_pb_line_break_holder] --> padding-bottom: 5px;<!-- [et_pb_line_break_holder] --> font-weight: bold;<!-- [et_pb_line_break_holder] --> line-height: 14px;<!-- [et_pb_line_break_holder] --> text-align: center;<!-- [et_pb_line_break_holder] --> color: #000;}<!-- [et_pb_line_break_holder] --> #parlay tr {border-bottom: 1px solid #edeef0;}<!-- [et_pb_line_break_holder] --> .team {font-size: 16px;}<!-- [et_pb_line_break_holder] --></style>
<h4 class="widgettitle">More NFL Picks</h4><!-- [et_pb_line_break_holder] -->