New York Jets vs. New England Patriots Analysis & Pick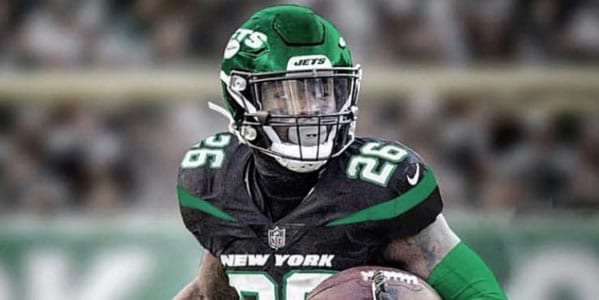 New York Jets (0-2 SU, 0-2 ATS) vs. New England Patriots (2-0 SU, 0-2 ATS)
Date/Time: Sunday, September 22nd, 1:00 PM
Where: Gillette Stadium, Foxboro, MA
TV: CBS
Point Spread: NYJ +23 NE -23 (Sportbet)
Over/Under Total: 44
In a battle of AFC East foes going in opposite directions, the Patriots host the Jets on Sunday afternoon at Gillette Stadium in what appears to be a massacre in the making. New England has dominated the series in recent history, having gone 9-1 in their last ten meetings and a perfect 8-0 in the previous eight matchups in Foxboro, a place the Jets have not scored a touchdown in since 2015.
Outlook Bleak For Jets Offense
After blowing a 16-0 second-half lead in week one, the Jets season continues to plummet into disarray after getting beaten up 23-3 at home against the Browns. Gang Green has scored just one offensive touchdown on the season and has only three points scored in their last 5.5 quarters. Sam Darnold is lost for the foreseeable future due to mono, and backup Trevor Siemian was ruled out for the year on Tuesday after breaking his ankle against Cleveland. The team will now turn to former Washington State quarterback Luke Falk to take over the reins of their stagnant offense. Falk was a sixth-round pick in 2018 by the Titans before bouncing around and landing on the Jets practice squad before the season started but has since been unexpectedly thrust into the spotlight thanks to the rash of injuries to the quarterback position. Falk completed 80 percent of his passes against the Browns (20 of 25) but will have his work cut out for him this week against a Patriots defense that currently ranks as one of the best in the league. Falk essentially has three options in the Jets offense, running back Le'Veon Bell along with wide receivers Jamison Crowder and Robby Anderson. Bell has the only offensive score for the team this year and has caught sixteen passes through their first two games but has disappointed on the ground, averaging just 3.4 yards per carry. This is not all on Bell as the NY offensive line has struggled as well, leading to center Ryan Kalil's benching which should hopefully help improve their consistency as the talked out of retirement free agent lineman has been a big disappointment so far. Crowder leads all receivers with 18 receptions for 139 yards so far while Anderson has seven catches for 104 yards. With wideout Quincy Enunwa's career possibly overdue to another neck injury and Demaryius Thomas' corpse on the shelf again, Falk won't have much else to rely on as no other player on the team has more than three receptions on the season. Not the best offensive situation to be jumping into, especially considering the team ranks 31st in yards per game and 30th in scoring.
More Picks: HOU/LAC Point Spread Pick >>>
The Defense Is Banged Up
Over the last six quarters the Jets defense hasn't looked much better, and who they will have available on Sunday remains to be seen. Star linebacker Cj Mosley missed the Browns game with a groin injury while first-round pick Quinnen Williams remains hobbled as well. Both are listed as day to day and look to be questionable for Sunday. Injuries aren't the only problem as high priced free agent signee Trumaine Johnson was benched against the Browns and with a lackluster start to his tenure on the team it remains to be seen how much relevant field time he will get going forward. Things are in further disarray as safety Jamal Adams, arguably the best player on the team, appears to be disenfranchised after unfollowing the Jets on Instagram and removing any mention of the team in his bio after he was benched by their egomaniac defensive coordinator Gregg Williams during their last game. Adams has battled hip discomfort as well and if they possibly lose him for any period of time could find themselves in exponentially more trouble than they already find themselves in now. While the Jets continue to face issues throughout the team, the Patriots are on the opposite side of the spectrum, starting 2-0 with both wins by at least 30 points and going back to the Super Bowl have outscored their last three opponents 89-6. Tom Brady and the offense usually get the lion's share of the attention, but the defense deserves just as much if not more, not having allowed a touchdown since the fourth quarter of the AFC Championship game against the Chiefs. Jamie Collins and Jason McCourty are two of five players in the league to record two interceptions already this season, and those numbers are expected to climb team-wide with Devin McCourty and the NFL's best cornerback Stephon Gilmore leading the way for the Patriots defensive backfield. The team ranks 1st in the league in yards allowed per game and points allowed, with an average of just 1.5 ppg so far, and are also 2nd against the run with only a 37 yards per game average.
The Pats Offense in Mid-Season Form
Brady and the offense continue to click on all cylinders, with Brady having completed just under 70 percent of his passes thus far while throwing for 605 yards and five touchdowns and zero interceptions. He has been able to spread the ball around well to his five main targets (Edelman, White, Gordon, Dorsett, and Brown), though how long Antonio Brown stays active remains to be seen. There is no doubting Brown's talents, but he is also unquestionably an enormous personality challenged a-hole that may make the team better on paper, but will also remain a giant distraction to whatever roster he finds himself on. The Patriots backfield continues to be led on the ground by Sony Michel and thru the air by James White, but Michel will be looking to get things going against the Jets with an average of just 2.8 yards per carry this season. If he is unable to improve on those numbers, he may end up ceding more carries to White along with Rex Burkhead. All has looked well so far for the Patriots. Although there are some cracks in the seams to be concerned about. The first is the offensive line, which has already been hit hard by injuries with Marcus Cannon already missing time and now last years' first-round pick Isaiah Wynn has just been placed on IR, again. There are hopes are he can return later in the season if his made of paper mache body can heal, but until then they will rely heavily on heralded o-line coach Dante Scarnecchia to try and get some semblance of consistency with the position. The other concern is the kicking game, as their high priced, overrated kicker Stephen Gostowski continues to struggle and has now missed 11 extra points since the 2016 season. He has a field goal percentage of less than 85% in three of the last four seasons, including last year when he finished ranked 19th overall in the league. There isn't much out there in terms of free agents in case he continues to falter, but the team would be wise to start thinking of the future when it comes to his replacement as he is clearly not the elite option he once was.
Jets vs. Pats Week 3 Prediction
The point spread for this weeks' matchup currently sits at 23, which is the highest NFL point spread since the strike season of 1987 when San Francisco was favored by the same amount against Atlanta, a game the 49ers ended up losing 25-17. This is an absurd amount of points to lay in a regular-season NFL game, but considering the direction each team is headed, it does make some sense. While the Patriots appear on a path toward a possible run at a perfect season, the Jets season continues to go from bad to worse thanks to injuries and in general mismanagement of talent that seems to affect the team on a yearly basis. If C.J Mosley is unable to play, I can't imagine how the Jets will be able to slow the Patriots offense down, and the only chance of stopping them from scoring would be the hope of friendly fire thanks to the baffling play calling of NE offensive coordinator Josh McDaniels. Their only hope is for Luke Falk to capture some backup QB magic circa Matt Flynn of the Packers back in 2010 but with Le'Veon Bell the only real offensive weapon at his disposal and the Patriots defense looking the best it has in years, the chances of Falk success seems very limited. It's a ton of points to give, but I would suggest backing New England to get the win and cover at home against the Jets on Sunday afternoon in Foxboro.
Mike's Pick to Cover the Point Spread: New England -23 and guys you can reduce this line by as many as 20 points by betting it an teaser at 5Dimes!