NFC North Divisional Winner Picks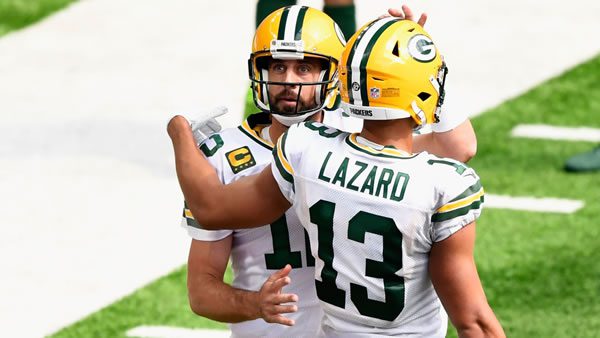 Predicting the NFC North Division Winner
We come to another division that is a land of the haves and the have-nots. Essentially, this comes down to three-time defending champions the Green Bay Packers and the Vikings. With 13 wins last season, the Packers cinched up the NFC North in pretty quick order, with the Vikings not able to get to .500 at 8-9, along with the Bears and Lions, who managed a total of 9 combined wins. As a result, you have a Green Bay squad coming off three straight 13-win seasons fetching a short -190 price to again take down the NFC North. Has anyone else in the NFC North done enough to warrant a look at enhanced odds? Let's break down the black-and-blue division! (Odds Courtesy of Bovada – Home of the 50% real cash bonus, rebates on ALL your wagers and the BEST live betting platform on the web!)
Chicago Bears (+1200)
With newness comes promise. Matt Eberflus takes over for Matt Nagy as the Bears attempt to turn the page on a rough couple seasons. In a weird way, a 6-11 record last season is promising in its own small way, being that not a ton went right. They will need a big step forward from QB Justin Fields, some improvement from dynamic but inconsistent WR Darnell Mooney, and for some acquisitions to pay off, maybe someone like WR Byron Pringle. Other than some promising draft picks. The Bears were strangely quiet on the acquisitions front, especially for a team that has so many areas to address.
It almost creates the image of a season where one can see the Bears trying to use 2022 as a set-up year, making a long-term decision on Fields and seeing what they have to work with moving forward. They could double last year's win total and still not have enough wins to take this division. It just seems like there are better ways to get a 12-to-1 payoff in this world. Isn't letting it ride and winning four straight blackjack hands easier than trying to win this bet?
Detroit Lions (+1000)
It's not easy to be optimistic even if one forecasts some better things is Dan Campbell's second year at the helm for the Lions. They had what seems like a good draft, getting a potential difference-maker at DE in second pick Aidan Hutchinson and 12th pick WR Jameson Williams. Along with newly-added DJ Chark and productive RB D'Andre Swift, they have the makings of a better offense, especially with that good offensive line. But they will be stuck with QB Jared Goff for another season and it's pretty clear this isn't their long-term solution at QB, likely looking to next year's class to find real answers.
After a 3-13-1 year, a good season for Detroit still wouldn't put them in a spot to unseat the Packers as division kingpins. Even if everything falls into place, it's still hard to imagine them doing what Philly did last season and managing to climb into the playoff picture and it still doesn't put them ahead of Green Bay. Even if Hutchinson wins defensive rookie of the year, tight end TJ Hockenson and RB D'Andre Swift goes over 1000, Chark and Williams fit right in, there is still too much to overcome. Hard pass.
Green Bay Packers (-190)
One could take the stance that the Packers were lucky to have the best record in football last season, but three straight 13-win seasons under Matt Lafleur and consecutive MVP awards for Aaron Rodgers would seem to extend beyond luck. Some things converge this season to make Green Bay less appetizing, especially at these odds. Losing Davante Adams is a major setback and their approach to replace him seems unexciting, signing Sammy Watkins and drafting Christian Watson in the second round. Having Rodgers helps and maybe they strike gold again at WR. If not, the 1-2 running back punch of Aaron Jones and AJ Dillon still exists and O-line could be better with the return of some key parts.
A lot of moves were made on defense and on special teams. Last year's Raiders' head coach Rich Bissacia was brought in to head a special teams unit in disarray. Two first-round blue chippers in LB Quay Walker and DT Devonte Wyatt should help immensely, as the Green Bay "D" has a chance to be a really special unit in 2022. They might have the best three-corner package in the entire league and if this "D" gets their act together with the new additions, it's going to be tough on everyone. And that's especially true for a division that looks to be one of the easiest to get through in the whole league. A -190 price might not induce salivation now, but it will look good when you have this all sewed up with weeks to go in the regular season.
Minnesota Vikings (+275)
Maybe the hiring of new head coach Kevin O'Connell and a new vision in the front office can help. After all, say what you will about Kirk Cousins, but he's maybe not as bad as some think and new coaching can perhaps bring more out of what is a tremendous core. With Dalvin Cook at RB and wide receiver talent like Justin Jefferson and Adam Thielen, maybe we start seeing more reliability from this offense. That line remains a bit of a drawback, as does some inconsistency at the QB position. O'Connell's offensive mastery could help that come about in 2022.
Of all the teams who could reverse form this season, the Vikes seem like a decent candidate. We'll see what O'Connell can do, but it seems they were handcuffed with the old-school and defense-heavy approach from Mike Zimmer. What the Vikings have is a good roster that could be brought to life by better coaching, as well as some youngsters stepping up and starting to fulfill their promise. The potential for improvement is there and could culminate in a wild-card spot. But winning the division? They're going to need something unforeseen to occur.
Loot's Pick to Win the NFC North Division: Green Bay Packers at -190 odds. The chalk hurts and losing their best offensive player looms large, but of all teams in the league, their path to a first-place finish is the smoothest. Bet your NFC North winner prediction for FREE by taking advantage of a 100% real cash bonus on your first deposit of $100 to $500 when you use bonus code PREDICTEM at Betnow Sportsbook!
Football Betting Guide
New to football betting? NFL point spreads can be confusing at first, but our how to bet on football article help you bet like a seasoned pro! You'll also learn how to wager on teasers, parlays, over/unders, prop bets, futures and how point buying works.