NFC South Divsion Title Odds & Predictions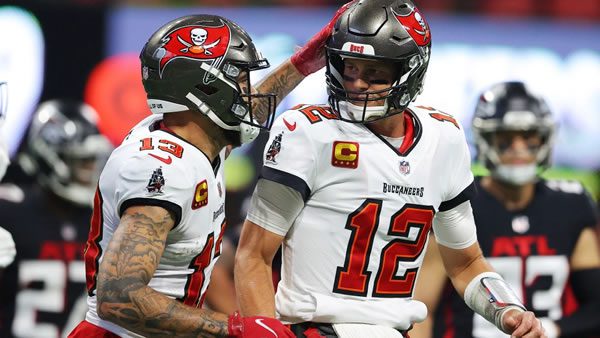 NFC South Winner Picks
A robust -300, Tampa Bay is again favored to take down the NFC South and for good reason. Two teams in the league in the Panthers and Falcons are hard to justify as picks in this context. Coming off a 9-8 season, the Saints warrant some consideration, while not necessarily appearing to be all-that-viable of a threat against Tom Brady and Company. Still, in a division that has a ton of big-time playmakers, rising talent, and blue-chip rookies, there is a sense that something off-script could occur. Let's get into the nuts and bolts and see if we can't make sense of the NFC South. (Odds by Bovada – Home of the most amazing live wagering platform on the web!)
Atlanta Falcons (+2500)
A 7-10 mark last season was a rough start for head coach Arthur Smith, but that doesn't mean everything is gloomy. They will face the prospects of moving on from a long-serving starter in QB Matt Ryan and neither Marcus Mariota or third-round rookie Desmond Ridder stand out as quarterbacks who can suddenly lift the Falcons to the next level. They have almost no real running game and the offensive line is one of the worst in the league. That doesn't bode well for either potential starter.
But for a 25-to-1 divisional longshot, they are putting together some good things, with Cordarrelle Patterson getting a new lease on life in this offense last year with some huge performances, along with rookie TE Kyle Pitts showing form that could have him being the best in the league before long. Eighth overall pick WR Drake London could be one of these hotshot rookie receivers we've seen in recent seasons and if he is, that's a lot of overall offensive firepower. Throw in corner AJ Terrell and you're starting to see the framework of a rising team. But being weak along both lines of scrimmage, all the other holes on defense, and a likely starter in Mariota whose stock has fallen precipitously in recent seasons makes it so a slightly-above .500 season might be the ceiling for the '22 Falcons.
Carolina Panthers (+1200)
A 5-12 season saw the Panthers on their back for much of the 2021 season. They now turn the page under second-year head coach Matt Rhule and one improvement is a better cast of choices at quarterback. Already with Sam Darnold, they now have a rookie third-rounder in Matt Corral, in addition to Baker Mayfield. Throw Christian McCaffrey into the mix, along with number-one receiver DJ Moore and you start to see an offense that can make a case for seeing a surge. But they need one of these QBs to shine, which is not a guarantee. They need McCaffrey to stay healthy. And they need to find answers up front on an offensive line whose ineptitude threatens to send the whole offense into the rocks.
The return of a healthy CB Jaycee Horn helps to go along with pro-bowler Brian Burns to start forming some pieces on this Carolina "D" that can make an impact. They got the first offensive lineman off the board in T Ikem Ekwonu. But so many stars need to align and while they have an X-factor appeal in the event they find answers at QB and if McCaffrey stays healthy, I think they'd settle for a season with measurable progress. Winning the 12-13 games they're going to need to win this division is not in-range.
125% Cash up to $400 w/Bonus Code: PREDICTEM

New Orleans Saints (+350)
Dennis Allen takes over after an eternal tenure by Sean Payton. He inherits a team that saw not a ton of things go their way last season, yet were still able to carve out a 9-8 season. Even if you're dubious of Jameis Winston as starting QB with sprinkles of Taysom Hill and you're scared of their iffy front, their best-case scenario is scary. With Alvin Kamara a versatile tool, they already have Deonte Harris and drafted first-rounder Chris Olave who could contribute. What if Michael Thomas returns to anything resembling top form? And then they added Jarvis Landry into the mix. That's a lot of proven weaponry.
A defense that has been among the league's best now gets Tyrann Mathieu to add to a unit that has playmakers at all levels. With Cameron Jordan getting after QBs, Demario Davis all over the field, and Marcus Lattimore and Mathieu wreaking havoc in the backfield, it's not easy to pinpoint why they'd fall back this season defensively. In the end, this comes down to not whether they can get better, but if they unseat the Buccaneers. That's a tough proposition, but any slipups in Tampa are likely to be seized upon by this bunch.
Tampa Bay Buccaneers (-300)
The story writes itself—Brady returns from a brief retirement for another go-around. It's not for a check or to pad his stats, so we know the urgency will be there under new head coach Todd Bowles. He has everything around him he needs to win—a top offensive line, two top receivers in Chris Godwin and Mike Evans, a good running back in Leonard Fournette, a strong supporting cast of role players, and a "D" that can help carry their share of the weight.
Taking this kind of chalk and having to wait months for it to come to fruition can be less-than-appetizing. But we're not asking Brady and the Bucs to take it all. We're asking them to beat out their only threat on this board, which is essentially the Saints barring something crazy. And while Father Time catches up to everyone, that's not something that's going to stop Brady from doing enough to win the NFC South division this season.
Loot's Pick to Win the NFC South Division:
Tampa Bay Buccaneers at -300. Seemingly, the biggest slam-dunk of all the divisional races in the NFL. The Saints are a little scary and could surge late, but Tampa is by far the more-solid football product heading into 2022. Note: As you get older, you'll realize that information is power! It can make you money an it can save you money. We're still living in the stone ages when it comes to communication. Most of what you'll learn in life will be from word of mouth. You probably aren't aware that you don't have to lay -110 odds on sides/totals anymore. I'm here to tell you that you can lay -105 at BetAnySports! Making the switch to reduced juice sports betting will save you $5 that you could be using for other things like beer, collectibles or a $5 foot long! Calculate how much you'd save over the course of a full season. The amount is staggering! Click here to start betting for cheaper TODAY!