NFC Title Pick: Bucs vs. Packers Spread Winner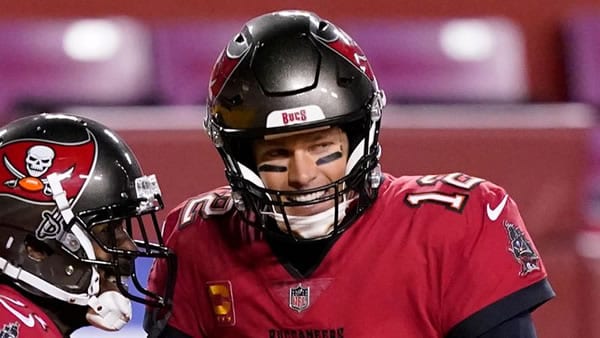 Tampa Bay Buccaneers (13-5 SU, 10-8 ATS) v. Green Bay Packers (14-3 SU, 11-6 ATS)
NFC Conference Championship
When: Sunday, January 24 at 3:05 pm ET
Where: Lambeau Field - Green Bay, WI
Watch: FOX
Point Spread: TB +3/GB -3 (BetNow - Bet the NFC Championship and Super Bowl for FREE by taking advantage of a 100% REAL CASH bonus on your first deposit of $100 to $1000! The biggest bonus ever offered from a LEGIT sportsbook!)
Over/Under Total: 51
The playoffs have featured some fantastic team and individual matchups, and that trend continues on Conference Championship weekend. The Bucs take on the Packers for the right to represent the NFC, but this is Brady v. Rodgers, to be sure. Both are locks for the Hall of Fame, but there is still legacy on the line as Brady can further cement his GOAT status while Rodgers looks to elevate beyond winning "just" one NFL title. This will be the fourth meeting between Rodgers and Brady, with two coming while the latter was with the Patriots and most recently in Week 6 when Tampa handed Green Bay a 38-10 beatdown. In general, this is the most star-studded championship game in recent memory, with no shortage of big-time playmakers on both sides of the ball. With so many big names on each team, it will probably be a relatively small contribution somewhere along the line that will swing the outcome.
Weather Forecast
The weather will be typical for a January day in Green Bay, but gametime temperatures should be in the high twenties, and that will not adversely affect the approach of either team. Winds are expected to be moderate, and any precipitation would be minor, so the offenses should be able to gameplan as they would in any other week. A truly poor weather forecast may have actually worked against Green Bay, but Packer fans can still take comfort in the fact that Tampa players will be facing an unfamiliar cold-weather challenge.
Trend Watch
Tampa is riding some nice trends into this game as they are 5-2 against the spread in the last seven overall and 4-1-1 ATS in the previous six as the underdog. Green Bay is hot as well, with an 8-2 ATS mark in their last ten January contests and a 5-1 record against the spread in the previous six playoff games at Lambeau. The Bucs have a long term trend that has seen the OVER hit in 18-of-24 games against an NFC opponent, but the UNDER has hit in 4-of-5 when TB is the underdog. The OVER has been a dependable bet in Green Bay games for years, and the OVER has notably hit in each of the last six GB playoff games and the last four home games when the Packers play against an opponent above the .500 mark. The early week betting will conclude with Green Bay getting about 58% of the public money at the opening -3.5, and current -3 line and 68% of bets are coming in on the OVER.
More Picks: Get all of this week's Conference Final Picks >>>
Sails at Full
There were definitely times where it didn't look like the Brady experiment was going to pan out, but Tampa has played some of its best ball down the stretch, winning six straight, including the playoffs, and averaging 34.8 points per game over that span. Brady has thrown for 16 touchdowns in those six games with just one interception and hit the 380-yard mark three times. This was the 2nd best passing offense on the season, with Brady throwing for 4,633 yards and 40 scores, and he remains one of the best at spreading the ball around as only Mike Evans cracked the 1,000-yard receiving mark on the season. Evans set the pace with 13 receiving touchdowns, but eight Bucs caught multiple TD passes on the season, and seven hit the 30-catch mark. The wide receivers get a lot of headlines, but the TE group could be the bigger matchup problem with the Rob Gronkowski-Cameron Brate duo combining for 905 yards and nine touchdowns in the regular season and Brate leading all receivers with 130 yards in the playoffs. Evans, Chris Godwin, and Antonio Brown have all found the endzone over the past two weeks, and Tampa clearly has the targets to test Green Bay's 7th ranked pass defense. The Bucs were just 28th in rushing yards per game, but Ronald Jones averaged 5.1 yards per carry, and he accounted for eight touchdowns, with Leonard Fournette scoring six plus one more in the playoffs. The defense has been stellar as well and finished the regular season as the best run-stopping unit in the league at 80.6 yards allowed per game. The Bucs were 8th in points allowed and 6th in total yards allowed with the fifth-most takeaways. Jason Pierre-Paul leads the way with 9.5 sacks, but Devin White sits at nine and Shaq Barrett at eight to give TB a diverse pass rush. Carlton Davis led all players with 18 pass defenses during the regular season, and he has three more in the playoffs.
Green and Gold Rush
Green Bay is so casual and efficient on offense that they seldom get the attention they deserve.
The Packers were held to fewer than 22 points just once this season - against the Bucs in Week 6, but we'll talk about that later - and led the league with 31.8 points per game during the regular season. They hung 32 on the #1 ranked Rams defense last week and could have added more near the end but kindly went into victory formation instead. Aaron Rodgers may be a unanimous MVP after a 48 touchdown season that ended with a 121.5 QB rating, and it was more of the same against LA with 296 yards and two scores. The Rodgers to Davante Adams connection produced a league-leading 18 touchdowns for Adams, and he found paydirt last week as well. Marques Valdez-Scantling, Allen Lazard, and Robert Tonyan make for a swiss-army style set of secondary options. VMS averaged 20.9 yards per catch, Tonyan tied Travis Kelce with 11 TDs to lead all tight ends in that category, and Lazard led with 96 yards last week after having a quiet finish to the season. Aaron Jones averaged 5.5 yards per carry in the regular season and scored nine touchdowns as Green Bay ranked 8th in rushing offense. AJ Dillon has grown into a larger complementary role alongside Jamaal Williams, and those two accounted for 92 rushing yards against the Rams while Jones added 99 and a touchdown. The Packers defense is 9th in total yards allowed and 13th in scoring at 23.1 points per game. Za'Darius Smith finished the regular season with 12.5 and added one last week, while Rashan Gary notched 1.5 sacks against the Rams as he continues to emerge as a quality pass rusher in his second season. Jaire Alexander has just one interception this season but is in the conversation for the best cover corner as he has given up only 47 yards in the last 19 times he has been targeted and has not been burned once this season.
So, What Happened in Week 6?
It feels like a lifetime ago, but maybe that's just me wanting to put 2020 as far behind me as possible. The 38-10 loss was easily Green Bay's worst performance of the season but is it at all predictive of what we might see Sunday? My short answer is no, and here is why. Green Bay actually looked just fine in jumping out to a 10-0 and racking up 134 yards on two drives, while Tampa managed only 39 yards and two punts early. Then, things got weird. Aaron Rodgers threw just his third career pick-six on the next drive to give the Bucs some life and threw another interception on the following drive that was returned to the two-yard line. TB punched that in to go up 14-10, and they had the momentum. To their credit, the Bucs capitalized, and Green Bay slipped, gaining just total yards on their final four possessions of the half. Brady threw a couple of TD passes, and the rout was on. The second half was predictably slow, with Tampa taking the air out of the ball (that's not a Brady joke) to protect their lead, and neither team scored in the fourth quarter. It was a dominant performance on the scoreboard, to be sure, but it wasn't Tampa outclassing Green Bay, the Packers were just bad.
Additionally, Tampa did not give up a sack and was not penalized in the game. They won by 28 but barely gained over 300 yards of total offense and lost the time-of-possession battle by three minutes. Green Bay has played five quarters of bad football this season, by my estimation, and two-plus came in that game. They weren't even close to that bad in those other poor periods, and the offense was responsible for none of them. Tampa will surely have some confidence built up from that Week 6 result, but I think Green Bay has forgotten all about it, and bettors should probably do the same.
Rodgers Deflates the Bucs
Now, that was a Brady joke. Aaron Rodgers is the best player on the field this Sunday, and he is playing at a high level, even for his lofty standards. He seems in control of everything and is expertly preparing Matt LaFleur's offensive menu. Bet against Brady at your own risk, but the same should be said for Rodgers, and I give a slight edge to him in the QB matchup. I really like what Tampa can do with their depth and variety of pass-catchers, but Jaire Alexander should be counted on to remove one. Green Bay's receivers will get to work against the 21st ranked pass defense, so I don't see a significant advantage for either team in that position group. Green Bay has the better individual runner in Aaron Jones, and they are more dependable with 45% of their yards on the ground while Tampa sits at 37%. That pass-heavy approach could hurt the Bucs as they are working right into the strength of the Packers defense. Green Bay converts 50% on third down with Tampa at 43%, and GB owns the red zone scoring advantage both on offense and on defense. The Vegas implied final is 27-24, and I think that is very close to what we will see. Tampa allows the 6th most points in the first quarter, and that lets Green Bay jump out to an early lead with a very back-and-forth contest to follow. Green Bay comes up with a couple of key sacks in the second half to secure a 30-24 win.
Ted Walker's Pick to Cover the Spread: Green Bay. Bet this game and ALL your sports bets at -105 instead of the spendy -110 that you're currently stuck with at one of the web's best betting sites: BetAnySports (Also offers 19 point NFL teasers!)