NFC West Division Title Odds & Predictions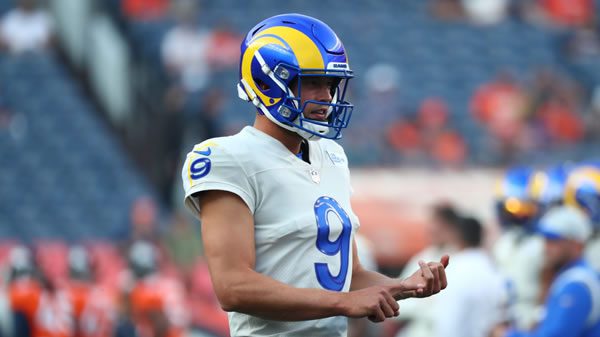 Predicting the NFC West Division Winner
The NFC West featured some parity last season. The Rams took the division at 12-5, going on to win the Super Bowl. Close behind divisionally, the Cardinals were 11-6, with the always-resourceful 49ers at 10-7. Seattle was 7-10 and are expected to take another step back without Russell Wilson. But the other three contenders all have cause for optimism. And with all the moving pieces across the division, a number of different positions can be justified. Will the Rams have a hangover? Are the Cardinals ready to take another step forward? Can the 49ers find creative ways to thrive once again? Let's break it down, as we see who might come out on top in the NFC West. (Odds Courtesy of Bovada - Home of the BEST live betting platform on the planet!)
Arizona Cardinals (+400)
We saw some things start to culminate with Kliff Kingsbury and Kyler Murray getting to the playoffs on the strength of an 11-win season in 2021. We'll see if they can keep on the up-and-up after losing Chase Edmonds, Christian Kirk, and Chandler Jones. And a 6-game suspension for DeAndre Hopkins to start the year isn't a good thing, considering that the offense is considerably more-subdued with him out. With the acquisition of Marquise Brown, along with the rise of Rondale Moore and the presence of Zach Ertz and James Conner, they should be able to hold it together.
Losing some speed and a big part of their pass-rush, along with the Hopkins suspension puts them in a rough spot. And sure, they could see JJ Watt and others pick up the slack. But in this division, a slow start to the season could leave them with a chance to get into the postseason, with divisional honors being a little out of reach. And I think that's why you see Arizona getting significantly fatter odds than the Rams or Niners.
Los Angeles Rams (+125)
With Matthew Stafford in tow, they took down the whole thing in 2021. It's funny seeing how your potential manifest in the best way possible can be used as ammo against a team, with many forecasting a hangover this season. And it's not just the complacency that comes with finally getting to the mountaintop. Robert Woods is gone and Allen Robinson is in. They lost two main pieces along their offensive line. Odell Beckham tore his ACL in the Super Bowl. And Von Miller and Darious Williams have departed. Sure, getting Bobby Wagner will help, but it seems the total sum of player moves didn't work out in the Rams' favor.
The Rams remain a compelling threat to again win the division and make a deep run. The losses they have are ones that can be overcome. They still have a big boost at QB with the stuff around him he needs to win. The player moves are a concern and with injections following the Super Bowl, you wonder if they can get a full season out of the aging Stafford. San Fran and the Cardinals offer ample competition and the chalk is heavy at +125, though a fair price for the defending Super Bowl champions. A tough call.
Get $60 of FREE member picks & predictions
(NO commitments. NO Credit Card. NO Salesman.)
San Francisco 49ers (+160)
A lot returns from a 2021 Niners team that really overachieved to get to the NFC title game in 2021. The QB situation is still in a bit of flux, with a final decision on Jimmy Garoppolo yet to be arrived at, with Trey Lance lying in wait. They still have a strong O-line, playmakers like Deebo Samuel and George Kittle, along with a good foundation of different contributors on offense. With guys like Nick Bosa, Javon Kinlaw, and Fred Werner, their front-seven is impactful on defense. Beyond the mere individual parts is a strong team-concept, one of the more-resilient teams in the league, and an overachieving bunch that will really take off if they can get some good breaks on the injury front.
Normally, a murky QB situation would be a cause for concern, especially when the task at hand is winning one of the toughest divisions in football. The guess is that they move on from Garoppolo, with Brock Purdy backing up Lance. And after only getting a small taste of action in 2021, the jury is still out on the second-year QB. But after seeing the 49ers overcome any number of different things, something tells me that Kyle Shanahan and Company once again navigates their way out of this one.
Seattle Seahawks (+1600)
In recent years, you'd often times watch the Seahawks and ponder where they'd be without Russell Wilson and now we get to see. The odds say it won't be pretty. The prospects of improving on a 7-10 season seem dim, with Drew Lock and Geno Smith battling it out for the starting QB gig. While both have mobility, we'll see if either can hold up behind what remains a bad line. Sure, with a healthy Chris Carson, Rashaad Penny, and maybe rookie Kenneth Walker, they can create a meaningful run-game once again. Two good receivers in Tyler Lockett and DK Metcalf goes a long way. They had most of this last season, however, and it only amounted to 7 wins.
The Seahawks did receive some things for Wilson, picking tackle Charles Cross with the 9th pick. Incoming TE Noah Fant offers some interesting possibilities on an aerial package that has a lot of upside. DE Shelby Harris should fit in nicely. But with the QB situation being what it is, they look to run the ball a lot this season. It seems iffy that they will make the most of two good WRs and a TE with either of these arms and their front isn't capable of launching the kind of ground-game the Seahawks will need to vault to the top spot in this division.
Loot's Pick to Win the NFC West Division: San Francisco 49ers at +160. The Rams might end up getting further than the Niners in the playoffs this season again, but something tells me the Rams won't be shot from a cannon at all points this season, allowing an upstart Niners bunch to nip the division. Question: What odds are you paying when you make your football bets? Did you know that you could be laying -105 odds instead of the more expensive -110 option your bookie is socking you with? Why pay more when you can pay less for the very same product? Stop the insanity! Start paying less for odds at BetAnySports! There's a better than good chance that they're better than your sportsbook in every way!
Football Betting Guide
New to football betting? NFL point spreads can be confusing at first, but our how to bet on football article help you bet like a seasoned pro! You'll also learn how to wager on teasers, parlays, over/unders, prop bets, futures and how point buying works.