NFL Draft Picks – Best Prop Bets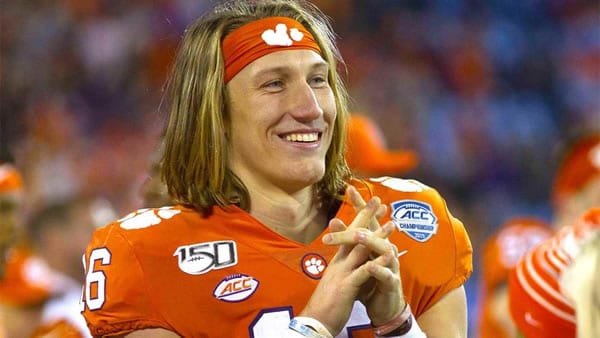 With the NFL Draft now just a couple of weeks away, odds are starting to be released, projecting what players will go where in the first round scheduled for Thursday, April 29th. Below you will find a breakdown of the wagers available on Bovada for those looking to make Draft night financially interesting.
QUARTERBACKS
TOTAL QUARTERBACKS DRAFTED IN ROUND 1
OVER 5.5 +300
UNDER 5.5 -500
Trevor Lawrence, Zach Wilson, Mac Jones, Justin Fields, and Trey Lance are all expected to be drafted early in the first round. After that grouping, there is a steep drop off to the next level of quarterbacks. Kyle Trask of Florida is the consensus sixth rated player at the position in the draft class, followed by Kellen Mond of Texas A&M and Davis Mills of Stanford, but I can't imagine any team reaching into Day One territory to pick any of them, whether it be via a trade-up or a team with a QB need like Chicago, Pittsburgh or New Orleans using their initial selection in the back half of the round.
1ST OVERALL PICK
Trevor Lawrence -100000
2ND OVERALL PICK
Zach Wilson -2500
Justin Fields +1200
Trey Lance +2500
Mac Jones +3000
3RD OVERALL PICK
Mac Jones -170
Justin Fields -110
Trey Lance +500
As you can tell from the odds for the top two picks, Lawrence going first overall is set in stone while Wilson has all been but engraved as the second pick. The only real wagering option is on the third pick, where recent news out of San Francisco seems to indicate that Jones is the direction they are leaning to go in (for now), but there is still plenty of time for things to change, so this one might be worth monitoring to see if the odds start going in a different direction.
RECEIVE A 100% BONUS ON YOUR FIRST DEPOSIT UP TO $1000 AT BETNOW SPORTSBOOK!
RUNNING BACKS PROP BETS
TOTAL RUNNING BACKS DRAFTED IN ROUND ONE
OVER 1.5 +190
UNDER 1.5 -290
The low over/under is not as much a reflection of the top three backs, as Najee Harris, Travis Etienne, and Javonta Williams are all plenty talented, but more so a lack of need at the position for those picking in the back half of the round. Pittsburgh appears to be the only team with a better than average chance of taking a running back early, so if rolling the dice on the over, the hope will be that someone trades up into the first round in anticipation of jumping the teams picking in early in the second with a running back need like the Jets or Dolphins.
FIRST RUNNING BACK DRAFTED
Najee Harris -160
Travis Etienne +150
Javonta Williams +500
Najee Harris remains the favorite to be the first running back off the board, and after scoring 30 touchdowns and putting up just under 1900 yards of total offense for the best team in the country in 2020, it's easy to see why. Travis Etienne and Javonta Williams aren't too far behind, though, with Etienne a consistent (and at times overlooked due to Trevor Lawrence) star with Clemson and Williams rushing for 1140 yards and 19 touchdowns with a 7.3 yards per carry last season despite splitting time with fellow Tar Heel back Michael Carter. At this point last year, Clyde Edwards-Helaire was not expected to be the first running back chosen in the 2020 draft, so this prop has the opportunity to go in any of three ways.
WIDE RECEIVERS PROP BETS
FIRST WIDE RECEIVER DRAFTED
Ja'Marr Chase -500
Devonta Smith +500
Jaylen Waddle +700
Much like 2020 with Henry Ruggs, Jerry Jeudy, and CeeDee Lamb, this years' first wide receiver to be selected is a three-player race with two of them from Alabama. If not for an injury suffered last season, Jaylen Waddle would have had more of an opportunity to be the first to go, but this year the odds continue to point to Ja'Marr Chase being the initial wide receiver selected. The LSU standout has a decent chance to be reunited with his former quarterback Joe Burrow in Cincinnati if they decide to go the wide receiver route, but even if the Bengals go with Kyle Pitts or Penei Sewell instead, it would be more shock than surprise if Chase lasted past Miami or Detroit at picks 6 or 7.
TOTAL WIDE RECEIVERS DRAFTED IN ROUND 1
OVER 4.5 -250
UNDER 4.5 +170
With Chase, Smith, and Waddle all guaranteed to be picked, this bet essentially comes down to whether or not you think at least two other wide receivers will be chosen. With the number of teams having wide receivers listed as one of their top primary draft needs, I believe the over is a near no-brainer. Kadarius Toney, Terrace Marshall Jr., Rashod Bateman, Elijah Moore, and Rondale Moore all have a chance of being taken on the draft's first day. So, expecting two or more of them to go is a definite safe bet worthy of laying the chalk odds.
DEFENSIVE BACKFIELD PROP BETS
FIRST CORNERBACK DRAFTED
Patrick Surtain -275
Jaycee Horn +200
Caleb Farley +1000
The answer to this one might simply be which cornerback do the Dallas Cowboys like the most, as many expect them to target that position with the 10th pick in the first round. Surtain is the odds-on favorite, and if chosen by Jerry Jones, would be slotted alongside in the defensive backfield with former Alabama cornerback and teammate Trevon Diggs, who the Cowboys picked in the second round in 2020. Surtain is viewed as the most well-rounded of the top three, but Horn, the son of former Saints/Falcons wide receiver Joe Horn, has started to move up draft boards after running a 4.37 40-yard dash at South Carolina's pro day. Going into last season, Farley was likely expected to be the top cornerback to go in this years' draft, but after opting out of playing in 2020 and just recently missing his pro day due to back surgery, he remains a bit of a health question mark that may scare off teams enough to avoid taking him as the first one at his position off the board.
FIND MORE NFL DRAFT PROPOSITION WAGERS LIKE THIS AT MYBOOKIE!
FIRST SAFETY DRAFTED
Trevon Moehrig -400
Jevon Holland +275
Richie Grant +600
Caden Sterns +3300
Andre Cisco +5000
TOTAL SAFETIES DRAFTED IN ROUND 1
OVER 0.5 -330
UNDER 0.5 +215
Trevon Moehrig is the only safety to have a consensus overall ranking higher than 50 and is at the top of his position on every draft board I have seen. If looking to create value with a specific bet on the position, it might be worth parlaying him with the over on the total safeties drafted bet. If the odds ever changed and over/under was 1.5 for safeties drafted in the first round, I would definitely take the under as I don't see Holland or Grant getting picked on day one.
LINEBACKERS PROP BETS
TOTAL LINEBACKERS DRAFTED IN ROUND 1
OVER 4.5 +150
UNDER 4.5 -200
There are seven linebackers with a chance of being drafted in the first round-Michah Parsons, Azeez Ojulari, Jeremiah-Koramoah, Jamin Davis, Zaven Collins, Joseph Ossai, and Nick Bolton (and Jayson Oweh of Penn State if classified as a linebacker instead of DL). The reason I would lean toward the under on this wager is the lack of team needs at the position. While any team could use help in the middle of the defense, most seem to have another more glaring necessity that they would likely address in the first round.
FIRST LINEBACKER DRAFTED
Micah Parsons -400
Azeez Ojulari +750
Jeremiah Owusu-Koramoah +750
Jamin Davis +1000
Similar to Trevon Moehrig at safety, Micah Parsons is the clear-cut odds leader at linebacker. Despite what the odds say behind him, though, he does have closer competition when looking at the overall player rankings as Jeremiah Owusu-Koramoah is usually within 5-10 spots of Parsons amongst the experts and does carry a bit of value at +750 if looking to go in a non-chalk route.
There seems to be more and more player/position props being added as the NFL Draft gets closer, so it is worth checking the odds each day to see if any further value can be found in addition to the yearly entertainment provided by hearing the boos of thousands of fans rain down upon Fuhrer Goodell.
Football Betting Guide
New to football betting? NFL point spreads can be confusing at first, but our how to bet on football article help you bet like a seasoned pro! You'll also learn how to wager on teasers, parlays, over/unders, prop bets, futures and how point buying works.