NFL Futures: Rookies Who Could Change the NFL Landscape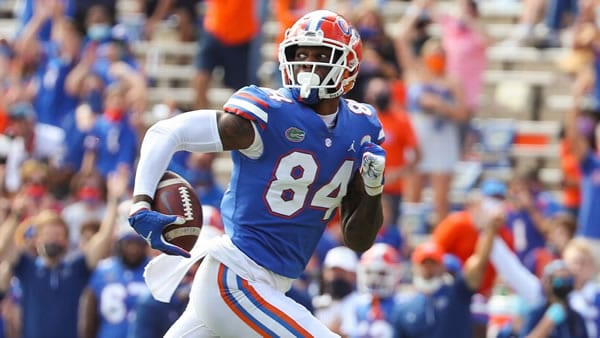 An exciting rookie can come onto a team and really change things for the better. It can throw a whole different light on a team. We've seen it in recent seasons where a new player sends their team ascending to the top of the standings. And sure, a lot of those players are the more-heralded rookies in the draft class. A recent look at top rookie performances in recent seasons, however, reveals that a star can be born in his rookie season even if he wasn't among the top choices. Let's take a look at this season's draft class and see if we can't identify some players who could help change the fortunes of their team or at the very least, put up some big numbers as they try.
Trevor Lawrence:
When a guy is fancied as the best college QB prospect in years, it warrants a hard look. Teaming with new head coach Urban Meyer, it's easy to see why some in Jacksonville are excited. There is some ground to cover team-wide and Lawrence won't enjoy a wealth of tools or a really good O-line. He goes from having the best stuff around him to facing teams that have him covered in those areas. Still, talent counts for something and I'd expect big numbers as the Jags set the table for what they're hoping is a big future. You can bet on him to win NFL Rookie of the Year at +250 odds at Intertops!
Zach Wilson:
One can understand some being suspect of yet another top Jets' pick, after seeing Sam Darnold fizzle out. And a lot of the same issues Darnold faced are still in effect—a rough line, a pedestrian run-game, and a lack of real weapons around him. But with incoming head coach Robert Saleh, the addition of some role guys on offense, and some key acquisitions on defense, the Jets set up nicely for a surge this season. That's if Zack Wilson can lay the foundation of what the Jets are hoping will be a big career.
Kyle Pitts:
Normally, a rookie tight end would not elicit much hope. But we're talking about the highest-drafted tight end of all-time in the fourth pick in Pitts. With Julio Jones leaving the Falcons, that leaves a lot of touches available and Pitts look to get his share. With QB Matt Ryan having shown chemistry with lesser-talented tight ends over the years, it's not hard to imagine Pitts becoming an immediate top target and viable red-zone choice. How far he moves the needle overall with a still-iffy Falcons' squad remains dicey, but he should put up good numbers.
Ja'Marr Chase:
The fifth pick in the draft, Chase reunites with Joe Burrow, as the former LSU teammates have already shown great chemistry. Getting a true number-one receiver was key for Burrow and this Cincy offense to take the next step, but since the two have already shown a good connection, some think Chase could be the Justin Jefferson of this season. Even if not, the Bengals' offense should have another dimension that it has lacked the last few seasons.
Patrick Surtain, II.:
A lot of things are shaping up well for a Denver defense that has a lot of stars aligning the right way. With Von Miller returning, the pass-rush should be immense. A bolstered secondary could be the lynchpin in determining where they end up. And top prospect Surtain, II. delivering on his promise could be the proverbial cherry on top that takes this unit over the top. There are developing youngsters on this defense, with enough proven contributors, making it so if they stay healthy, they could be huge. And having a shutdown corner starting to show his teeth would be a big part of that. You can bet him to win rookie of the year at +1100 at MyBookie Sportsbook.
DeVonta Smith:
This one is more of a mixed bag. There is a chance that Smith's size won't translate at this level as well as the Eagles are hoping. And with Hurts at QB, the state of the Philly aerial-attack might not be that vital. But with this speed and the lack of viable receiving options on this team, he should get his share of targets and put up some big numbers. If the Alabama speed-merchant can be the kind of game-breaker he was in college, it could throw a whole new light on the Eagles' offense. This could go a variety of ways—a John Ross route, an electric rookie campaign, or something in between. Something just tells me he will be a factor.
Justin Fields:
For a Bears' team that still has a good defense, good quarterback play from Fields could once again having them contend in the NFC North. Getting good play at this position has been elusive in recent seasons. Trubisky, another high pick, didn't work out, but Fields could be different with his 4.4 speed, off-the-charts numbers in college, and overall versatility. His throwing skills off the run made him at one point a guy who was pushing Lawrence for the honors of top QB prospect in college football. His draft stock took a hit somewhere along the way, but he could become a difference-maker for the Bears.
Mac Jones:
The Patriots made a lot of offseason moves and one has to figure Belichick and Company won't be overturned on their backs for long. With Jones, Belichick has a project he can build on from the ground-up. He was just the fifth QB selected and some bemoan his lack of high-end traits. But Belichick has forged success with quarterbacks who bucked scouting reports before. With a strong and varied run-game and some reliable targets, Jones could conceivably hit the ground running. If so, look for the Pats to be more in the mix this season. His R.O.Y. betting odds (+1200) can be found at Intertops Sportsbook.
Javonte Williams:
Now we're going to go with a few picks more off-the-grid. Selected in the second round, Williams is obviously a fancied prospect. But his production may exceed some of those picked above him. In a Denver offense that no longer has Phillip Lindsay, Williams could combine with Melvin Gordon to form a big 1-2 punch out of the backfield. Also a useful weapon in the aerial game, Williams could put up some numbers and help round-out a Denver offense that could be due to blossom.
Javian Hawkins:
Now we're going deep with an undrafted rookie, yet a productive college back from Louisville in Hawkins, who joins a Falcons' team where he might fit in quite nicely. With incoming new head coach Arthur Smith coming in from the Titans where he was offensive coordinator, the run figures to be a big part of his approach and if Hawkins shines during camp, he could be seeing time in the backfield. This could easily backfire, but something tells me Hawkins could find a role. Where are you betting on games this season? Does your bookie allow you to bet on games at -105 odds? NO he doesn't! Stop overpaying for betting odds TODAY and start risking only -105 on games using the "Less Juice" option at BetAnySports! (See our BAS Sportsbook Review) A sportsbook that we've advertised here for over 10 years with ZERO complaints! Click here to sign up now and start saving big money!