NFL Futures: Who Will Win the 2021 MVP Award?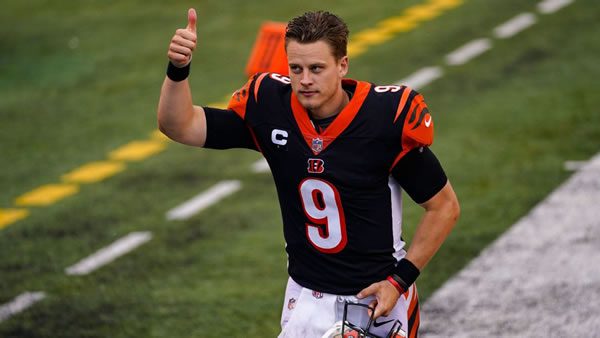 An MVP futures bet can be a lot of fun. It allows you to capitalize off of any unique insight you have, with potentially large rewards. And in this bet, you get a ton of mileage. When you bet on a player to win the MVP, you're along for the whole ride. Every game he plays, you have a vested interest. There aren't a ton of bets that pack more action into it than an MVP futures bet. It's not easy. After all, there can only be one. But as you see from looking at the odds, the rewards can be handsome.
Before we dive in, we need to take a hard look at what it takes to become an NFL Most Valuable Player. And we also need to realize that with this bet, we're at the mercy of voting, not stats, won-loss records, or any real tangible accomplishments. It's a judgment call. And that call usually goes to a quarterback. The streak of QBs winning this award is up to 8 and running. It takes an awful lot for a non-quarterback to win this award, with only LaDainian Tomlinson and Adrian Peterson winning it in the last 15 years after monster seasons.
Also narrowing the scope is how MVP winners are typically on very good teams. A so-so regular season isn't going to get it done. You need to be on a team that makes some noise. So we use the past to guide our picks a little bit. And the past says unless your pick is a quarterback on a good team, you're going to be behind the 8-ball. Not that other picks can't have value (speaking of which remember to bookmark our NFL Picks Page), but it just takes so much more for a non-QB or player from an average or bad team to haul in this hardware.
Here are the different candidates to win the MVP, with their corresponding odds. Following the list will be our top selections, along with some appealing long-shot picks for those looking to make a major score. Let's take a look!
Odds to Win the NFL MVP (Courtesy of MyBookie.ag)
Patrick Mahomes +350
Aaron Rodgers +800
Josh Allen +1000
Dak Prescott +1400
Matthew Stafford +1200
Tom Brady +1400
Justin Herbert +1400
Kyler Murray +1800
Lamar Jackson +1600
Russell Wilson +1600
Baker Mayfield +2200
Joe Burrow +4500
Matt Ryan +5000
Carson Wentz +2500
Deshaun Watson +2000
Ryan Tannehill +2500
Cam Newton +4500
Christian McCaffrey +4000
Derek Carr +6000
Derrick Henry +2800
Jalen Hurts +5000
Jameis Winston +5000
Sam Darnold +10000
Tua Tagovailoa +4000
Ben Roethlisberger +7000
Justin Fields +6500
Kirk Cousins +5000
Trevor Lawrence +8000
Trey Lance +6500
Alvin Kamara +8000
Daniel Jones +8000
Jared Goff +8000
Jimmy Garoppolo +8000
Mac Jones +8000
Zach Wilson +8000
Dalvin Cook +6500
Ryan Fitzpatrick +5000
Travis Kelce +12000
Andy Dalton +15000
Davante Adams +10000
DeAndre Hopkins +10000
Drew Lock +15000
Stefon Diggs +15000
Taysom Hill +12500
Teddy Bridgewater +15000
Tyreek Hill +12500
Our Top Picks to Win the MVP
Note: If you're going to place NFL futures bets, don't do it with your own money! Futures bets are risky and you can bet them for FREE! All you have to do is open an account at BetNow Sportsbook, deposit $100 to $1000 and they'll match you with a 100% real cash bonus! Free Bets!
Patrick Mahomes (+350):
He has done it before, and with a chip on his shoulder after losing last season's Super Bowl, he might be a man on a mission. Entering his physical prime and still stocked with ample weaponry around him, he might be hard to deny when it's all said and done. The odds aren't that wonderful for potential backers, and the award sometimes goes to a team that makes a big surge, whereas the Chiefs are more on a steady line of success. Still, he's the top choice for a reason.
Josh Allen (+1000):
After seeing a monstrous surge in his stats and the state of his offense in 2020, the picture is starting to crystalize on what Allen has managed to do with this team. With a few more pieces in which to work, this offense could even be better. A big season from Allen where he puts this long-suffering franchise on the brink could be enough.
Matthew Stafford (+1200):
I think the MVP award favors success a bit more in the context of newness or a fresh start. This one could end up falling flat, and there are other candidates who are more proven being in stable situations. But if Stafford, now bolstered with ample weapons and a strong defense around him, starts slinging the ball all over the field and gets the Rams' offense on track, he's going to get an awful lot of credit for it. He's in a position where he can shine in a way that really stands out.
Dak Prescott (+1400):
It's understandable why some would be hesitant in continuing to back Dallas in any way on futures bets considering their recent run. For several years, any futures bet that was optimistic about Dallas has bitten the dust. But that can also set up for something big. A lot of pieces are in place for a surge, and if key personnel stays healthy, Dallas could make a move this season. And coming back from a horrible leg injury, Prescott could become a sentimental pick.
Our Favorite Longshot MVP Picks
Joe Burrow (+4500):
It's important to understand these are longshots. And yes, it's been a while since Cincy mattered. But with some incoming talent that could throw a new light on it, we saw enough from Burrow in his injury-shortened rookie campaign to warrant some hope. Some things could click for the Bengals this season, and if they take off, you know who is going to get the credit for it.
Mac Jones (+8000):
When foraging further down the board for MVP candidates, the element of the unknown seems to be the more fruitful territory. Among other candidates with similar odds, we more or less know what they can do, and an MVP-worthy surge just seems out-of-reach. But with rookies, we don't really know. The first issue is we don't even know if Jones will start, and a handful of QBs were taken ahead of him who might be more deserving of consideration. And a pick for Jones is also dependent on the Pats becoming a factor again. Then again, overlooked college QBs have thrived under Belichick before. The Patriots made a lot of offseason moves. Jones steps into a system that has been very successful, and with New England hitting the rocks last season, the stage does set up for a surge where the QB could get a lot of credit for it. On an unrelated note, did you know that I also write college football game previews and picks? Please check me out! I'd sure appreciate it!