NFL Moneyline Bets Explained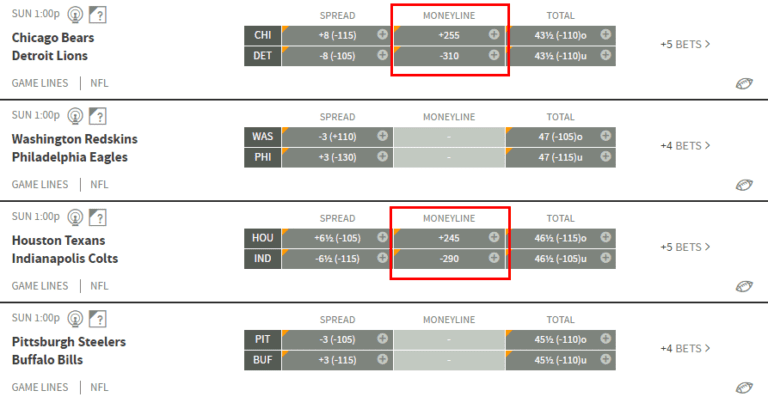 What is a Moneyline Bet and How Does it Work?
Unlike a point spread, where a team has to win by a certain amount of points (margin of victory) or stay within a certain number, a moneyline (aka: ML) bet is simply selecting which team will win the game straight up.
One team will have a minus sign (-) in front of their odds. This is the favorite. The favorite odds are always predicated on how much you have to lay/risk/bet to profit $100.
One team will always have a plus sign (+). This is the underdog. The underdog odds signify the amount you will profit with a lay/risk/bet of $100.
Example of an NFL Moneyline Bet
Let's use Super Bowl LV as an example:
Kansas City Chiefs -157
Tampa Bay Buccaneers +138
KC bettors would have to wager $157 to profit $100. Note: If you win a ML bet, you get your risked amount back in addition to your winnings.
TB gamblers would have to bet $100 with hopes of profiting $138.
The Bucs won the game 31-9. If you had a winning moneyline ticket, the bookie would give you your $100 back plus $138 in profit for a total payout of $238.
Is it Better to Bet the Moneyline or Spread?
It's really a matter of choice, but we do have some thoughts on the issue.
One glaring variable that cannot be ignored is athletes play games to win, not cover point spreads. With that being said, a moneyline bet is always something to consider, especially in a game where the other team has a formidable defense, and you're nervous about whether your favorite bet can cover the number.
On the flip side, should we as bettors even be wagering on a game where there's any question on which team is going to win? This is where the sportsbooks hold an edge over us. We oftentimes bet on a game for entertainment, with very little thought put into our decision. They're doing this as a business and taking it seriously. That's not a good combination for your wallet!
One GREAT reason to place moneyline bets is if you're astute at picking underdogs. A point spread bettor has to hit 52.38% (51.19% if you take advantage of the less juice option at BetAnySports) of his bets to break even. An underdog ML bettor can hit less than 50% of his NFL picks and still turn a profit! This is a very underrated topic and not talked about much topic in football betting! If you feel like your underdog prediction is strong, and you don't need the points and you think your team is going to win the game straight up, by all means, bet your team on the moneyline and grab a larger payout!
Can You Put Moneyline Bets in Parlays?
Yes! As you can imagine, the more favorites you insert, the lower your payout. While adding big favorites increases your odds of winning, keep in mind that the payouts won't be huge like standard parlay odds. The more moneyline underdogs you have, the more your payout spikes. A popular bet people like to make are 2, 3, & 4 team round robin bets. (See article for explanation)
Not only can you make moneyline parlays, but you can also mix them with point spreads from other games, as well as totals in your parlay bet.
It should be noted that you can't put the same team's point spread and money line in the same parlay. On an unrelated note, some sportsbooks will allow a correlated parlay of a team's ML or spread along with the over/under of the same game.
Is There Juice on Moneylines?
Of course! The bookies aren't going to book your action for free! What is juice? It's the cut the bookmaker takes on each bet as his fee. This is how he stays in business. Different books offering different odds, so it's a good idea to use multiple sportsbooks when betting on football. Saving a few bucks here and there may not sound like much, but the figures are staggering when looked at over the course of a few years of betting on games.
Here's an example of the juice in a moneyline bet where the Cowboys were -2.5 favorites over the Steelers:
Dallas Cowboys -140
Pittsburgh Steelers +120.
The implied probability of the Pokes winning the game straight-up is 58.33%. For the Steelers, it's 45.45%. That adds up to 103.8%, meaning the house has a 3.8% hold on this bet. Some books will offer 10-cent lines on football moneylines, meaning a -140/+120 moneyline would turn into -135/+125, which is a heck of a lot better deal for the player. To get the best deals and bet into the lowest-priced odds on the web, check out our list of bookmakers offering reduced juice football betting.
Which Sportsbooks Offer NFL Moneylines?
Almost all bookies offer moneyline bets. Some post earlier than others, and some post odds for every game. Very few post ML odds for games with huge point spreads. One book that does is BetOnline. They're not afraid to take a bet, and they pay FAST!
As noted in the section above, some books pay more than others. We can't stress it enough… Every single dollar saved counts in football wagering! Picking games at a 52.38% or better doesn't sound very difficult, but it is one-heck-of-a-grind!
Also noted above, not all sportsbooks have the same odds offerings. All professional football bettors have "multiple outs" in which they bet with. It's to your advantage, so do it!
Other Notes of Interest
Unlike horse bets that change throughout the day where you're stuck betting into the closing line, a football moneyline bet pays out at the odds present at the time you bet.
It's to your advantage to understand how odds correlate to a point spread. We break this down for you in our point spreads to moneyline odds conversion table.
If you're struggling to win (most do), please consider coat-tailing our plays (we've been doing this for over 30 years!) on our free picks page or the right menu of our NFL picks section. The worst you'll do is break even. Most don't have time to properly handicap games themselves. Swallow your ego and stop paying your bookie!
Tip: NFL futures bets are obviously all moneylines. While they're fun to root for, so much can go wrong over the course of a season that it's hardly worth it. Add in that your money (that you could have had working for you) is tied up for six plus months, and you'll get a hard pass in the opinion of an astute football handicapper.