Offensive Rookie of the Year Picks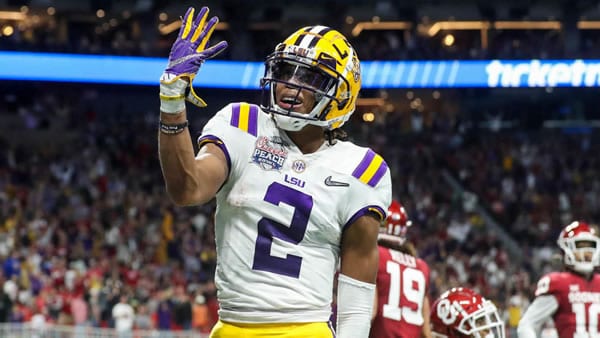 When picking who you think will be the Offensive Rookie of the Year, there is a lot to take into account. Taking a look at recent winners of this honor is revealing. In the last 50 years, it has always been a quarterback, running back, or wide receiver who won Offensive Rookie of the Year. Accordingly, all our picks will rotate around those three positions. And for those who fancy the frontrunners like Joe Burrow, your thoughts might not be wrong. But for those looking to venture a bit further down the list, it's worth noting that in the last seven years, there were three winners of this award who weren't even first-round picks.
This isn't merely a measure of how good each player on this list is or how big of a star they will eventually become. It has more to do with the dynamic of the situation in which they are entering. In the end, numbers guide this award, and that means you need to be able to reasonably envision a path to a big-stat season for the players you select. What kind of offense is the player joining? What kind of competition for a starting spot is there? Are there too many other contributors that make it hard to put up big numbers? Will any coaching changes throw a different light on it? There are a lot of dots to connect in a bet like this. Let's look at the list of odds, which we will follow with our favorite picks to take home the 2020 NFL Offensive Rookie of the Year.
Offensive Rookie of the Year Future Odds
JOE BURROW +225
CLYDE EDWARDS-HELAIRE +450
JONATHAN TAYLOR +1000
TUA TAGOVAILOA +1000
CAM AKERS +1200
KE'SHAWN VAUGHN +1800
D'ANDRE SWIFT +1800
JERRY JEUDY +1600
CEEDEE LAMB +1500
JK DOBBINS +2200
JUSTIN HERBERT +2200
JUSTIN JEFFERSON +2800
CHASE CLAYPOOL +4000
DENZEL MIMS +3000
HENRY RUGGS III +1800
BRANDON AIYUK +3000
JALEN REAGOR +2500
MICHAEL PITTMAN JR. +4000
JALEN HURTS +6000
AJ DILLON +5000
JORDAN LOVE +5000
ZACK MOSS +3000
TEE HIGGINS +5000
ANTONIO GIBSON +9000
HUNTER BRYANT +10000
JAUAN JENNINGS +8000
JOSHUA KELLY +5000
KJ HILL +8000
LAMICAL PERINE +4000
TYLER JOHNSON +4000
ADAM TRAUTMAN +10000
ANTHONY GORDON +10000
ANTONIO GANDY-GOLDEN +10000
COLE KMET +10000
DONOVAN PEOPLES-JONES +10000
GABRIEL DAVIS +10000
JAKE FROMM +10000
KJ HAMLER +3000
LAVISKA SHENAULT JR. +3500
HARRISON BRYANT +15000
JOHN HIGHTOWER +12500
BRYCEN HOPKINS +10000
JACOB EASON +10000
Joe Burrow:: Not a ton of earning potential at +225 and it's not like he's got the best stuff around him. Iffy QB play isn't the only thing that sent Cincy tumbling in recent years. But the quarterback-friendly head coaching of Zac Taylor should help and with a healthy AJ Green, Tyler Boyd, John Ross, and Joe Mixon, he may have enough with which to work. And with nowhere to go but up, the bar isn't all that high for Burrow in terms of team success, as even a 6-win season with a good stat-line would make him the frontrunner for this award.
Clyde Edwards-Helaire: Right before Draft Day, you would have gotten enormous odds that Edwards-Helaire would be the second choice on this board at +450. A surprise choice by the Chiefs at the end of the first round, the former LSU standout goes from one winner to another one. And looking at this KC offense, there is so much for opposing defenses to account for that you get the feeling that they could put any capable back in there and give him a huge stat-line. The idea of a five-seven Edwards-Helarie emerging from that pack of giants with defenses worried about so many other things suggests a potentially really big season.
Jonathan Taylor: It's hard to not like the situation Taylor (+1000) is moving into with Indy. Philip Rivers usually has a big-stat running back in tow, and Taylor could be that guy, the second Badgers' back whose career he helped spark. With enough touches and a lot of other things on the Colts' offense to distract defenses, he could be right in the thick of this race. Only drawbacks are that there are other backs on the Indy roster who have had success like Marlon Mack and let's face it, not every big-time Wisconsin back pans out at this level.
Henry Ruggs III: He could be stepping into the best situation, as the Oakland rookie looks poised to make a big splash in his first season. He will be working with a fairly-prolific quarterback in Derek Carr. There are talented receivers on the team, but more role-players, as Ruggs III will have the opportunity to become the clear go-to guy. In terms of what he has around him, his path to a big-numbers season is among the more realistic on this list.
Justin Jefferson: A little further down the list at +2800, Jefferson appears to be stepping into a favorable position in Minnesota. He has a slinger in Kirk Cousins with which to work, Stefon Diggs in off to Buffalo, with the idea that Jefferson will step in and assume that spot. Adam Thielen gets a lot of targets, and that could cut into the unproven Jefferson's numbers. But I still see him getting enough looks to make him a serious contender for this honor.
KJ Hamler: Going a bit rogue with this one, as Hamler is a robust +3000. There are obvious drawbacks, first with his size, his propensity for drops, and the fact that the Broncos took another receiver ahead of him in Jerry Jeudy. With other player additions, the Denver offense could get crowded, and it's iffy if a slot-receiver can put up the kind of numbers that would warrant this award. But I sense a little Alvin Kamara mojo here and maybe with enough splash plays in the run, special teams, and aerially, Hamler can make enough of an imprint.