Patriots vs. Dolphins Week 1 Odds, Analysis, Predictions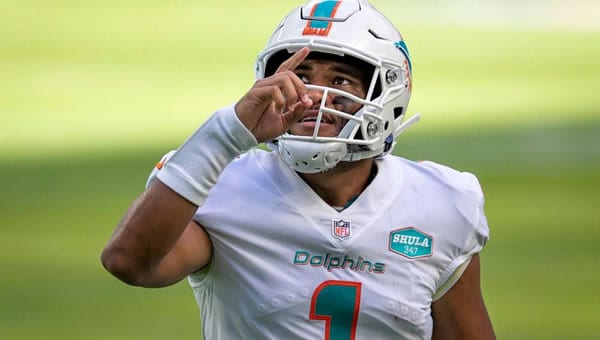 New England Patriots (0-0 SU, 0-0 ATS) vs. Miami Dolphins (0-0 SU, 0-0 ATS)
Week 1 NFL
Date/Time: Sunday, September 11, 2022 at 1PM EST
Where: Hard Rock Stadium, Miami Gardens, Florida
TV: CBS
Point Spread: NE +3/MIA -3 (Bovada – 50% Bonus! Rebates on ALL your bets; win or lose! BEST live betting platform on the web! FAST Crypto payouts! What more could you ask for?)
Over/Under Total: 46.5
The New England Patriots come down to Hard Rock Stadium for a week one AFC East battle with the Miami Dolphins. The Dolphins were able to win twice against a pretty good Pats team last season, including a 17-16 week one win in Foxborough. With some new pieces looking to manifest, they look to hit the ground running but are dealing with a solid Patriots team that might be on the upswing again. With the Patriots coming off a ten-win season and the Dolphins having won 9 games in 2021, which team can get off to a good start in taking that next step? Let's break it down!
A Look at What Has Changed
Most notable are the sweeping changes made to the Miami offense in an effort to give Tua Tagovailoa the stuff he needs to thrive. Getting Tyreek Hill really stunned a lot of people. With Jaylen Waddle coming off a strong rookie season and TE Mike Gesicki a steady producer, Hill adds an element to this aerial package that will really keep defenses on edge. And sure, there's the question of whether Tagovailoa has the arm to bring about all this production. But at least he doesn't have any excuses now. They beefed up the O-line with the signing of Terron Armstead and added some key pieces to the backfield that could resonate with the acquisitions of Chase Edmonds and Raheem Mostert (questionable).
As is their norm, the Patriots didn't go nuts in the offseason, resting on their laurels somewhat and hoping that their young core continues to develop. One acquisition was that of former Dolphins receiver DeVante Parker. In the draft, they got a good receiver in Tyquan Thornton, though he won't be available immediately. It's a team without stars, but on offense, they have a wealth of talented backs and ball-catchers, including Damien Harris, Rhamondre Stevenson, Parker, Jakobi Meyers, Kendrick Bourne, Hunter Henry, Nelson Agholor, and others. With a little growth from QB Mac Jones, they should be OK. They added a little up-front to give Jones a better chance, and while nothing jumps off the screen, their solidness and competence is their strength.
NadfasdHow Different Will The Dolphins Be?
Getting former SF offensive coordinator Mike McDaniel as their new head coach, along with all the other personnel changes, we're not quite sure what we will see when the 'Fins hit the field. Just because they got, Tyreek Hill doesn't mean they're going to try to become an aerial high-wire act with Tagovailoa behind center. You see a backfield jammed with different pieces, almost suggesting that we'll see something similar to what the 49ers offense had become in recent seasons—a balanced unit, but one where the run-game is maybe flexed a little more than on some other teams. It's iffy whether Hill will be able to replicate his production from previous seasons, but just his presence opens everything up for the other talented ball-catchers, in addition to freeing up a talented and varied cast of running backs.
Still, it's a bit of a mystery as to what we'll really see. They have a bright young coaching staff, but one that is unproven with a first-time head coach in his first season with the team. While previous coach Brian Flores eventually got the boot, he was able to fashion a pretty strong defense in Miami, and it's unclear if they will maintain their edge amidst all this recent offensive emphasis. They are strong up from with Jaelan Phillips on the edge, along with Christian Wilkins and Emmanuel Ogbah. They have talented corners like Xavien Howard and Byron Jones (out). They have a lot of continuity with the personnel, and maybe getting Melvin Ingram can aid a middle that needs to pick up the slack. This side of the ball did a great job in keeping the Pats from getting off offensively in two games in 2021. Can they replicate that this season?
Patriots Hidden Worth
When the Pats were winning Super Bowls with the recognized best QB of all time, the star-power matched their standing. Now when looking at the Patriots, the roster seems average. No one is really excited about Mac Jones in terms of being a star QB on the rise. Their offensive skill players are non-stars. The other positions are filled with guys without a big name. But then we look at the system and the coaching, as the Pats are led by an all-time great in Belichick, along with a staff that has become a farm system for future head coaches. And they really didn't fall off a cliff as some suspected would happen with the exodus of Brady. The system is strong, and rather than receding into a rebuilding period, they are already a team on the rise again.
Take the Home Team
Relying on last year in any kind of substantial way could really set a bettor off course, especially in light of all the changes, especially with Miami. But if you're willing to ascribe some importance to the fact that of all the teams the Pats faced last season, they appeared to match up particularly bad with the Dolphins, and maybe we see some more of that. The Dolphins now have more offensive spark, and even if their "D" stepped back a little, they're not facing an offense likely to test that to its fullest extent. I see the Dolphins getting off to a fast start at home, getting the win and the cover in week one.
Loot's Prediction to Cover the Point Spread: I'm betting on the Miami Dolphins minus 3 points. Did you know that you can bet NFL teasers up to 19 points at Wagerweb Sportsbook?