[et_pb_dcsbcm_divi_breadcrumbs_module hide_homebreadcrumb="off" homebreadcrumbtext="Home" separator="sep-raquo" hide_currentbreadcrumb="off" homebreadcrumborientation="left" _builder_version="3.8″ fontsbreadcrumbs_font="Lato||||||||" fontsbreadcrumbs_text_color="#000000″ fontsbreadcrumbs_font_size="15px" fontsbreadcrumbs_line_height="16px" fontsseperator_font="||||||||" fontsbreadcrumblinks_font="||||||||" fontsbreadcrumblinks_text_color="#2567cf" custom_margin="25px|||" custom_margin_phone="30px|||" custom_margin_last_edited="off|desktop" custom_css_main_element="font-family: Helvetica Regular;" global_module="3641″ saved_tabs="all"][/et_pb_dcsbcm_divi_breadcrumbs_module]
Philadelphia Eagles vs. New York Giants Pick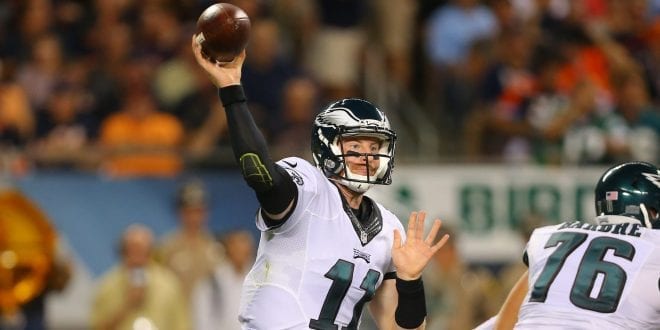 Philadelphia Eagles (2-3 SU, 1-4 ATS) vs. NY Giants (1-4 SU, 2-3 ATS) NFL Football Week 6
Date and Time: October 11 at 8:20 pm ET
Where: MetLife Stadium – East Rutherford, NJ
TV: FOX/NFL Network
By: Kyle Cash, NFL Football Handicapper, Predictem.com
Spread: Philadelphia -3 Over/Under: 45
Week 5 Round Up
Oh, how the mighty have fallen! Just five weeks after Doug Pederson was immortalized outside of Lincoln Financial Field in a statue of his famous Philly Special call, restless Eagles fans have begun to murmur about his coaching aptitude after a series of bizarre decisions to end Philadelphia's Week 5 loss to the Minnesota Vikings. Meanwhile, the New York Football Giants upset bid was stymied by an end of regulation bomb from Carolina Kicker Graham Gano, and the Giants find themselves at the bottom of the scrap heap amid the putrid NFC East Standings. Both teams look to bounce back this week in a potentially rainy Thursday evening division matchup that could send someone's playoff hopes out to pasture.
The New (New) Philadelphia Eagles
Last year, fans of the Philadelphia Eagles became accustomed to something that they had not seen before: a well-oiled football machine. Carson Wentz emerged as a legitimate MVP candidate and a threat to the QB Hierarchy in the NFL; Doug Pederson made fools out of NFL experts by shedding his Andy Reid-esque demons and coaching with his metaphorical balls on the table; Nelson Agholor finally caught a pass – the list goes on and on. The Underdog became the Champion – and how sweet it was.
This year? Not so much. The Eagles offense is league average across the board (18th Passing, 14th Rushing, 17th Overall), and their troubles only continue as RB Jay Ajayi is now out for the season with a torn ACL. The defense has been up and down through the first five weeks, but they're starting to wear thin; redshirt rookie CB Sidney Jones, DT Haloti Ngata, and emerging force DE Derek Barnett all have questionable tags heading into Thursday night, and DT Timmy Jernigan and S Rodney McLeod leave huge gaps in a depleted secondary as they head to the IR. Do not even get Philadelphians started on the woes of CB Jalen Mills, whose emphatic trash talking in the midst of a shellacking administered to him by Adam Thielen even got the attention of Fletcher Cox, who I'm sure politely asked him to be quiet.
While none of this bodes well for the Super Bowl champions, there is reason to be optimistic. The team is largely intact from a year ago when they were arguably the best two-way team in the league, and there is belief within the city that the Advil for their Super Bowl-sized hangover will kick in soon and propel them back to the Promised Land. As long as Carson Wentz is under center and getting better every week, the Eagles have a chance to regain their 2017 form and reclaim their throne atop the league. But for now, Philadelphia is shoveling down greasy food (cheesesteaks?) and chugging Gatorade while holding a cold compress to their forehead and praying that the parade from last year was not a fever dream.
The Little Giants
In 10 or so years, a commercial might pop up on your TV for a documentary about the 2018 NY Giants and go a little something like this:
What if I told you…that the only thing that could stop a once-in-a-generation running back who looks like a combination of Gale Sayers and Barry Sanders…and the most explosive wide receiver since Randy Moss…was their two- time Super Bowl MVP Quarterback? ESPN 30-for-30 Presents: The Untalented Mr. Manning.
If Eli Manning is the NFL's version of Forrest Gump, his play game-to-game is like a box of chocolates; you never know what you are going to get. Against the Eagles, Manning has had more raspberry-filled chocolates (read: bad) than delicious milk chocolates, touting a career record of 10-18. Saquon Barkley is the human cheat code, and Odell Beckham Jr. can turn a quick slant into a game-breaking TD, but the DNA of the Giants is off. New coach Pat Shurmur has failed to craft to find a way to use his embarrassment of offensive riches to his advantage, and it seems as though Barkley and Beckham's talents should translate to more success.
Desperation time for the Giants on Thursday should mean that we finally see the full potential of their nuclear weapons unleashed. The Boys in Blue are not without talent in their secondary between star CBs Eli Apple and Janoris Jenkins, as well as Pro-Bowl SS Landon Collins, but the absence of LB Olivier Vernon has neutralized their once- vaunted pass rush, and they rank dead last in the NFL in sacks.
The good news for Giants fans is that their brutal schedule has some reprieve in sight. A win here could ignite a miniature run, and now that they've broken their dry spell after 37 consecutive games without a 30-point effort, the floodgates could be open. But a 1-5 start would seal their fate, and if ownership were smart, they would stop watching the Giants on Sundays and start watching College Gameday on Saturdays to shop for a new QB.
Quick Match-Up Notes
According to DVOA on Football Outsiders, Philadelphia is 7th in Rushing Offense, while NY Giants are 29th in Rushing Defense
Philadelphia has allowed the 2nd least amount of rushing yards per game to opposing teams; NY
Giants rank 28th in rushing yards per game on offense, per ESPN
In his lone matchup in 2017, Carson Wentz threw for only 176 yards and 1 TD
TIRED OF YOUR CREDIT CARD NOT WORKING AT SPORTSBOOKS? IT WILL AT BOVADA + GET A 50% BONUS!
What History Has Taught Us
Whenever I am filling out my weekly pick 'em pool, I always am wary of division matchups. These are games that the players (and fans) circle on their calendars when the schedules emerge in July, and the competitiveness of this I-95 rivalry is evident in their last several meetings. Since 2015, the margin of victory in games between these two teams is as follows: 5, 3, 5, 5, 5, 20. While the Eagles are 5-1 in those 6 games, they have failed to break away effectively, even in a year like 2017 when the Giants were 3-13 and the Eagles hoisted the Lombardi trophy. In 2018, that is not even remotely the case – I am not sure that you could watch these two teams from last week and discern that one is considerably better than the other.
What The Future Holds
Thursday Night Football is always a tough spot. Short weeks are murder for NFL athletes, and for that reason, these are typically stay-aways. This one presents an interesting dilemma as well; all five TNF favorites have won and covered the spread, but all five of those favorites were the home team. As history tells us, this is likely to be a tight matchup between two teams desperate to right their respective ships, and whenever you feel as though a team can win outright, it is smart to grab the points and pray. If this line moves in either direction, I would feel more confident in whatever team it moves away from, but for now, it seems as though Vegas has this one dead to rights. In the end, Carson and Co. get the job done and walk away by the skin of their teeth.
Final Score Prediction: Philadelphia 23 – NY Giants 21
<h4 class="widgettitle">NFL Picks</h4><!-- [et_pb_line_break_holder] -->
<div style="width:340px; margin: 0 auto;"><!-- [et_pb_line_break_holder] --> <a class="twitter-timeline" data-width="340" data-height="500" data-link-color="#008156" href="https://twitter.com/PredictemPicks?ref_src=twsrc%5Etfw">Tweets by PredictemPicks</a> <script async src="https://platform.twitter.com/widgets.js" charset="utf-8"></script><!-- [et_pb_line_break_holder] --></div>